Crafting can be a fun part of Old School RuneScape (OSRS). It's a great way to enjoy some downtime, as well as a good way to make some money on the side of your adventuring exploits. At higher levels, fishing is one of the more profitable crafting skills in the game. You can make great money on Dark Crabs and Sharks, but getting up to the level to be able to fish them isn't easy, especially if you're not a paying subscriber. Read on below for our complete OSRS F2P fishing guide for levels one to 99.
Where to train fishing in free-to-play in Old School RuneScape
When you start out, you can quickly get through skill levels one to 20 by fishing for Shrimp and Anchovies in the river south of Lumbridge (1, below) and south of Draynor (2, below). All you need is a small net, which you'll gain during the new player tutorial. Fishing with a net can be done AFK, but only until the fishing spot moves.
Related: How to get to Ivan Strom in OSRS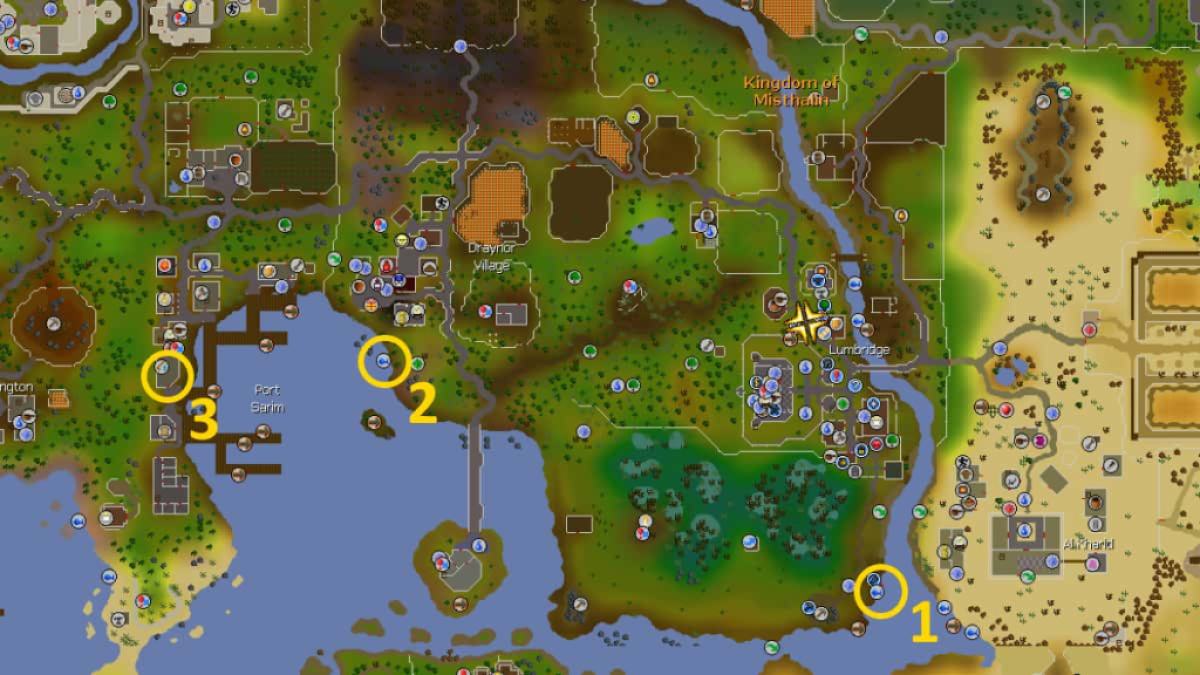 Once you get to level 20, you can move on to Trout and Salmon. This requires Feathers and a Fly Fishing Rod. The Rod (and later fishing items) can be bought from the fishing shop in Port Sarim (3, above), while feathers can be obtained from all birds as loot, including all types of chicken. This will get you from fishing level 20 to 40 and can be fished in the same two locations. You'll simply get better fish by using better equipment and being higher level (Trout from level 20, then also randomly Salmon from level 30).
If you're happy to continue fly fishing for Trout and Salmon, you can do this all the way to level 99. However, it is more profitable to switch to catching Lobster at Musa Point (4, below) or Corsair Cove (5, below) using Lobster Pots from levels 40 to 50, then Tuna and Swordfish using a Harpoon at Musa Point from levels 50 to 99. Note that traveling to Musa Point will cost you 60 for each return trip, while you'll need to have completed the Dragon Slayer I quest to gain access to Corsair Cove.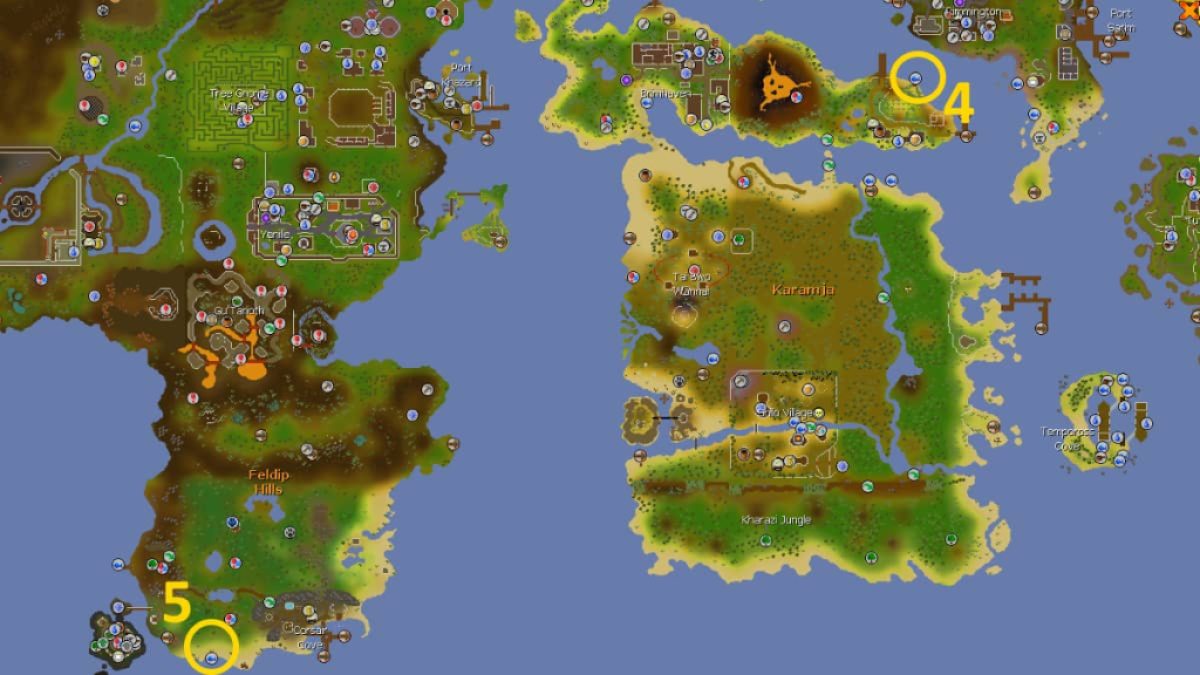 We've got plenty more OSRS guides here at Pro Game Guides, including OSRS Black Mask guide – how to get, requirements, effects and What is a Mark of Grace in OSRS? How to use & get.