The Solstice Shrines probably hold some of the most intricate puzzles in the game but also offer potentially the best rewards, such as relics and accessories, for solving them. Not only do they each offer their own rewards, but if you haven't yet noticed, they can also unlock another secret hidden on Evermist Island. Keep reading below for a list of where you can track down each shrine!
Where to find all Solstice Shrines in Sea of Stars
There are five Solstice Shrines in total, all scattered around the map. However, you will have to progress through the story to gain access to each one, so it will require a bit of patience and endurance. When the time comes, you'll be able to complete them all for a reward and work toward unlocking the hidden secret on Evermist Island. Here's a list of locations below:
Evermist Island Solstice Shrine Location
Most likely, the first Solstice Shrine you'll access is the one on Evermist Island. It is located just below the Mountain Path and above Mooncradle, branching off to the right. You'll need the key to get inside and start solving the Evermist Solstice Shrine puzzle.
Related: All Mirth townsfolk to invite in Sea of Stars (Locations & Buildings)
Wraith Island Solstice Shrine Location
You'll find another Solstice Shrine on Wraith Island after passing through the Town of Lucent and just off to the right of the Cursed Woods and below the Haunted Mansion. To get to this shrine, you'll need to have the Graplou, then head inside to work on solving the Wraith Island Solstice Shrine puzzle.
WARNING: This could potentially be spoilers if you haven't reached further points in the main story. Continue reading at your own discretion.
Last Home World Solstice Shrine Island Locations (Floating Island & No Port Island)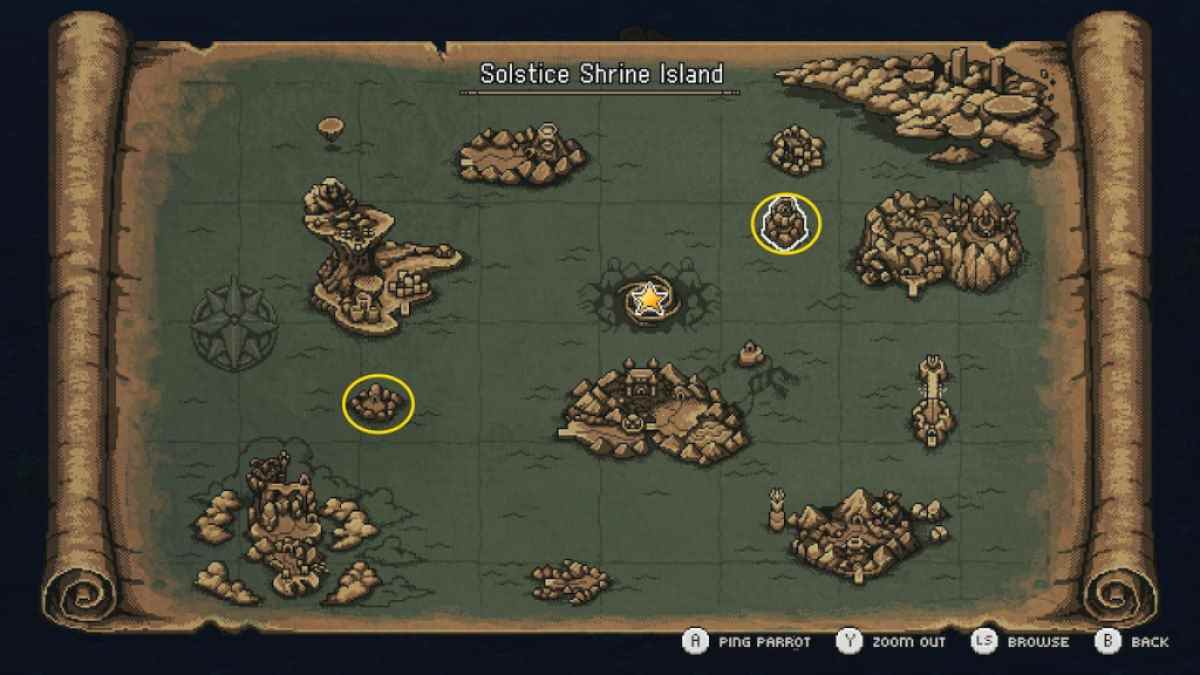 There are two other Solstice Shrines that are located on their very own islands on the Home World map. One on the southwestern side of the map, between Sleeper and Evermist islands. The other is on the northeastern side of the map, near Mesa Island. Neither of them has docks, so you'll need to acquire a different form of travel to reach them.
Related: All Party Members & Playable Characters in Sea of Stars
Serai's World Solstice Shrine Island Location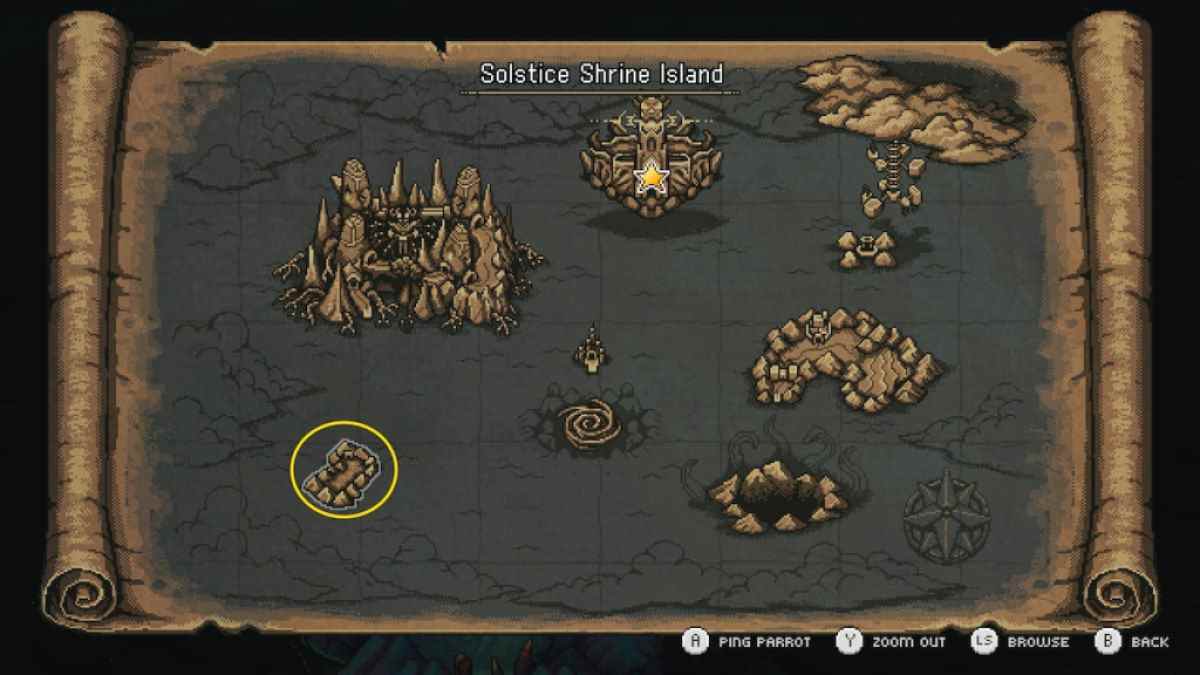 The very last Solstice Shrine is on the Serai's World map, located in the southwestern corner. Again, for this one, it doesn't have a regular dock, so you'll need a different form of travel to reach it.
What do all the Solstice Shrines unlock in Sea of Stars?
The Solstice Shrines each have their own treasure, but completing them will also start to uncover another hidden secret on Evermist Island. You'll find this secret hidden in a cave on the Mountain Trail, just below the Elder Mist area. You'll be able to find it by the solar and lunar-colored pillars on the outside of the entrance.
This emblem on the wall will have a light for each of the Solstice Shrines indicated below it. As you complete a shrine, the light will go out underneath the emblem. Once all the lights have gone out, you'll unlock this special secret.
Turn your puzzle brain on and start getting to work on completing these Solstice Shrines. Then, you'll finally be able to cover the mystery behind the cave on Evermist Island. Not to mention, you'll get some worthwhile loot from each shrine chest.
Looking for more Pro Game Guides Sea of Stars content? Check out our guides on All Quiz Master answers in Sea of Stars – All Question Pack answers & locations or How to solve the Day & Night puzzle in Jungle Path – Sea of Stars Solstice Quest Guide!