We know why you're here, and don't worry there is no judgement! I mean, we had to write this in the first place! The Sims 4 is well-known for the ability to Woohoo as it is a mechanic that allows your character to "do it" just about whenever you want. Sometimes however, you want it to be slightly more risky than usual and maybe a bit more realistic than having to click the try for baby button when you want to... try for a baby. So, this is how to get Risky Woohoo.
How to turn on Risky Woohoo in The Sims 4
Risky Woohoo is not a cheat code or hidden mode within the game, nor was it created by studio Maxis. Rather, it is a fan-created Mod (modification). So, please bear this in mind as you will need to install the Mod to make this work, and it will alter your game slightly to make these changes take effect. Don't worry: although some effects regarding the Woohoo mechanic might change, the Mod has been tested by many players and will not break your game.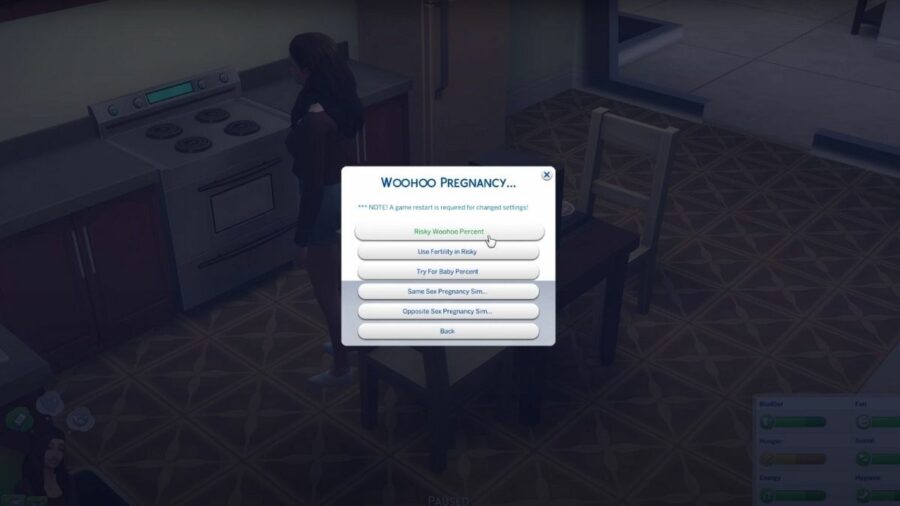 You will need to grab the download for the Mod from the Mod the Sims website. This will place a folder into your downloads on your computer. Once you have downloaded the Mod folder you will need to put it into a different folder where the game can find all of the information from what you have just downloaded. Make sure you unpack/unzip the folder first by right-clicking and pressing Extract All. In order to relocate the folder follow these steps:
Grab the folder from your downloads and place it in the Sims MOD folder.

The tree will look like this: Downloads>Documents>Electronic Arts>The Sims 4> Mods.
Once you have placed the folder in that location the game will be able to read all of the data that comes along with it, including the extra stuff that allows you to turn on Risky Woohoo.
After adding the folder, boot into your game and find a computer within your household, this is how you will be able to control the newly installed Mods. If you don't already have a computer in your house, you will need to purchase one from the Build/Buy section in the top right-hand corner of the screen.
Once on your computer, you will see a new command called MC Command Center. Click on this and then go MC Woohoo>MC Pregnancy>Risky Woohoo Percent.
By clicking on this and changing the value, it will make it possible to become pregnant from just Woohooing, instead of having to click try for baby. The numbers range from 0 to 100, with 100% being the certain end of the scale, making it so that every Woohoo encounter will end up with a pregnancy. If you set it to 0 then it will never occur.
There are lots of other settings within the MC Command Center, so you can discover those and mess around with them as well to make the game even more interesting!
Looking for more tips and tricks? Check out how to back up and rescue your saves in The Sims 4 (which can be very helpful to know when modding).