When the autumn leaves descend and a chilling wind sweeps the land, winter is on the horizon. In Sons of the Forest, winter is marked by falling snow and frozen water sources. Every aspect of survival becomes more difficult, including foraging, collecting water, and hunting. In this season, cannibals grow hungry, aggressively storming your base in groups. After the sweet embrace of fall, winter can feel like whiplash, but we're here to help. Here are some tips and tricks to help you survive the winter in Sons of the Forest.
Tips and tricks for surviving winter in Sons of the Forest
Head toward the beach to find fresh water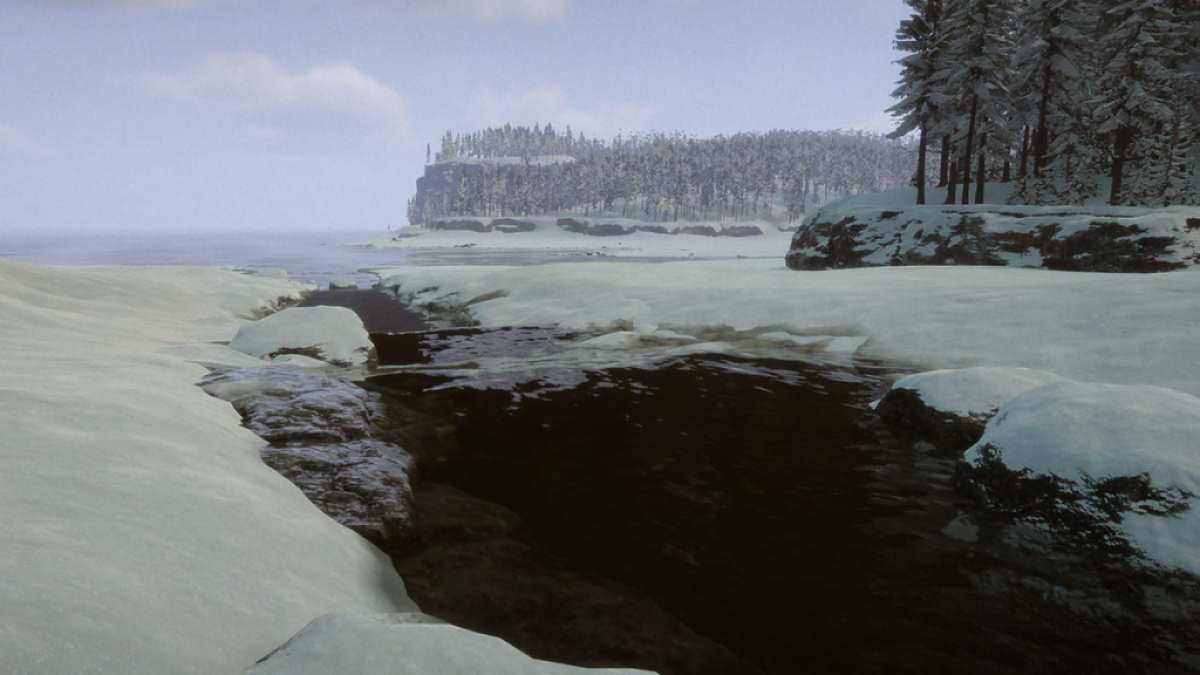 During the winter, most water sources will freeze over, but you can still find fresh water near beaches. Don't be afraid to temporarily move your home base to a beach, since it will be exceedingly hard to find water otherwise. You can find beaches by opening your GPS and looking for sandy terrain. There is a sandy bay close to the helicopter crash site that contains fresh water and a running river, so you can try setting up your base here for consistent provision.
Related: How to zoom in and out of the GPS in Sons of the Forest
Use Drying Racks to preserve food for the future
Most animals hibernate during winter, so it becomes more difficult to hunt food. However, you can use the Drying Rack to preserve meats, saving them for future use. If you cannot find any animals, you can also hang up a Raw Arm or Raw Leg from a cannibal. Once a piece of meat is set on the drying rack, it takes approximately a day to cure. After this period of time, you can either eat the meat directly from the Drying Rack or you can place it in your inventory. Be aware that meat harvested from the Drying Rack will deplete your thirst.
Frequently send Kelvin to find supplies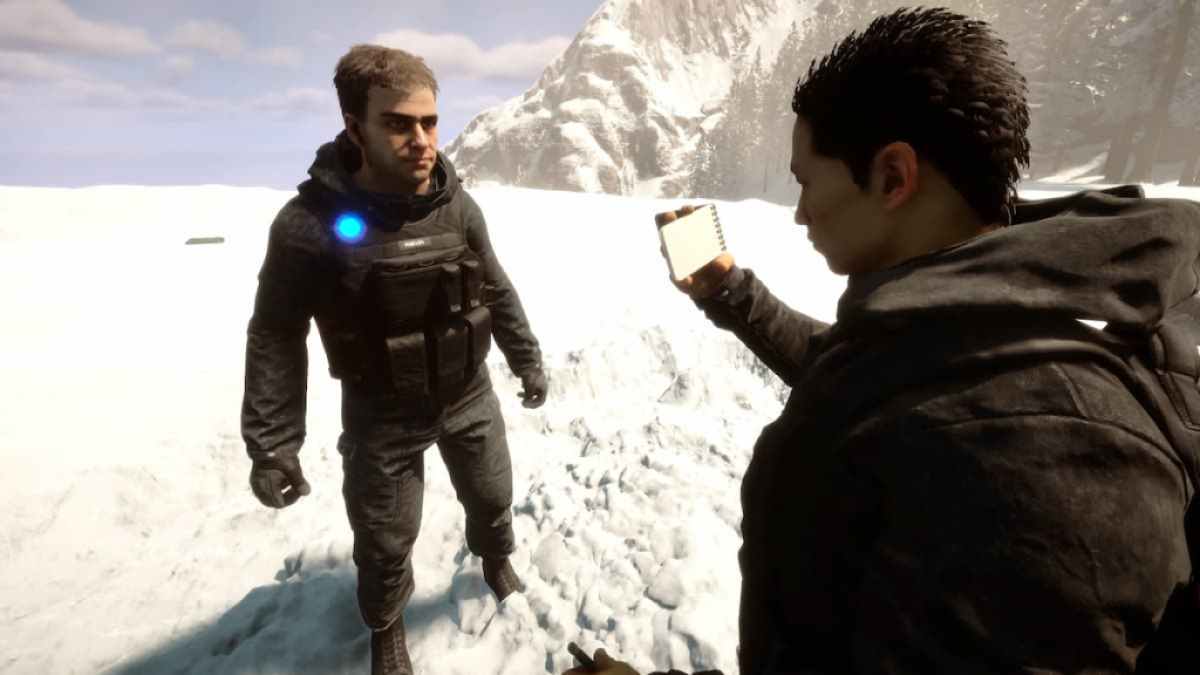 When it's too dangerous to leave the house and the cold is biting, Kelvin is your best friend. Even if there are cannibals outside, Kelvin possesses no fear. If you send Kelvin to get logs at sunset, you will wake up to a mountain of tree trunks. Although there is a chance that Kelvin will become wounded by the cannibals, he typically outruns them and has no issue. Be sure to make the most of this helping hand, as he can save you a ton of time.
Related: How to fix Kelvin getting stuck in Sons of the Forest
The cannibals are more aggressive, so make sure your base is reinforced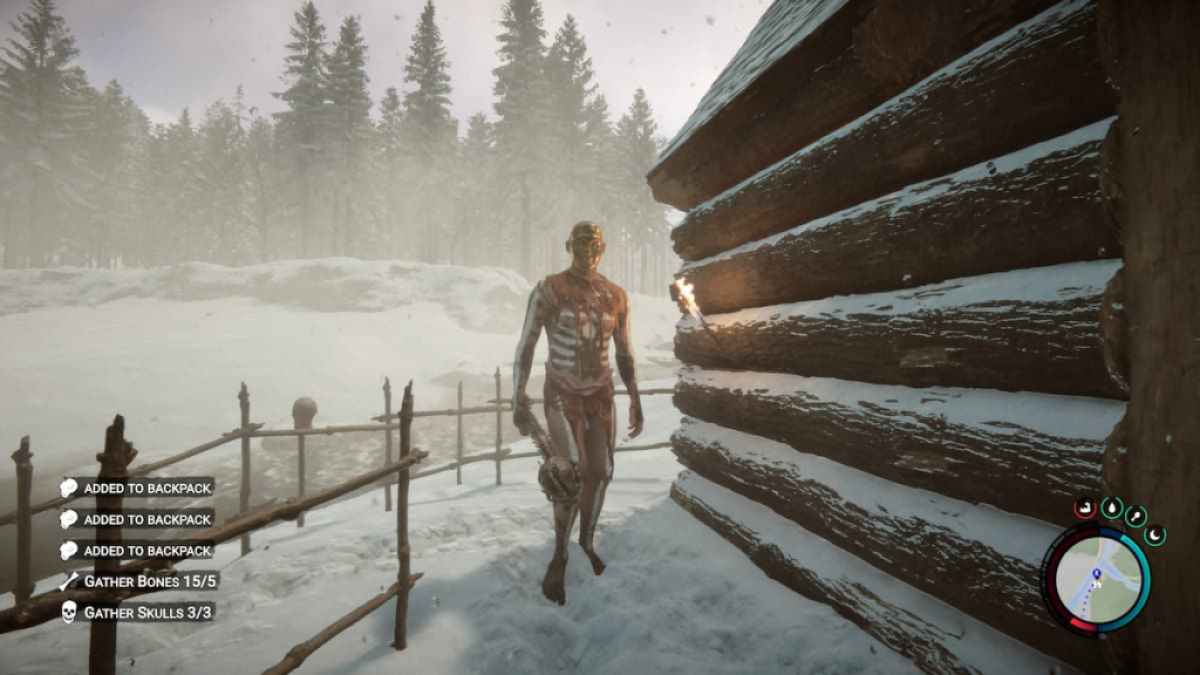 The winter is a trying time for humans and cannibals alike, so expect to see large groups of cannibals at your door. Rather than shuffling in one by one, cannibals often show up in teams of two or three, led by a stronger cannibal that's higher in the food chain. When they swing their weapon, it frequently clips through walls, so try creating a house on stilts to avoid this. Since your base will be swarmed by cannibals, houses on stilts can be vital when it comes to restoring energy. If your base is one layer off the ground, you can typically sleep even when cannibals are close by.
For more Sons of the Forest guides, come check out Sons of the Forest Strength Icon – What does the muscle icon mean? here on Pro Game Guides.