Who's ready for some web-slinging action throughout New York but as main character Miles Morales instead of Peter Parker? That's right, star from Spider-Man: Into The Spider-Verse is the lead in the latest Insomniac Game Spider-Man: Miles Morales. Start where the last DLC ending, as Miles Morales gets bitten by a genetically-enhanced spider, very much akin to the original Spider-Man story.
Spider-Man: Miles Morales Pre-Order Bonus
The Spider-Man: Miles Morales pre-order bonus is an array of items, 2 Spider Suits, 1 Gadget, and some extra skill points to help you along on your web-slinging adventure. No matter what version you pick up of Spider-Man: Miles Morales, you will get this pre-order bonus when it launches for PlayStation 4 and PlayStation 5 on November 12, 2020.
These are the following pre-order bonuses you get:
T.R.A.C.K. Suit: Designed by Javier Garrón, one of the talented Marvel artists on the MILES MORALES: SPIDER-MAN comic book series. Zip up the Time Response Activated Circuit Kinetic (T.R.A.C.K.) Suit and unlock the Untrackable Suit Mod.
Second Spidey suit: "Spider-Man: Into the Spider-Verse" Suit. Use the Vibe the Verse Suit Mod to mimic the aesthetic of a different Earth from the Sony Pictures Animation film!
Gravity Well Gadget: Get a web up with the early unlock of the Gravity Well Gadget. Pull enemies together to knock them down and disarm them with this new combat device.
Extra skill points: Learn new powers and combat abilities more quickly with extra skill points to spend.
With these extra suits, equipment, and skill points, it won't take you long to beat Spider-Man: Miles Morales!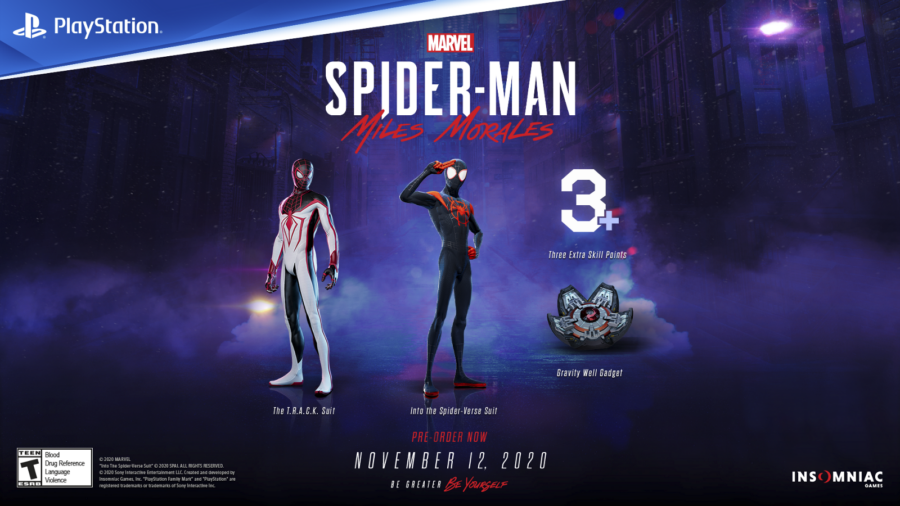 Spider-Man: Miles Morales Special Editions
There are two Spider-Man: Miles Morales special editions for the PlayStation 5; the first is the Spider-Man: Miles Morales Standard Edition and the second is the Spider-Man: Miles Morales Ultimate Edition. And do not worry as cross-save is available between the PS4 and PS5 version.
In the Standard Edition, you get the full game and nothing else. Though if you have pre-ordered it, you will get the pre-order bonus as well. Or you can purchase the Spider-Man: Miles Morales Ultimate Edition, and you get Spider-Man Remastered!
If you are buying the PlayStation 4 version, you can only buy the Standard Edition!
Spider-Man: Miles Morales - Standard Edition - PS4/PS5
Cost: $49.99 (£49.99)

Contents
Pre-order bonus

T.R.A.C.K. Suit
Second Spidey suit
Gravity Well Gadget
Extra skill points
Spider-Man: Miles Morales - Ultimate Edition - PS5
Cost: $69.99 (£69.99)

Contents

Full Game
Marvel's Spider-Man Remastered

The Full Game
All three DLC chapters in The City That Never Sleeps

Pre-order bonus

T.R.A.C.K. Suit
Second Spidey suit
Gravity Well Gadget
Extra skill points