Tears of Themis employs a gacha system that allows players to pull cards featuring their favorite male leads. There are multiple kinds of banners: the standard banner that contains the core card lineup, the rotating banner that features two SSRs on rate-up, event-exclusive banners, birthday banners, and limited banners.
With so many different gacha pools with varying mechanics, it's easy to get confused over which banner to prioritize to maximize your S-Chips and Tears. Here, we'll run you through everything you need to know about limited banners.
Limited Banner vs. Event Banner
Limited banners are essentially event-exclusive banners. But unlike the normal event banners, which usually feature two SSR and two SR cards, limited banners feature four SSRs—one for each male lead. You can't use normal Tears to pull in limited banners. Instead, you must use Limited Tears or Special Tears designated to the limited banner, which runs in conjunction with a major event, such as the Lost Riches and A Love Poem to Skadi.
It's important to know that these Limited and Special Tears are specific to each limited banner, so be cautioned and do not prematurely convert your S-Chips.
Rotation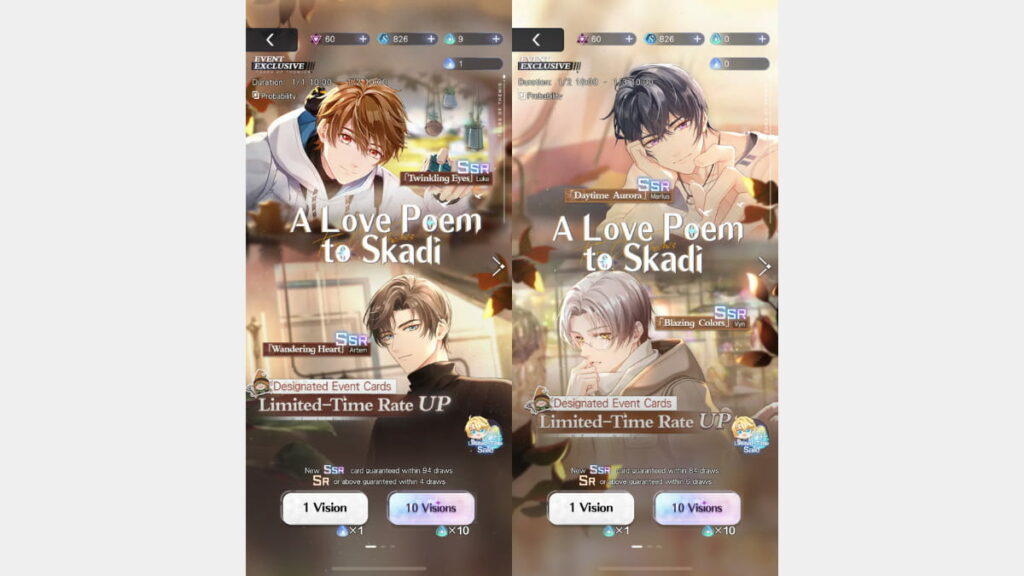 The limited banner lineup is presented in two ways.
Two SSRs may go on rate-up at the same time. The banner will then rotate every couple of days, and all rotations will share the same pity. For example, in A Love Poem to Skadi, Luke and Artem were on rate-up together for two days before switching to Marius and Vyn for two days—and the same pattern repeated until the end of the event.
Each SSR may have a separate banner at the same time. This pattern was seen in the Chinese server's first anniversary event, ensuring that players could pull for their male lead of choice. However, the SSR pool included a permanent SSR on top of the event-exclusive one, so there was a small risk of obtaining an older card.
Pity
The SSR pity for the limited banner is at 100 pulls. These don't carry over to the next limited banner, so if you're a free-to-player, it's important to be smart about your resource allocation and think twice before pulling to maximize your guarantees.
However, while limited banners go on rotation or are spread across multiple banners at the same time, the pity is shared across all existing limited banners. For example, if there were four separate Luke, Marius, Vyn, and Artem limited banners at the same time, pulling 25 times in Luke's will still exhaust 25 pulls in your Artem pity, Vyn pity, Marius pity, and so on.
Check out our guide on How do Limited Tears work in Tears of Themis to help you figure out an S-Chip game plan whenever a limited banner drops.