The Tears of Themis Anniversary event, Blissful Fête, runs from July 5, 2022, to July 30, 2022. During the event, you can participate in various Stellis Celebrations and collect Likes Celebration Stickers, which can be exchanged for amazing rewards—including event-exclusive skill level-up materials and Tears of Themis - Limited.
There are plenty of ways to farm Likes Celebration Stickers, but some of them take time, so don't wait until the last minute before starting! Here are all the ways you can get Stickers during the event.
All Likes Celebration Stickers farming methods in Tears of Themis
Civil Disputes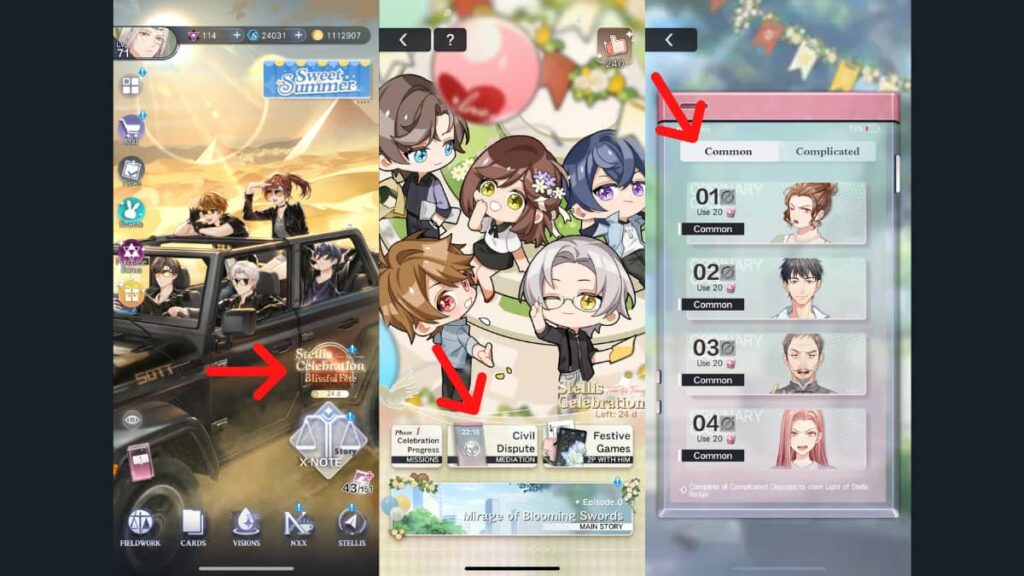 Civil Disputes are debates that give a one-time reward of 40 S-Chips, but you can engage in them an unlimited number of times to farm Likes Celebration Stickers. Head to the Stellis Celebration menu above the X-Note and select Civil Dispute to find them.
There are two difficulty levels—Common and Complicated—but only Common stages grant Likes Celebration Stickers. Consider farming Stage 4, as it's the most cost-effective at 20 AP for 120 Stickers.
Mirage of Blooming Swords Daily tasks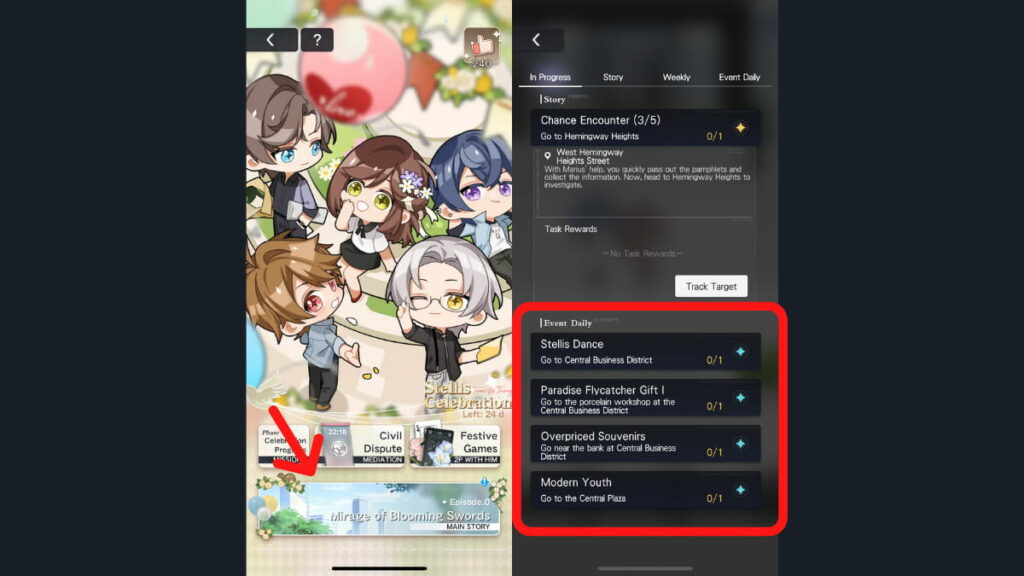 The Mirage of Blooming Swords is the main event story, set in Stellis City's exploration mode. You'll receive four Daily tasks that will expire after the server resets. Each task grants 50 Likes Celebration Stickers. Additionally, you can get 100 Likes Celebration Stickers by completing tasks from the main event story.
Festive Games
You can play Festive Games with your favorite male lead and claim Likes Celebration Stickers by reaching score milestones. There are four Festive Games with four stages each, and the number of Stickers you can get varies. Here are all the mini-games you can play:
Stellis Celebration tasks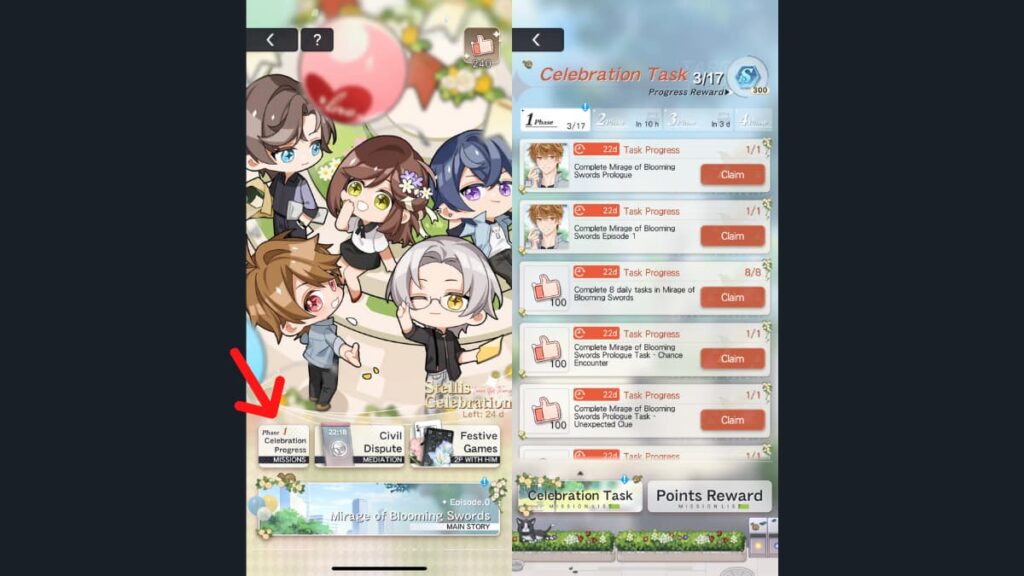 You can get Likes Celebration Stickers by completing tasks from the Celebration Progress section of the event page. These are related to Civil Disputes and the Mirage of Blooming Swords. If you've been playing through these two game modes, you might have already completed some of the Celebration tasks, so don't forget to claim your rewards!
New tasks will release as the event progresses. They're divided into five phases and will unlock on the following dates:
Phase 1: July 5
Phase 2: July 8
Phase 3: July 11
Phase 4: July 14
Phase 5: July 17
Related: Tears of Themis Stellis Anniversary Returner Gifts event guide
How to get Likes Celebration Sticker collection rewards in Tears of Themis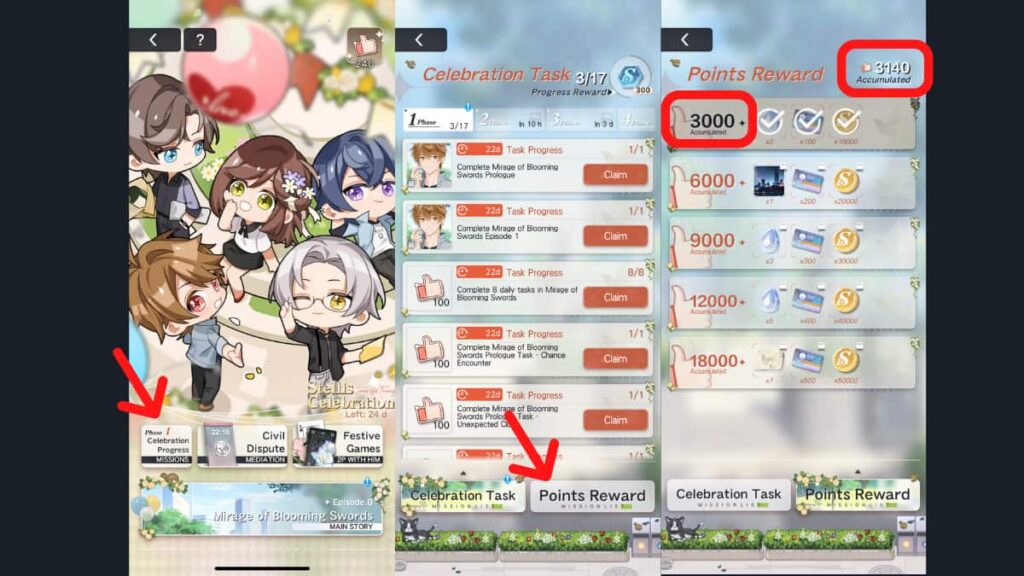 Head to the Celebration Progress menu and select Points Reward to view the Likes Celebration Sticker accumulation rewards. You can claim the rewards as soon as you've farmed the specified number of Stickers. These count the total number you have accumulated over the event period. You can spend Stickers without affecting the accumulation count on the upper right of the screen.
How to spend Likes Celebration Stickers in Tears of Themis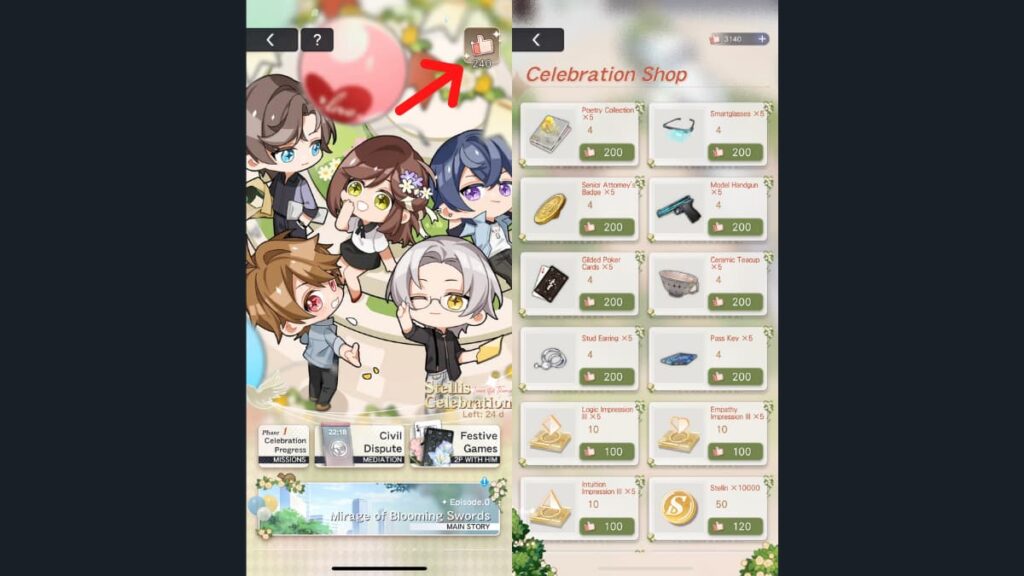 Click on the Likes Celebration Sticker icon on the upper right of the event menu to access the Celebration Shop, where you can purchase rare items. You need 15,400 Likes Celebration Stickers to buy everything in the store—9,400 if excluding Stellin.
For purchase priority, we highly recommend aiming for the skill level-up materials first, as they can only be purchased from event shops. Impression IIIs can be farmed from Anomaly stages but at a very low drop rate, so they can be second in priority. The Stellin in this store is a little expensive, so it's an easy skip if you're short on Stickers.
Check out our guide on How do limited banners work in Tears of Themis to prep for the Anniversary SSRs.