The Tears of Themis Entwining Hearts event runs from Aug. 3, 2022, to Aug. 13, 2022, and is open to all attorneys who have completed the X-Note Main Story stage 2-28.
The event celebrates the release of Luke's Sweet Chapter, which details his and Rosa's relationship after the first anniversary confession. Entwining Hearts is divided into two Phases—the second half releases on Aug. 6, 2022. The event consists of Daily Tasks that are time-gated, so try not to start too late to score all the rewards!
How to participate in the Entwining Hearts event in Tears of Themis
Head to the Entwining Hearts menu under the rotating banner on the upper right of the screen. Your goal is to complete various tasks in Luke's Sweet Chapter, which consists of story dialogue and Stellis City exploration. Click on the Entwining Hearts button or Visit Luke to initiate the Sweet Chapter and start playing through the story and tasks. Canonically, the Sweet Chapter happens after Luke's Personal Stories, but they can be completed in any order.
Event Tasks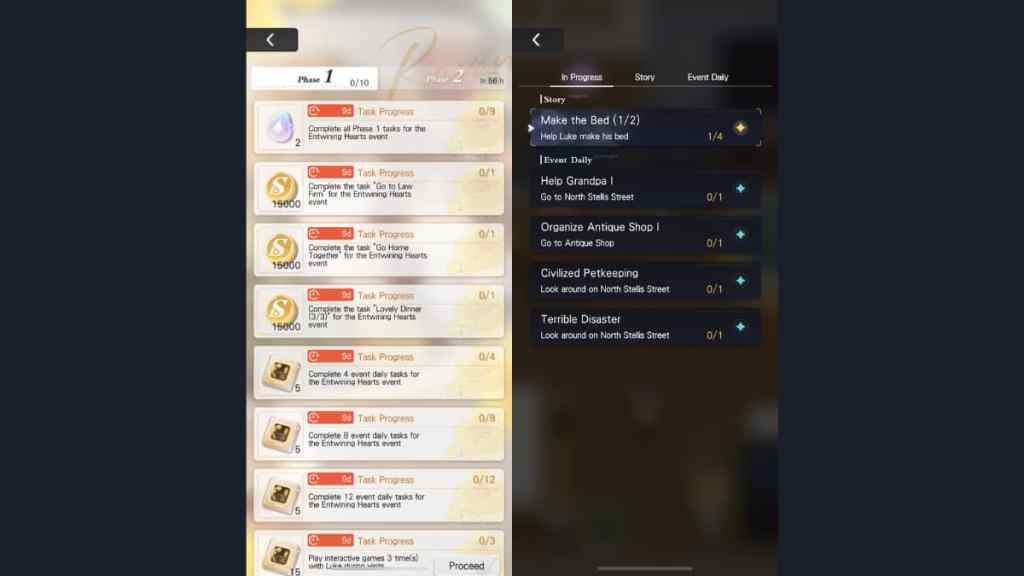 Event Tasks are one-time tasks you can complete any time while Entwined Hearts is running. While they are integrated into the Sweet Chapter, the rewards can only be claimed during the event period. After the event ends, you can still play the Sweet Chapter but can no longer get the limited-time rewards. You must complete all Phase 2 tasks to get the limited Sweet Freeze-Frame Badge.
Daily Tasks
You can enter Luke's Sweet Chapter every day to get four Daily Tasks. These reward you with rare skill level-up materials, so we highly recommend doing them. You also need to complete at least 28 Daily Tasks (seven days) to get all Phase 2 rewards.
Check out our guide on How to conduct debates with Luke, Marius, Artem, and Vyn in Tears of Themis to complete Event Tasks.