The Men from N.X.X. is a Tears of Themis April Fool's Day event that runs from April 1, 2023, to April 11, 2023, and is open to all attorneys. During the event period, you can participate in a tile-flipping game that will unlock MRs featuring bobbleheads of your favorite male leads. After evolution, the cards transform into the love interests in their usual dapper selves—so don't miss out!
For this event, you can get all four event MRs but must spend S-Chips—check out the cost breakdown below to help you decide whether to spend or save.
How to complete the Tears of Themis The Men from N.X.X. event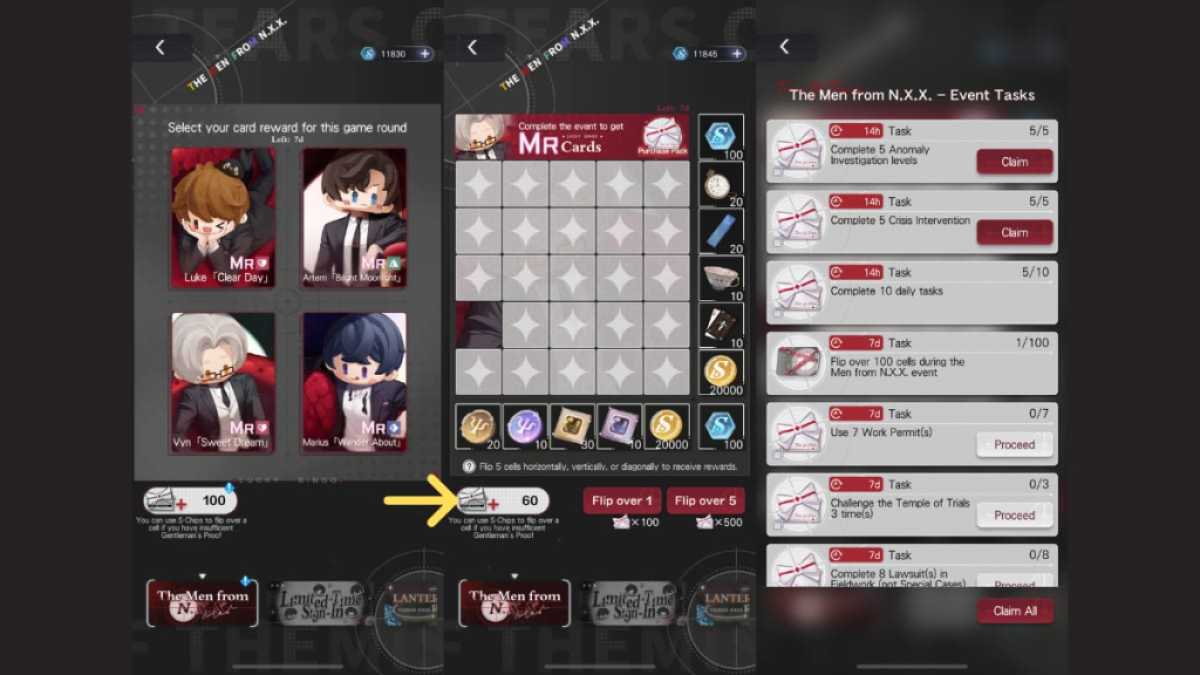 Head to the event menu and select The Men from NXX at the bottom of the screen to open the event page. You'll be asked to pick your first male lead, which will determine which MR card you'll receive after flipping all 25 tiles in the bingo card. You can get all four male leads across four bingo cards but can't change him midway, so it's best to pick your favorite male lead first.
On the event page, click on the envelope on the bottom left to enter the task menu, which include both daily and one-time tasks.  Pay attention to the red timer and prioritize completing dailies. All tasks will reward you with the event currency called Gentleman's Proof, which can be used to flip tiles in the bingo card. S-Chips can also be used in place of Gentleman's Proof at a 1:1 ratio.
You need to spend x100 Gentleman's Proof to flip each tile. When you complete vertical, horizontal, and diagonal lines, you will get the additional rewards featured around the border of the card. Once all 25 tiles have been flipped, you'll get the MR you picked and can start a new card featuring another MR. Completing all four cards (100 tiles) will reward you with a limited Namecard called "Celebration - The Men from N.X.X."
Related: Tears of Themis Episode 8 – Bloom of Sorrow Investigation and Trial walkthrough
Tears of Themis The Men from NXX event free MR calculator
Completing all event tasks will reward you with x1,500 Gentleman's Proof. You can also claim x100 Gentleman's Proof for free in the in-game mail. You also get some Gentleman's Proof for each bingo, which will help if you're aiming for more than one MR. In total, this gives you x1,600 free Gentleman's Proof, but you need 2,500 for one MR, so getting one for free is not possible.
See the cost breakdown below, assuming you complete all event tasks:
| MR | S-Chip cost |
| --- | --- |
| First MR | 900 S-Chips |
| Second MR | 2,500 S-Chips |
| Third MR | 2,500 S-Chips |
| Fourth MR | 2,500 S-Chips |
| Total for all four MRs | 8,400 S-Chips |
You can get a 200 S-Chip reimbursement from every completed bingo card (diagonal rewards), 200 S-Chips for flipping 50 tiles, and another 200 S-Chips for flipping 75 tiles. Assuming you aim for all four MRs, you can save 1,200 S-Chips, so your total will be down to 7,200.
Tears of Themis The Men from NXX login event guide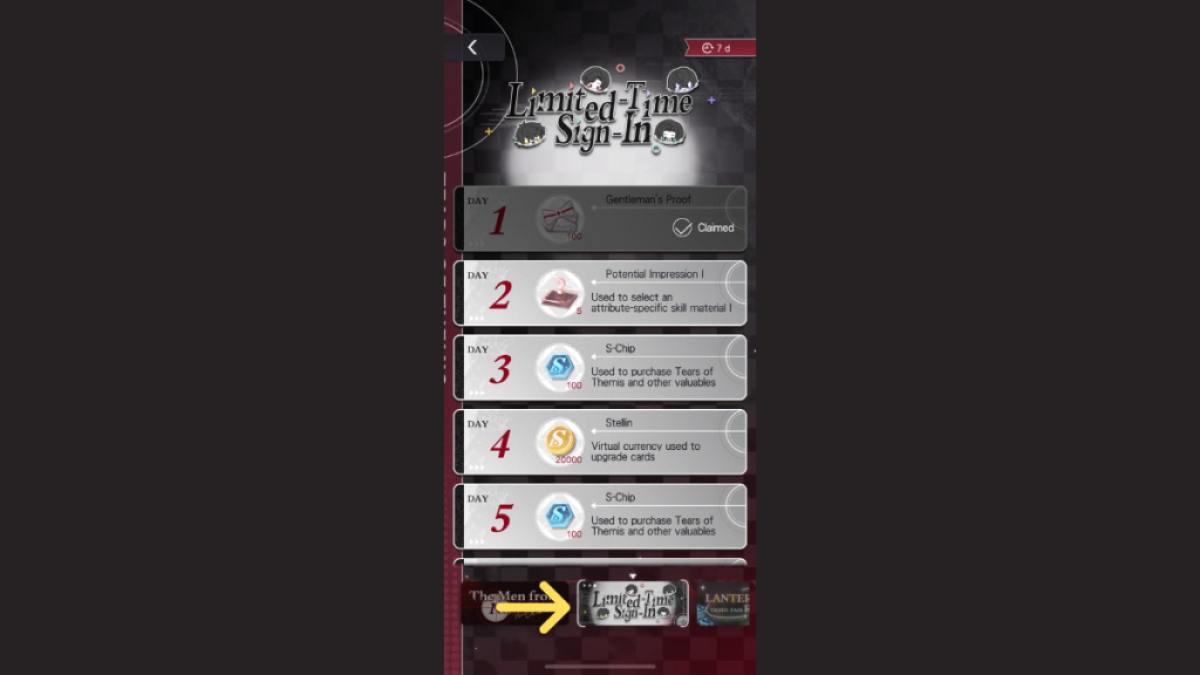 In addition to the bingo card, you can also claim free rewards by logging in every day from April 1, 2023, to April 11, 2023. Simply head to the event menu, select Limited-Time Sign-In, and claim your reward before the server reset daily.
To help complete event tasks, check out our guide on Where to obtain Empathy, Logic, and Intuition Impression I, II, III in Tears of Themis here on Pro Game Guides.