Unlocking the Alchemy Lab Floor recipe in V Rising requires players to either use Paper to unlock the Technology at a Research Desk or to find the recipe by defeating humans. Unlocking the Alchemy Floor will allow devices like the Blood Press or Alchemy Table to require 25% fewer materials when producing items. The entire room must be enclosed with this flooring type in order for it to work with the devices inside. This is how to unlock the Alchemy Floor in V Rising.
How to unlock Alchemy Lab Flooring
Players looking to unlock the Alchemy Lab Flooring can only do so with a Research Desk. New technology can be discovered either by finding a Research Book with the Alchemy Lab Flooring technology or by farming Paper to discover the technology randomly. Both of these methods heavily depend on RNG. However, Paper farming can be made easier with the use of the Paper Press. This is unlocked by researching it at the Study, a device that works similarly to the Research Desk but requires Scrolls instead.
Alchemy Lab Flooring requires:
Blood Essence - Four
Stone Brick - Four
Sulphur - Two
Related: How to make Scrolls in V Rising
How to farm for Paper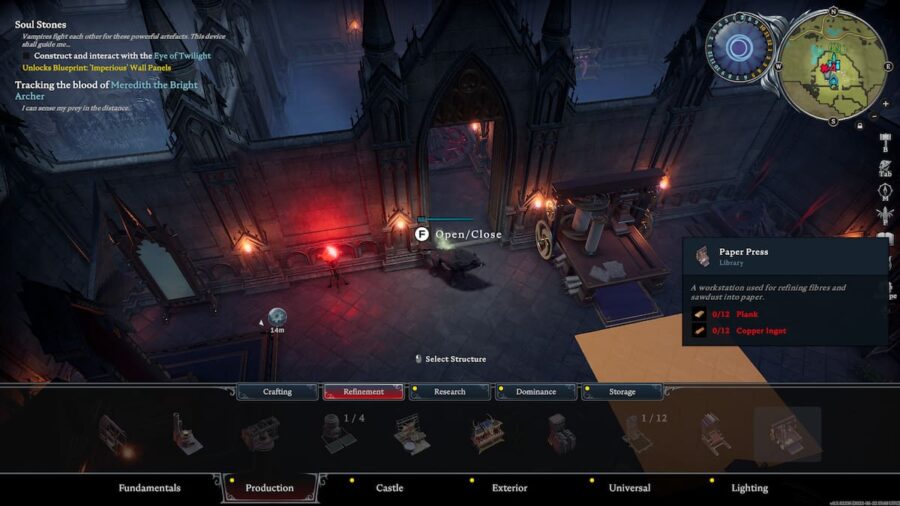 The Study is unlocked after defeating Nicholaus the Fallen around Gear Score 37. The Paper Press can be randomly unlocked using the Study by using 75 Scrolls or by finding the book for it. After this, players will be able to use Saw Dust to make Paper. This requires a lot of Lumber and players can use Pinecones to make their own tree farms to do everything from the safety of their castle. Alternatively, if players do not have a Paper Press, then Paper can be farmed at several locations.
The Paper Press requires:
Plank - 12
Copper Ingot - 12
The Study requires:
Paper - 40
Plank - 40
Copper Ingot - 8
Grave Dust - 8
For more V Rising guides, check out Best places to farm Iron Ore in V Rising on Pro Game Guides.