To unlock abilities in V Rising, you will need to seek out one of the numerous bosses that roam certain locations in the game. These locations include a Cemetery, Bandit camps, and Copper mines.
You can find these locations on the game map by hitting the M key on your keyboard. Doing so will allow you to view the locations by looking for the large yellow circles below. However, going to these locations won't be enough to help you find the bosses. You will also need to track them via their Blood scent.
Related: How to surive Sunlight in V Rising
How to track bosses in V Rising
To track bosses in V Rising, you will first need to reach level 20+ Gear Level and build a Blood Altar. Start by crafting better items such as weapons and armor, which will get you to around Gear Level 23. You will need to be at least 20 Gear level to slay and hunt most of the early game bosses. That said, to get to 23 Gear level, we recommend making the following items:
Copper Spear, Axe, or Mace
Full Set Plated Boneguard Armor
Blood Rose Ring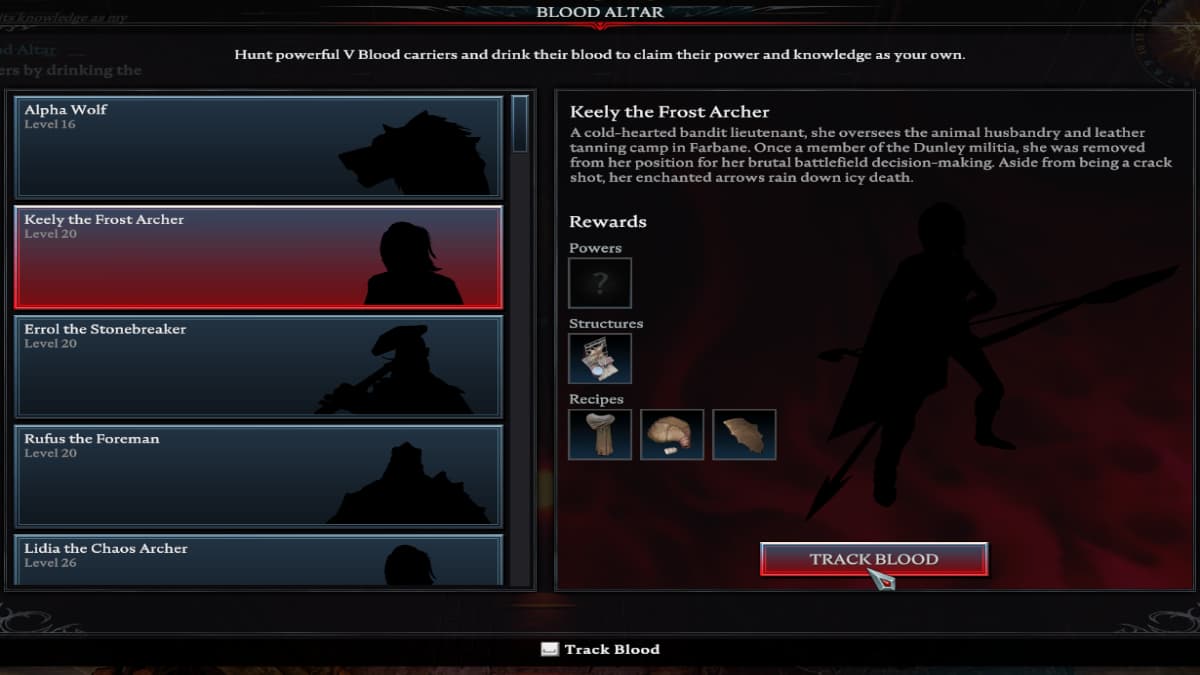 Once you have the items above made, you can start tracking bosses in V Rising by building a Blood Altar with 180 Stone and 10 Blood Essence. Once you have the Blood Altar made by placing it from the build menu, open the altar. Under the Blood Altar, you will be able to start tracking bosses by clicking on one and then hitting the track button, as shown above.
For more on V Rising, we recommend checking out both Is V Rising an MMO? and Does V Rising have controller support?