If you were wondering how to breed a lox in Valheim, you can now with the recent update called Hearth and Home. To breed loxs, just feed them food such as cloudberries and they will mate simliar to the other animals you can tame in Valheim.
You can also tame a lox in Valheim, similar to how you can tame wolves and boars in the game, but unlike these animals, you will need to make a pen out of stone walls for the best results. It's still posible to sneak up and drop food to tame them but it may prove tricky to do unless you have a full suit of troll hide armor.
If you want to go with our stone wall pen idea, you can make stone walls when you get a stonecutter after getting iron ore, which you can find mostly inside sunken crypts in the swamp. To get inside these sunken crypts, you will need a swamp key that is dropped from the Elder boss.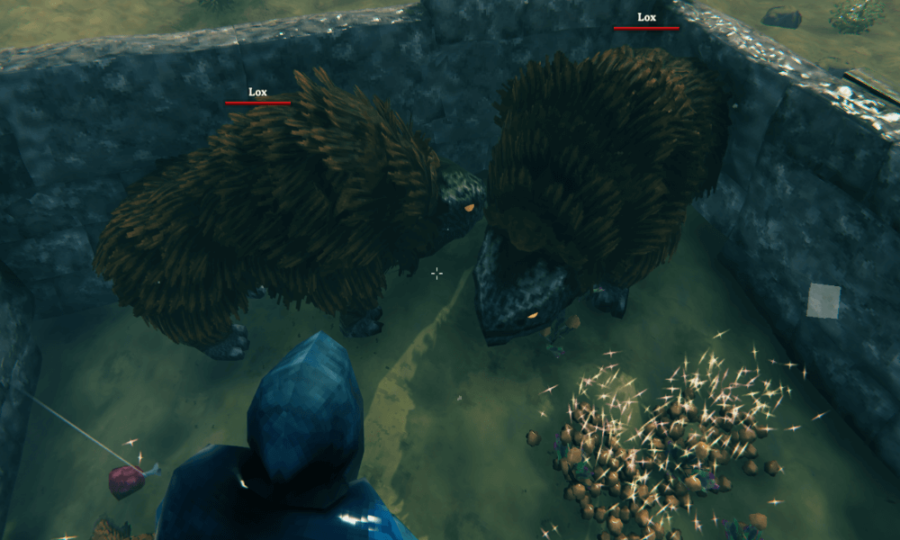 Once you get iron, you will be able to build a stone cutter with the following resources below.
When you get the resources listed above, you can place the stone cutter down next to or in a workbench's build circle; if you need to, simply place a new workbench down if the spot you want to build at is outside your main workbench zone. Along with this, you will need to make sure your stonecutter has a roof over it; just build a simple two by two roof, and you will golden.
After you get all of this done, you can place your stonecutter down by right-clicking the hammer and then finding it in the crafting tab. Once placed, you can then start building your lox pen; we recommend making a large pen similar to the one above with high walls to keep the lox inside.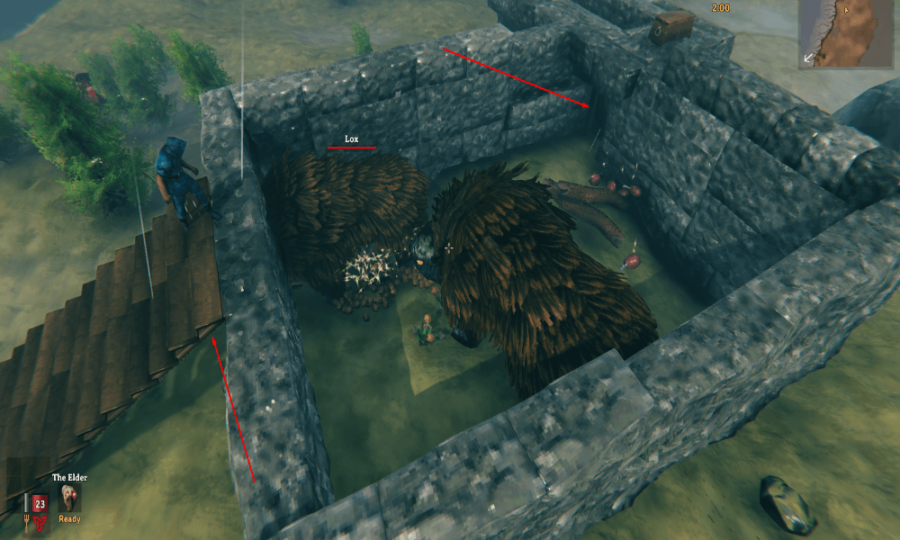 Along with this, make a stairway to the edge of the wall; you will want this to lead the lox inside, also make a small wooden door to escape the pen after you get lox inside.
When you get the pen built, you will then be able to get your first lox; you can do this similar to how you tame the other two tamable animals in the game. Start by locating the lox and then get it chasing after you; when you got the loxs attention, lead it back to the stairway.
You will want to lead it over the wall and into the pit; when it jumps down after you, escape through the small wooden door and then leave the area.
Related: How to tame a boar in Valheim
You're going to want to wait for it to calm down; once it stops being angry, you can start the taming process, which is to feed it either barley or cloudberries until the loxs become fully tamed.
As a side note, you might want to sneak up the stairway when you feed your loxs, as loxs are aggressive creatures and will start attacking your walls when they see you. Because of this, we recommend keeping a hammer ready to repair your walls if the loxs start attacking your walls.
Once fully tammed, you can use loxs as a mount by making a lox saddle in Valheim. To make a lox saddle you will need the following materials listed below.
10 Linen straps
15 Black metal
10 Leather straps
Level one workbench
For more on Valheim, we at PGG have you covered with an expanding roster of guides like how to get the swamp key and how to get iron ore in Valheim. Along with these two incredible guides, check back later, and we will have even more guides for Valheim coming out in the weeks and days ahead.