If you are in the market for an abyssal razor or abyssal harpoon, you are going to need to get chitin from the elusive krakens in Valheim; that said, here's everything you need to know.
How to get chitin from abyssal barnacles
You can get chitin from the Kraken via barnacle ore mounds on their backs with an iron pickaxe or higher; you will also want to mine as much as you can off their backs as you have a limited amount of hits before the Kraken goes back into the water.
You can also find these krakens floating about in ocean biomes, usually in the middle of them, as shown above; once you find one, you will need to make your way on its back; it's tricky, but here are some tips for doing it.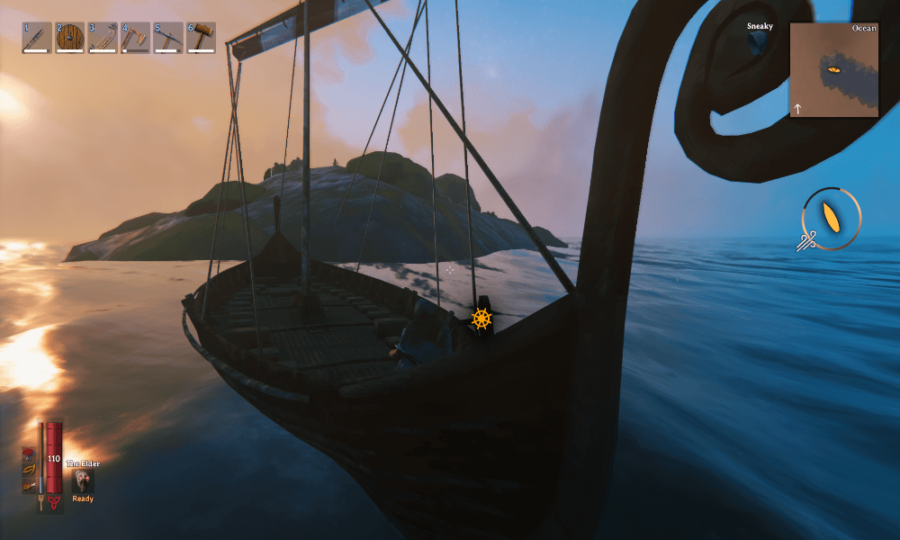 We recommend trying to get your boat as close as possible to make things easier; also, try to find a low point on the back of the shell to make jumping on it more straightforward.
Once on the back of the Kraken, try to mine the abyssal barnacle mounds closest to the ship, as if you go too far, you will be left far away from the ship and will die from the stamina drain. Along with this, mine as much chitin as you can, as you will have a limited amount of time before the creature sinks back into the water.
You can tell when it's about to do this by the length of the roars after you hit one of the abyssal barnacle mounds; when the roar is deafening, and everything is shaking for long periods, it's time to head back to the ship.
Once have some chitin from the kraken, you will be able to make the following abyssal weapons below.
Abyssal razor:

You can craft an abyssal razor once you picked up your first chitin from the kraken; after that, you can make it with the following resources.

20 Chitin

Two Leatherscraps:

You get these from boars.

Abyssal Harpoon:

Same deal as the knife, get at least one chitin, and you will unlock the recipe for the harpoon; after which, you can craft it with the following resources below.

Eight Finewood

30 Chitin

Three Leatherscraps:
Overall, chitin is a rare resource, but it is not essential as it is required to make only two items; both are the ones we just listed. However, we do recommend getting chitin to make both items as the harpoon can latch onto creatures, and the abyssal knife is a deadly blade and would be perfect for stealth characters.
For more on Valheim, we at PGG got you covered with awesome guides like how to make mead with cauldrons and How to make honey with beehives in Valheim.