Surrendering is not always the best option to end a match in any competitive game. But, sometimes, it may be the wise option if you end up with one or more cheaters on the enemy team. If you don't, you might be wasting nearly 30 to 40 minutes of your precious gaming hours participating in a losing game. So, to surrender a match in Valorant, you need to start a surrender voting procedure and get the approval of your teammates.
When should you surrender a game in Valorant?
If you are new to multiplayer games, you can surrender a match under the following situations.
Smurfing: Smurfing has been a big problem in competitive games for a long time, and Valorant is no different. It is a situation in which a high-ranked player gets into a lower-ranked lobby through their secondary account. So, it's always better to save time instead of getting bullied by a Radiant player.
Cheaters: Even after implementing efficient anti-cheat systems like "Vanguard," Valorant players face one or other cheaters in the mid to higher-rank tiers. If you see a blatant aim or wallhack, go for the surrender option after discussing it with your team.
How to surrender a game in Valorant
Once you have decided to surrender a game, follow these instructions. And remember, you will lose RP if you surrender a ranked match. So, think twice before hitting the surrender vote.
Open the chatbox on the bottom-left corner of your screen using the "Enter" button. Type any of the following commands, /ff, /concede, or /surrender, to initiate the voting procedure.
You can also start the voting procedure by pressing the "Esc" button and clicking on the surrender button under the match section.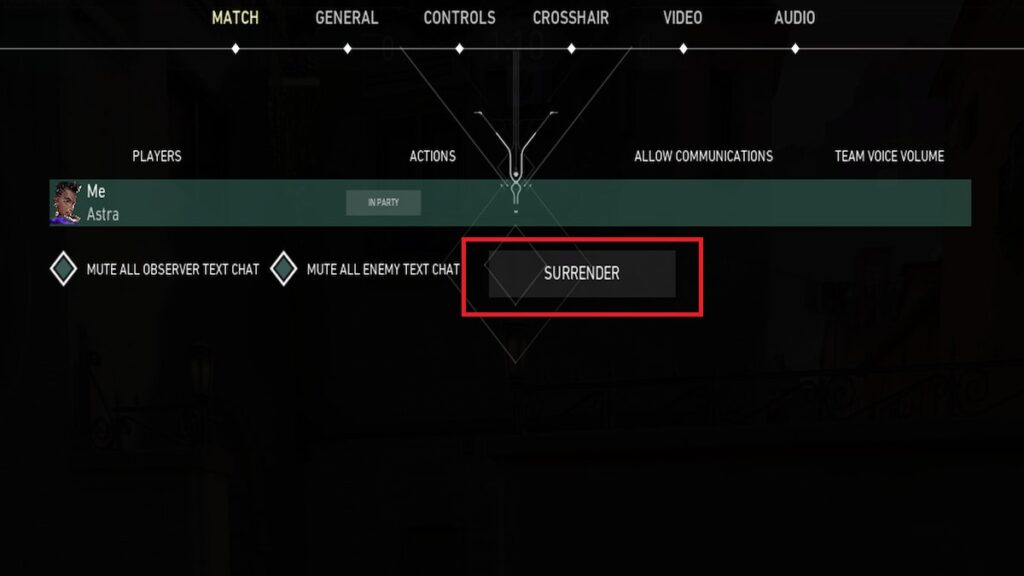 Press "Y" to register your vote and ask your teammates to vote.
Once the system has received all the confirmation votes, the server will surrender your game.
If it is the first round of the match, you can use the remake feature, as the surrender option will only be available to players after round 5.
For more on Valorant, check out How to get the Instagram crosshair in Valorant, or Valorant: How to fix the version mismatch error on Pro Game Guides.