The Phantasma Prime is one of the most powerful shotgun rifles in Warframe. This is the Primed variant of the Phantasma beam shotgun, and it boasts improved stats over its default version. Featuring Radiation damage, along with increased Critical Chance, bonus Critical Multipliers, and increased Magazine Capacity, this shotgun can melt away enemies in seconds and can be especially effective against Grineer opposition. However, you must deploy the correct mods to bring out its true potential. In this guide, we'll go over the best possible build for the Phantasma Prime in Warframe.
The best mods for Phantasma Prime in Warframe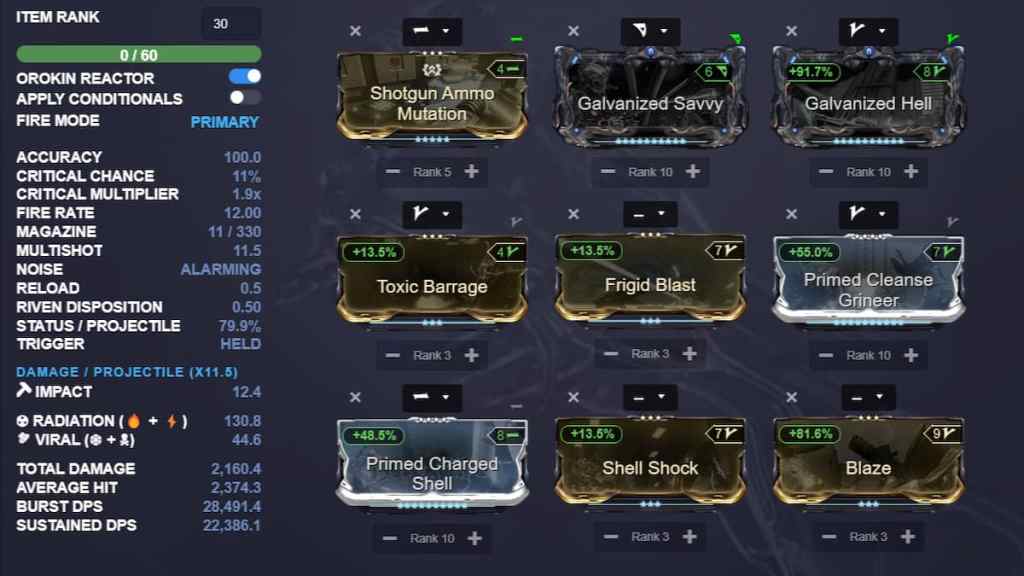 The Phantasma Prime is a beam shotgun with high multishot stats and can deliver its payload with pinpoint accuracy. However, its only drawback is its limited maximum ammo, which can become a hindrance owing to its high fire rate. Therefore, when choosing mods for the Phantasma Prime, our main focus should be on mitigating its limitations with ammo and increasing its status proc effects. The following are the best mods on the Phantasma Prime in Warframe.
Shotgun Ammo Mutation (Exilus): Converts Secondary ammo pick up to 50% Ammo Pick up.
Galvanized Savvy: +80% Status Chance on kill, +40% increased direct damage per Status Effect on target. (Stacks up to 2x)
Galvanized Hell: +110% Multishot on kill, +30% Multishot for 20 seconds. (Stacks up to 4x)
Toxic Barrage: +60% Toxin, +60% Status Chance
Frigid Blast: +60% Cold, +60% Status Chance
Primed Cleanse Grineer / Primed Cleanse Corrupted: +55% Damage to Grineer / Corrupted
Primed Charged Shell: +165% Electricity
Shell Shock: +60% Electricity, +60% Status Chance
Blaze: +60% Damage, +60% Heat
Primary Deadhead (Arcane Enhancement): +120% Damage for 24 seconds on Precision Headshot kills. (Stacks up to 3x)
Related: Warframe – Riven Mods, explained
This build requires three Formas to match the maximum mod capacity. With the ability to proc Impact, Radiation, Heat, and Viral damage, status effects are the key damaging element of the Phantasma Prime. Furthermore, increasing the Multishot stat increases beam damage and status effect chance. Lastly, to keep the build flexible, you may swap out the Faction mod (Primed Cleanse Grineer / Corrupted) for Vigilante Armaments to enhance Multishot and critical hits from your primary weapon.
How to get the Phantasma Prime in Warframe
The Phantasma Prime is one of Revenant's signature weapons in Warframe, along with the Tatsu Prime. In the hands of Revenant, it receives additional magazine capacity. However, if you wish to wield the power of this formidable beam shotgun, you will need to collect its component blueprints. The following are the Relics that contain Phantasma Prime Blueprints:
Phantasma Prime Blueprint - Axi N9 (Uncommon)
Phantasma Prime Stock - Lith P6 (Rare)
Phantasma Prime Receiver - Meso K4 (Common)
Phantasma Prime Barrel - Meso P10 (Rare)
Looking for the best build for Revenant's signature melee weapon? Check out Best Tatsu Prime Build in Warframe on Pro Game Guides.