The Veilbreaker update in Warframe brought along tons of changes and additions, including a new Warframe, and powerful new mods. Along with the addition of Styanax, players can further bolster their combat stats by collecting new Archon Mods. These mods are based on pre-existing Warframe mods, and come with enormous bonus effects. In this guide, we'll tell you how Archon Mods work, and where to find them in Warframe.
All Archon Mods and abilities in Warframe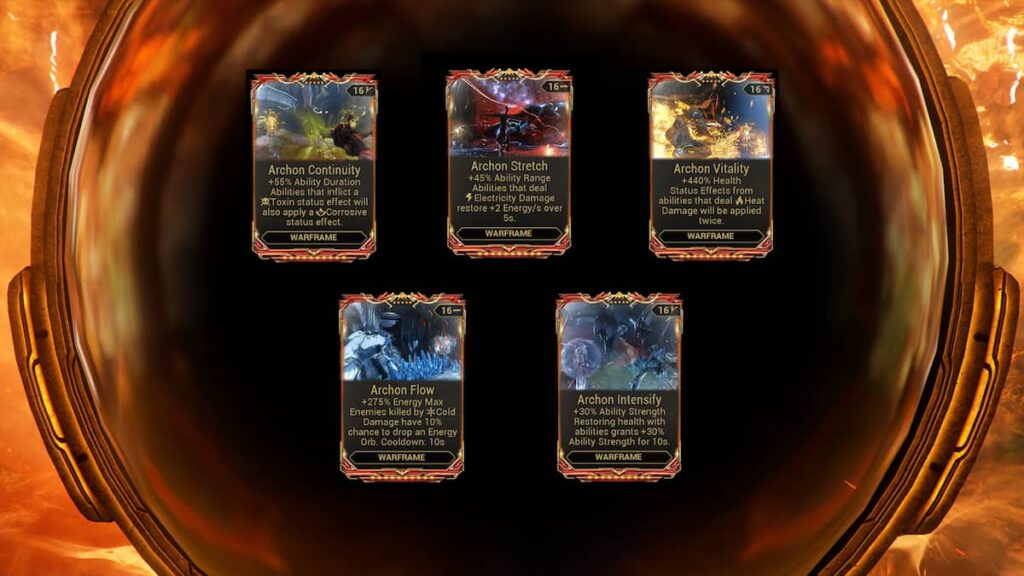 Archon Mods are high-rarity mods that are based on long-standing Warframe mods. However, unlike their traditional counterparts, Archon Mods come with bonus effects which can multiply your damage greatly. Archon Mods are mainly designed for high-level players to diversify their end-game builds. They can also be beneficial in Archon Hunts, which can be particularly difficult missions. The following are all the Archon Mods and their corresponding stats at max rank.
Archon Continuity

+55% Ability Duration (Abilities that apply Toxin Status Effects will also add Corrosive Status Effects.)

Archon Stretch

+45% Ability Range (Abilities that deal Electricity damage restores +2 Energy over a 5-second duration)

Archon Vitality

+440% Health (Status Effects from abilities that deal Heat damage will be applied twice)

Archon Flow

+275% Energy Max (Enemies killed by Cold damage have 10% chance to drop an Energy Orb. Cooldown: 10 seconds)

Archon Intensify

+30% Ability Strength (Restoring Health with abilities grants +30% Ability Strength for 10 seconds.)
How to get Archon Mods in Warframe
Players can obtain Archon Mods from the new Syndicate, Kahl's Garrison. Unlike other Syndicates, Kahl's Garrison auto-ranks up with weekly gameplay progress, instead of Standing. By completing Garrison Assignments you earn Stock, which you can then use to purchase items from Kahl's Garrison, including Weapon Blueprints, Archon Shards, and Archon Mods. Kahl's Garrison will appear in your Drifter Camp following the completion of the Veilbreaker quest.
Looking to add more personality to your Warframe account? Check out the Warframe Promo Codes List, right here on Pro Game Guides.