Many players are having a hard time with the new Dragonriding mechanic added in World of Warcraft: Dragonflight. However, we've already mastered the new art form, and are more than happy to provide guidance. Here's everything we know about Dragonriding in World of Warcraft: Dragonflight.
Best way to Dragonride in World of Warcraft Dragonflight
If you're on a high ledge already, try to avoid using Skyward Ascend for take off as this is a waste of Vigor. Instead, let yourself fall from the ledge, then tip downward to start gaining momentum. While the Thrill of the Skies is active, tip upward sharply, and let the momentum carry you upward until the moment you begin to slow. When this happens, with Thrill of the Skies still active, use Skyward Ascend to gain significant height and momentum. It is important to do this when Thill of the Skies is active because, typically, using abilities during the buff maintains the buff. This means you're regaining Vigor while actively using your abilities, allowing for far more flight control than ever before. Do this with enough balance and you can stay airborne forever.
If you're on the ground, however, things are a bit more difficult, though not as much as you may think. You'll need to work harder to gain attitude and momentum, but the principle of your take off remains the same. You'll first need to get in the air, so open with Skyward Ascend. Depending on where you are, you may need to use it two or three times to gain sufficient attitude for maneuvering. Once you're high enough off the ground, you must quickly gain enough momentum to activate Thill of the Skies. Tip downward so you begin gaining speed, then use Surge Forward to help gain quick momentum. Surge Forward should give enough speed to briefly gain Thrill of the Skies.
Maintain it by keeping your dragon tipped down slightly. You'll be losing attitude, but regenerating Vigor, allowing you to use Skyward Ascend once more, which should give your more attitude than you lost. Repeat this until you have enough Vigor, then, just like before, pull up sharply and use Skyward Ascend to maintain your speed. Once you're high enough off the ground, feel free to level out and soar to your hearts content.
The Dragonriding Skill Tree in World of Warcraft Dragonflight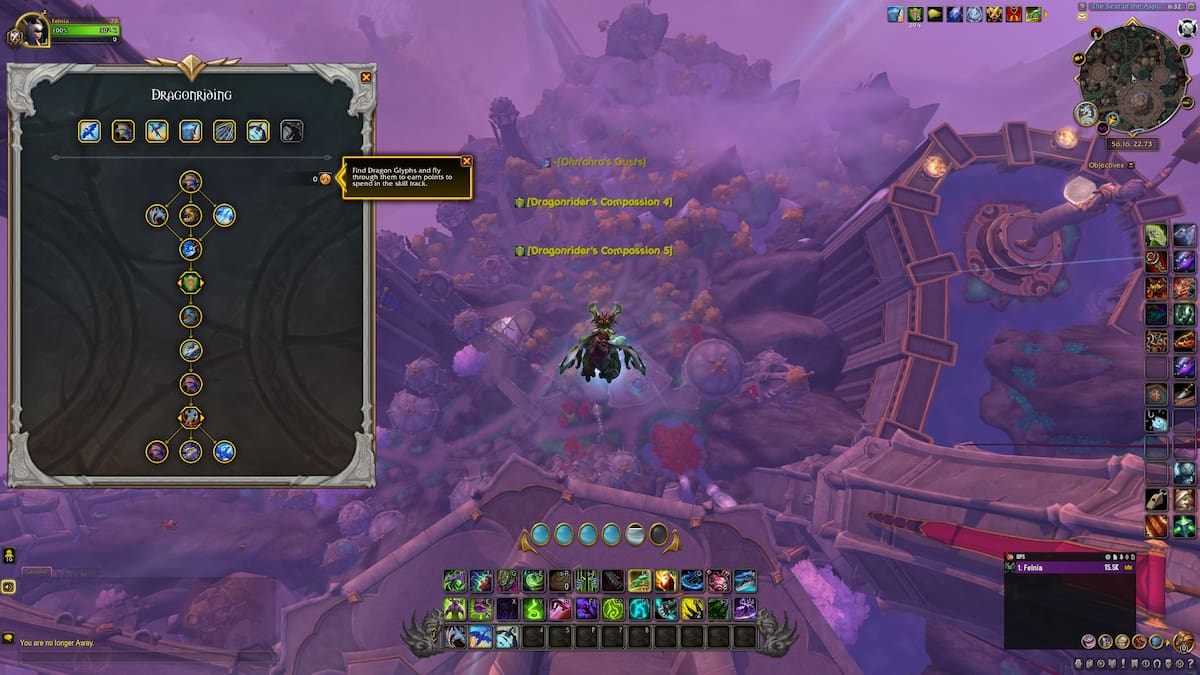 Dragon Glyphs are glowing, floating sigils that exist all around the Dragon Isles. These are needed to fill in your Dragonriding skill tree, and extremely important for dragonriding in general. You see, the skill tree is filled with permanent buffs to your dragonriding toolkit. We cannot understate the value of these glyphs, as they make the daunting task of dragonriding significantly more comfortable. We highly recommend collecting these glyphs as soon as you obtain your first dragon. Trust us: the difference between talentless Dragonriding fully-talented Dragonriding is night and day.
How to fly faster with Thrill of the Skies
Thrill of the Skies allows you to regenerate one full Vigor completely every 15 seconds it is maintained. You'll need to maintain enough momentum to keep the buff active. Gain momentum by tipping downward toward the ground. You only need to tip enough to not be moving upward. Flying up requires significantly more momentum than flying downward, yet you'll always want to be moving downward to maintain your momentum. Keeping Thrill of the Skies active is a constant balance, like a seesaw. You'll know if you're doing it right if a blue curtain of wind is flowing over your dragon as you're moving.

At Home Aloft, an important skill at the end of the Dragonriding skill tree, turns the 15 second requirement into 5 seconds, making it far easier to maintain Vigor uptime through Thrill of the Skies. Again, we cannot stress this enough: Get all the Dragon Glyphs as soon as you possibly can.
For guides, tips, tricks, and information on World of Warcraft Dragonflight, check out How to customize your dragon in WoW Dragonflight right here on Pro Game Guides.