Having the option to create and download custom designs on Animal Crossing: New Horizons is what makes the game more fun. If you're not too confident with your creativity or you'd like to focus more on the other aspects of the gameplay, you can still make your village your own by downloading other creators' custom designs.
Best custom paths in Animal Crossing: New Horizons
By overlaying custom designs on the basic in-game path, your paths still show up on the map which can be pretty handy. Overall, It also looks more cohesive. With the many custom designs to choose from, we've compiled the best custom path designs in Animal Crossing: New Horizons for you to try out.
Stone Tile Path
Custom design code:
This gorgeous pink stone path may not be too versatile to use all over your island, but it beautifully breaks the monotony of it. Lay it down in some areas where you'd like to place a cozy cafe, park, or charming seating area. The bold pattern also works well with common items, making it a lot easier to decorate the area you'd like to place these.
Pink and Gray Streetwalk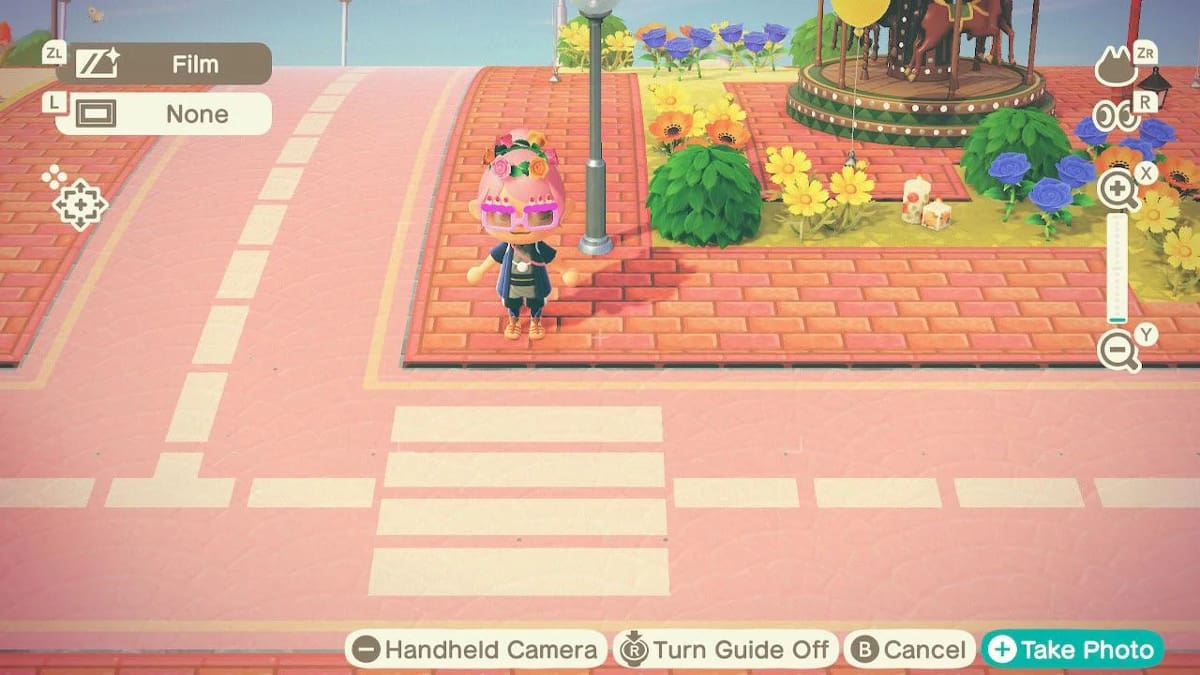 Custom design codes:
MO-P3JJ-B60J-438C - Pink Streetwalk
MO-NH96-HYXV-VCFH - Gray Streetwalk
Custom design made by Caroline (Creator ID: MA-1235-7593-2915)
Turning your village into a city does not mean you have to stick to the realistic drab of one. You can still turn your island into an adorable city akin to the magic of a Disneyland theme park by using these streetwalk paths in gray or pink. The pink paths take up 18 slots, while the gray paths take up 22, but you can use these all over your island with enough slots left for other areas.
Basketball Court Path
Creator ID:
Basketball court paths are not new to the ACNH community, but this custom design only takes up eight slots. You can keep using this custom design and still have plenty of slots for the general paths for your village.
3D Potholes
Creator ID:
If you like to make your island look realistic, these 3D Potholes are perfect for laying on your paths. They only take up nine slots as well. Scatter these strategically on your existing stone paths to make your village capture the realism of either a quaint town or a busy central area in a bustling city.
Related: Complete List of Paintings & Statues – ACNH Fake v Real Art
Meadow Bloom Path Borders
Creator ID:
If you're one of the many players who get iffy about the abrupt transition between your paths and the grass, you know that path borders are a must to place. These path borders are laced with gorgeous flowers, really upping your border game. These custom designs are a must-have if you think plain path borders are too monotonous to place all over your village.
River Bank Path
Creator ID:
Ponds are overrated, so why not add an estuary or two in your village? These riverbank paths are perfect to pair with wooden dock paths. You may also simply mix these with sand or soil paths and sprinkle some greenery here and there along an area where you have a couple of trees to complete the look.
Rustic Cobble Street
Creator ID:
Getting that Diagon Alley aesthetic is a no-brainer with these cobble road paths. If your village is littered with a lot of shops or brick buildings, or you're simply a fan of the Harry Potter franchise, you should not miss trying this custom design. It also comes with a path for pedestrian crossings, so whether you are going for the small town or big city look, these would fit your preferred aesthetic well.
Moss and Rocks Path
Creator ID:
If you're looking for paths to place along the quiet residential areas of your village, you should try this custom Moss and Rocks path. This comes with small corners to fill in any gaps, and the other pieces allow you to form any shape possible to make your paths look more free-flowing and seamless.
Soft Grass Floral Path
Creator ID:
If you're not a fan of colorful paths and are looking for one to place in the parks and cozy seating areas around your village, this soft grass floral path may be what you're looking for. It's simple and pretty straightforward to place. You can go ham and place them randomly as you'd like and still get seamless-looking paths.
Related: How to grow pumpkins in Animal Crossing: New Horizons
Peachy Pink Brick Path
Creator ID:
These peachy brick paths scream Sanrio World or the Super Mario Bros World. They suit any buildings you'd want to look like castles and effortlessly make your village look like a magical world. They also don't take up too many slots, so it's worth checking this one out to see how it would look on your island.
Brick Bridge Paths
Custom design codes:
MO-PBYG-L588-NSM1 - darker toned brick path
MO-WM3M-77Y3-R1C6 - lighter toned brick path
Another small issue with paths is when they don't match the bridges on your island. These custom brick paths easily solve this. It comes in lighter and darker toned brick with varying patterns. This makes them seamlessly reflect the walls of bridges. It is important to note that it's easier to lay these paths first before building the bridge to ensure they flow with the edges.
Japanese inspired Path
Creator ID:
You can now fulfill your anime town dreams using these custom Japanese-inspired paths. If you've always wanted to perfectly recreate the suburbs or cities in Japan, this custom design is versatile. It takes up a lot of slots, but it is worth checking out the Creator ID above if this is something you've been meaning to do with your town. This makes it more convenient than looking for several paths that fit together or creating your own.
For more coverage on Animal Crossing, check out How to get a ladder in Animal Crossing New Horizons and Animal Crossing Villager Tier List — All ACNH Villagers, Ranked here at Pro Game Guides.