If you have always wanted to run your own restaurant, but are deeply opposed to dealing with people, look no further than the mobile game Animal Restaurant. True to its name, this game challenges you to manage a small mom-and-pop restaurant until it's a bustling bistro—but your only customers are animals!
As you play the game, you'll find there is only one form of currency: Cod. While there are other important resources you need to progress (such as Star Ratings), earning Cod is how you keep your business afloat and how you purchase improvements to your diner. Fortunately, the developers have provided codes that instantly grant you Cod, as well as codes for exclusive cosmetics to add some style to your game!
If you find the codes below to be helpful, don't forget that we have frequently updated codes lists for hundreds of other games. We have the most up-to-date lists for other popular mobile games like Harvest Town, Cookie Run: Kingdom, NBA 2k Mobile, and World of Tanks!
All Animal Restaurant Codes List
Updated February 14, 2023

Added a new code.
Animal Restaurant Codes (Working)
Here's a look at all the working Animal Restaurant codes.
LOVESTORY—Redeem for a Rose Bear (New)
YEAROFTHERABBIT—Redeem for the Fleece-lined Cap
Animal Restaurant Codes (Expired)
These Animal Restaurant codes no longer work.
EGGYTROPHY—Redeem for the Golden Housekeeper Eggy Memento
MERRYXMAS—Redeem for a Christmas cosmetic
GUMISPEARL—Redeem for the Famous Painting Headscarf
HALLOWEEN22—Redeem for the Rose Hat
3RDANNGALA—Redeem for the Artist Sculpture
MOONFESTIVAL—Redeem for the Osmanthus Ornament
GUMILOVEU—Redeem for a Scarf Cosmetic
AR999—Redeem for 50k Cod
HAPPYASACHILD—Redeem for the Golden Ponytail cosmetic
DORISAIMEOW
LOVEUMORE
HAPPY2022
thx4following
jinglebells
XMAS2021
thanksgiving
halloween2021
Animal Restaurant Frequently Asked Questions
Here are answers to some of the most frequently asked questions about Animal Restaurant and common issues players encounter.
How to Redeem Animal Restaurant Codes
Redeeming codes for free rewards in Animal Restaurant is easy.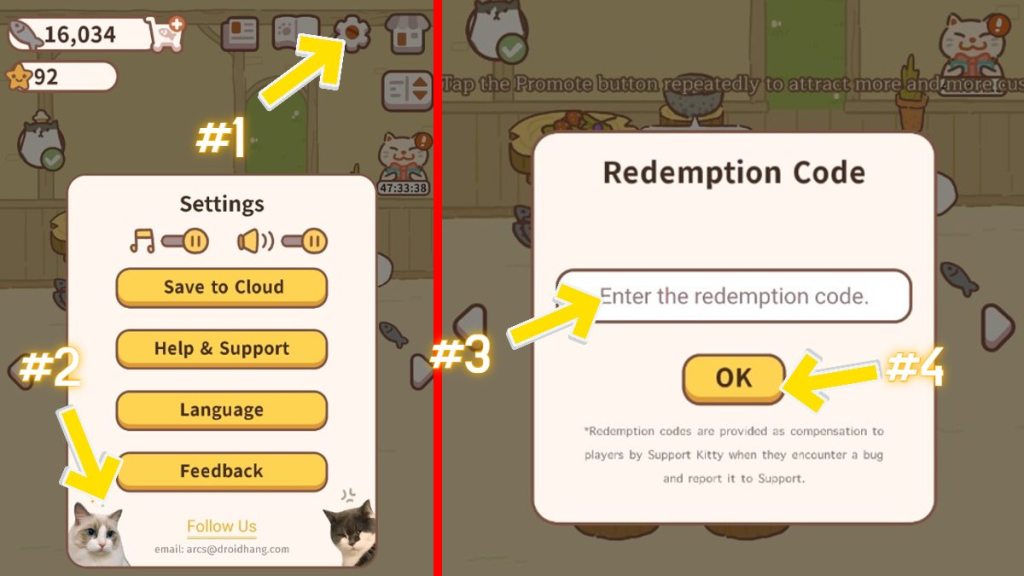 In the game, press the Gear button in the top right corner of the screen.
In the Settings window, press the cat in the bottom left with question marks above its head.
In the text box, enter the code exactly as it appears in the list above.
Press the Ok button to claim your reward!
How can you get more Animal Restaurant codes?
The developers for Animal Restaurant are fairly active in gaming community, and frequently post updates about changes to the game. Occasionally, the updates they make include information about upcoming events and codes you can redeem. The best way to get these codes immediately is to monitor the social media platforms for the game, such as the official Twitter account or Facebook page.
How do I increase my Star Ranking in Animal Restaurant?
As you play the game, you'll quickly discover that you can purchase many objects without first upgrading your Star Ranking. Increasing your Star count is simple enough: you must buy tools and decorations from the shop, all of which slightly increase your rank. The more objects you purchase and upgrades you make, the higher your Star Rank will go. This leads to the ability to craft more valuable meals and purchase more powerful upgrades.
What is Animal Restaurant?
Animal Restaurant is a cute management game that places you in control of a miniature restaurant that serves only animals. You must manage your time and resources to provide the customers preferred meal, then reap the rewards when the time comes for them to pay the bill. As you increase your profit, you may purchase upgrades to your restaurant to better serve your adorable and furry patrons!
We have plenty of codes lists for many other popular mobile games! Check out our codes lists for other casual games like Punball and Fishing Clash!