Apex Legends Season 14 is here, and while players are excited to meet the new Legend, some are having problems downloading the update. A patching files error is popping up on Steam which is stopping players from entering the game. This issue is only occurring for PC players, as Xbox and PlayStation users can download the update seamlessly. Here's how you can fix the Apex Legends patching files error.
How to fix Apex Legends patching files error for Steam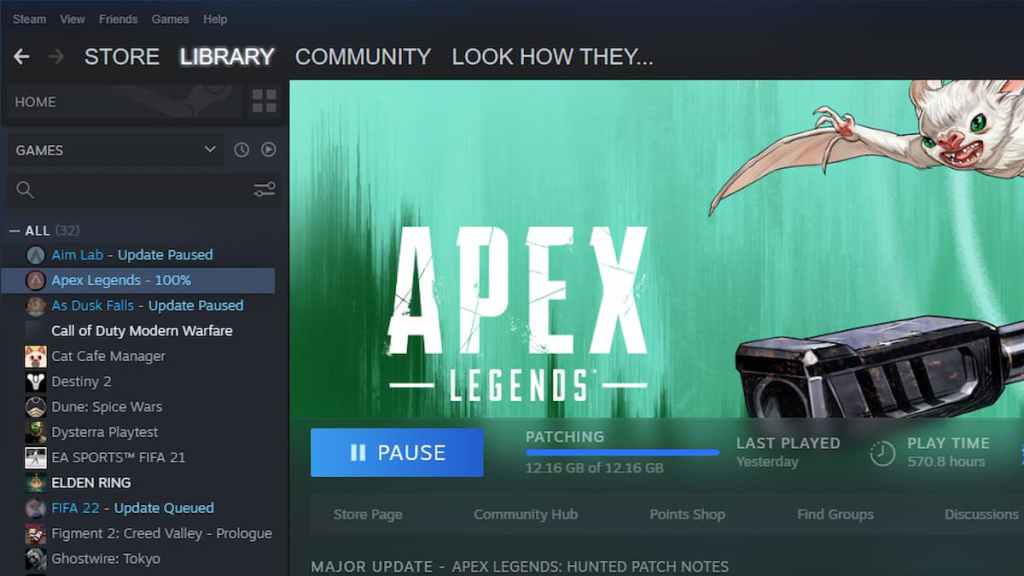 The patching files error occurs after all the files are downloaded for the Apex Legends Season 14 update. You will find that the game shows 'Patching' in the section, and pausing the update will not fix this issue. Instead, players can follow some of the methods mentioned below to fix the patching files error in Apex Legends.
Steam Refresh method
Start by visiting Task Manager on your PC and select the running Steam App
Right click on Steam and select End Task
Scroll down and check the Background Apps, and End Task for any Steam processes running
Log out of Steam, and restart your PC
Log in to Steam, and you will have to click on download in the Apex Legends game tab
The update resumes from the patching files error and takes a few minutes to be ready to play
Related: All Legend Skins in the Apex Legends Season 14 Hunted Battle Pass
Verify Game Files integrity method
If the aforementioned method doesn't work, then players need to check and verify the integrity of the game files
Open Steam and select Apex Legends
Right click on the game, and scroll down to Properties
In the Properties tab, select Local Files
Select Verify integrity of game files, and wait till the process is completed
Once that's done, restart your PC, and try downloading again
The game resumes downloading the update and the patching files error gets fixed
Following these two methods fixed the problem for us. However, if players are still facing the patching files error in Apex Legends, we recommend raising a complaint highlighting all the issues at help.ea.com. Apex Legends Season 14 not only features a new Legend, Vantage, but also the Reforged Kings Canyon map.
Wondering how the community feels about the Valkyrie nerf? Check out Community relieved as Valkyrie nerf arrives in Apex Legends Season 14 on Pro Game Guides.