Our Borderlands 3 Best Builds List features all of the top builds for every single class! These are the most overpowered options we know of currently that will have you wrecking bosses and any other enemy that is foolish enough to stand in your way!
It's obviously very early in the release of Borderlands 3. So while we feel these are some of the best builds in the game, it's possible that some end up being ousted for more powerful options in the near future. We'll be updating this guide often as different strategies come to light and the game becomes more figured out!
Borderlands 3 Best Builds
Best Amara Build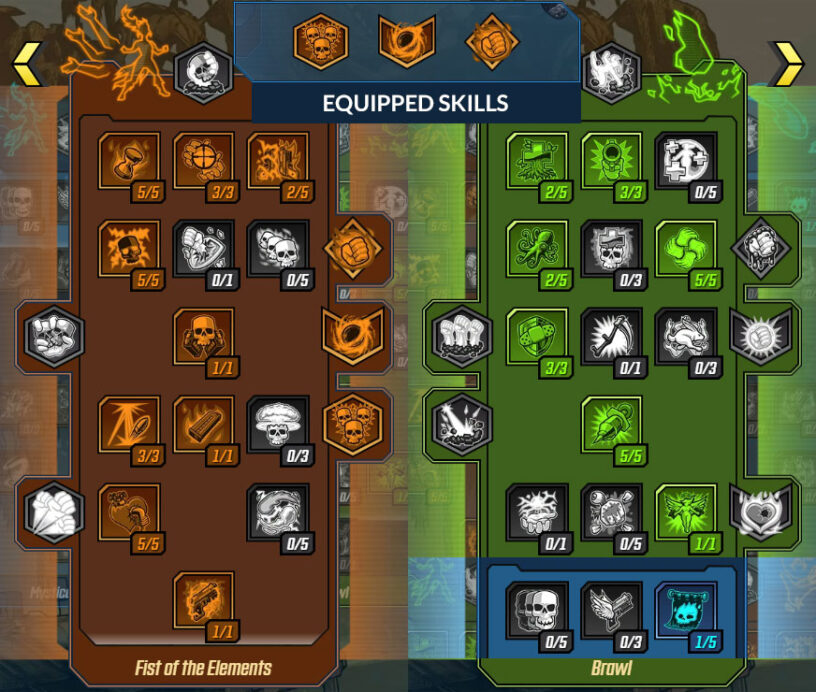 Credit to Sin Tee for the Build
This is basically an Elemental Damage build that takes advantage of talents like Tempest and Forceful Expressing which increases that damage significantly. You're also able to take out packs of enemies with the Indiscriminate talent that gives you a higher chance to spread your bullets around to nearby enemies. The build also runs a significant amount of Damage Reduction and Lifesteal which will help keep you alive against the higher leveled enemies you'll be facing in the end game.
This build works best when combined with the Phasezerker Class Mod. It gives you the following bonus, "On Action Skill used, Amara gains her Max Rush Stack count, but they decay over time. Amara gains 3% Weapon Damage and 10% Action Skill Cooldown rate based on the number of Rush Stacks."
I highly recommend watching the video to learn more about the build if you plan on trying it out!
Best FL4K Build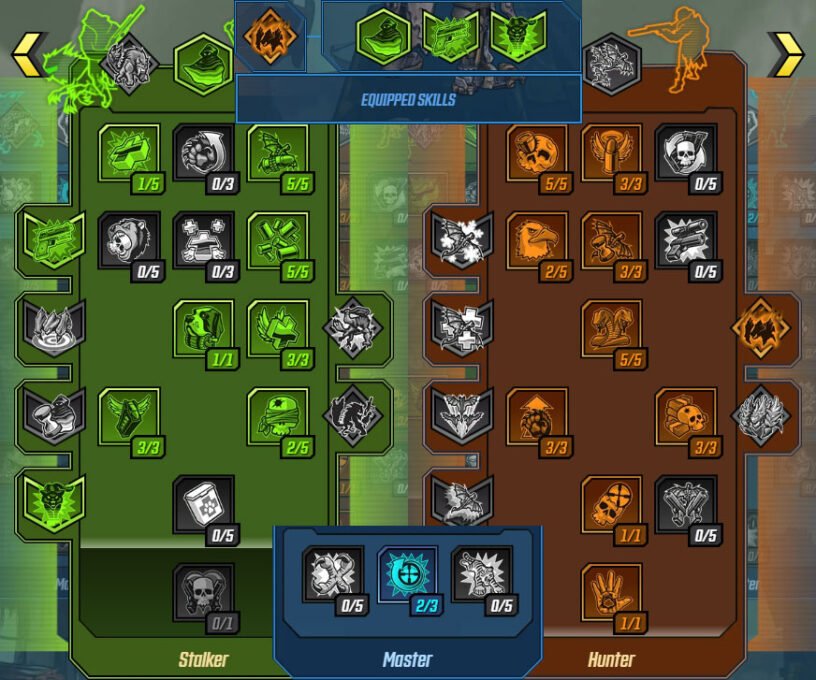 Credit to Digfig
This is currently likely one of the best builds in the game for not only FL4K but overall. It melts bosses down insanely quick, especially when you are able to track down a couple of key weapons that will push this build over the top. What this build does is allows you to enter Fade Away and completely rip through a boss' health by spamming them down with high damage hits from your weapon. Basically, every shot you fire is a critical hit due to your action skill, and then this is increased by Megavore which will crit regardless of if you hit a weak point or not. The constant critical hits mean you will be frequently gaining ammo back into your magazine due to Leave No Trace. Ultimately, you are able to fire as much as you want as fast as you can without ever having to reload in most cases!
While Fade Away will initially not allow you to fire all you want, you can augment that with Guerrillas in the Mist to remove that issue. You further increase your ability to deal damage with Unblinking Eye, which will give you a huge boost to critical hit damage on successive hits.
This build works best if you can find yourself a King's or Queen's Call. These can be found off of the final boss in the game. It is pretty much the same weapon regardless of the name, but what this does is fires an insane amount of bullets extremely fast. Not only that, for every critical hit it will return 3 bullets to your magazine, and also will ricochet 3 bullets at the nearest enemy. The great thing about that is if you're fighting a boss, it's likely there isn't going to be additional enemies so the bullets just go back onto the boss for additional damage! Another common weapon you'll see used with this build is the Hellwalker Legendary Shotgun. It fires very quickly and you will pretty much never have to reload it if you get in a boss' face and start firing away.
For more equipment tips, I recommend watching this video:
If you're leveling up still, you can run a Torgue Shotgun in Sticky mode to generate a similar effect on enemies. You deal some initial damage to the enemy, but once you reload it will completely destroy them due to the explosive pellets that should now be exploding. If you want to level into this build, I do recommend following the guide listed below because it's not so great leveling using the Fade Away ability. This build comes together towards the end game, you're better off running Rakk Attack as your action skill.
We've got a full leveling guide for a very similar build to this which you can find right here!
Best Moze Build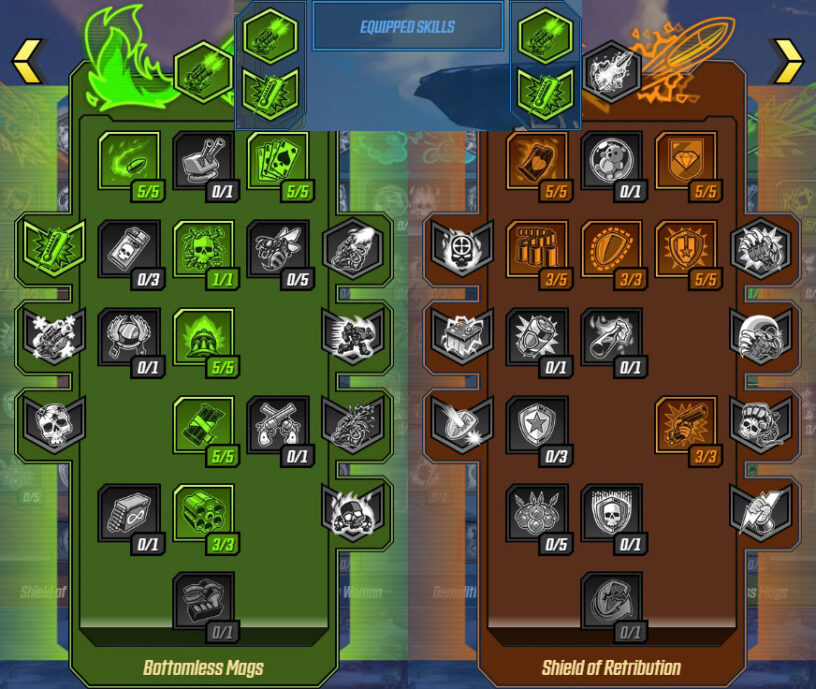 Credit to WillisGaming for the Build
There's a lot of Moze builds out there that utilize grenades, but if you want to trash bosses with guns then this is your best bet! The key to this build is that you must have a Deathless Legendary Artifact for Moze. What this does is brings your health down to 1, which synergizes with the rest of the build. I know you read that and got a bit scared, but don't worry because we're going to have a huge shield that should protect us from too much harm. You will also want to look for a high Weapon Damage class mod to compliment the build.
For your gun, you will want to have the Lyuda Sniper Rifle. this is extremely powerful and fires a ton of bullets very quickly. It also features a huge additional crit bonus which will have you doing a ton of damage to enemies.
As for the skills, you'll be going down both the Bottomless Mags and Shield of Retribution trees. Most of the key skills have to do with increasing your Gun Damage when you have high shields or low health. One of those is Armored Infantry which gives you a nice boost of damage when you have a shield active. Further down the Shield of Retribution tree is the key to this build and is called Desperate Measures. This increases your Gun Damage up to 50% depending how low your health is. Your health should be at 1 if you've got the Deathless Artifact, so you will have that 50% boost to your Gun Damage all of the time.
Going down the Bottomless Mags tree will get us the ability to rarely have to reload and allows us to continually be firing over and over. Some key skills here are Redeistribution which regenerates ammo each time we score a critical hit. Scorching RPM's which increases our Fire Rate and Critical Hit Damage, and Click Click... will help increase your damage as well!
Best Zane Build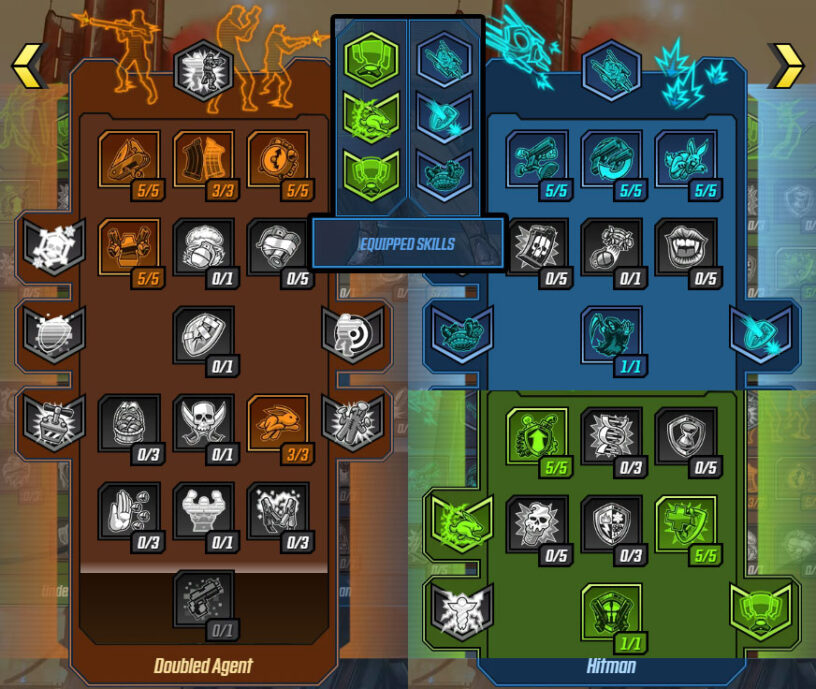 Credit to DPJ for the Build
This build was pretty powerful prior to the buffs to Zane, but will be even stronger now that he has gotten an update in a recent hotfix! If you really want to take this build to the next level, try to find yourself the Ferocious Lyuda Legendary Sniper Rifle. In particular, one that is anointed to Zane and buffs his Cryo damage while SNTNL is active.
Zane gets a significant boost of damage when moving due to the Violent Momentum passive ability. We'll be taking advantage of this heavily, so you want to make sure you are continually moving around while playing this build. That shouldn't be too difficult because in most cases you will be always on the move. Another thing we're looking to do is keep our shields up. We've hit the Confidence Competence passive in the Under Cover tree, and this rewards us with additional Gun Damage if we maintain a full shield. You'll want to look for a shield with a fast recharge rate so we keep the percentage as high as possible.
Another key for keeping our damage up is making sure our action skills are active. We get a buff from the Synchronicity passive, that gives us +40% Gun Damage if we have both of our action skills active. We increase the duration by maxing out Borrowed Time in the Doubled Agent tree. In this same tree we boost our movement speed with Supersonic Man which pairs extremely well with the Violent Momentum passive!