Our Borderlands 3 Best Builds List features all of the top builds for every single class! These are the most overpowered options we know of currently that will have you wrecking bosses and any other enemy that is foolish enough to stand in your way!
Borderlands 3 Best Builds
Best Amara Build
This build relies on Amara's Splash and Elemental Damage. All you need to do is use your Ties that Bind ability and shoot chained enemies, watch the explosions, and chill. For an Augment, we recommend Stillness of Mind for more crowd control. You can choose any Element depending on the situation, either: Incendiary, Corrosive, Cryo, or the default Shock.
Note: You can see the full build here: Best Amara Build – Mayhem 11 & Raid Boss Ready.
Skill Tree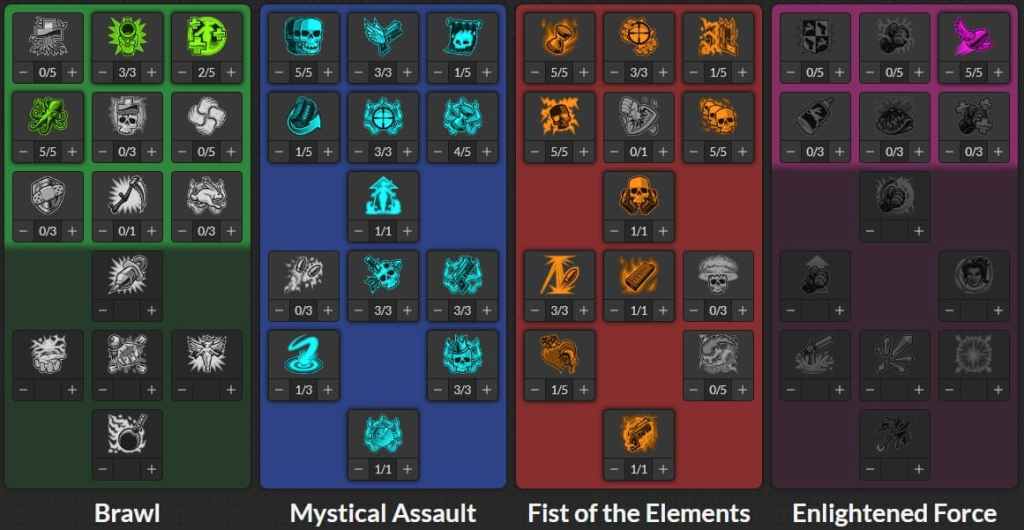 Skills
Personal Space (Damage up close)
Only two points into Clarity (Health regen - just to move down the tree)
Arms Deal (Splash damage and reduction)
Do Harm (Action skill damage)
Fast Hands (Reload speed increased)
One point into Violent Tapestry (Rush stacking)
One point into Alacrity (More reload speed)
Transcend (Critical damage multiplier)
Four points into Restless (Cooldown rate)
Ascendant (Buffs augments)
Laid Bare (Overall damage increase)
Wrath (Gun damage)

One point into Remnant (Overkill projectile)
Awakening (Buffs rush stack effectiveness)
Capstone: Avatar (Additional rush stacks)
Heavy Rain (Projectile speed and splash damage)
Anima (Status effect damage)
Steady Hand(s) (Accuracy)
One point into Infusion (Converts kinetic damage into elemental)
Tempest (Elemental damage)
Wildfire (Elemental spread)
Dread (Automatic reload)
Deep Well (Elemental magazine size)
Indescriminate (Ricochet bullets)

Only one point into Sustainment (Lifesteal)
Capstone: Forceful Expression (Elemental damage)
Best FL4K Build
Although this build heavily leans on offensive skills, a few of Fl4K's skills in this build compensate for the lack of survival with tons of HP regeneration and aggro relief. When facing a troubling enemy, just use Fade Away and hold down the trigger. After using your action skill, you'll be able to regain it in no time with cooldown reduction skills.
Note: You can see the full build here: Borderlands 3 FL4K Leveling Build Guide (Level 72).
Skill Tree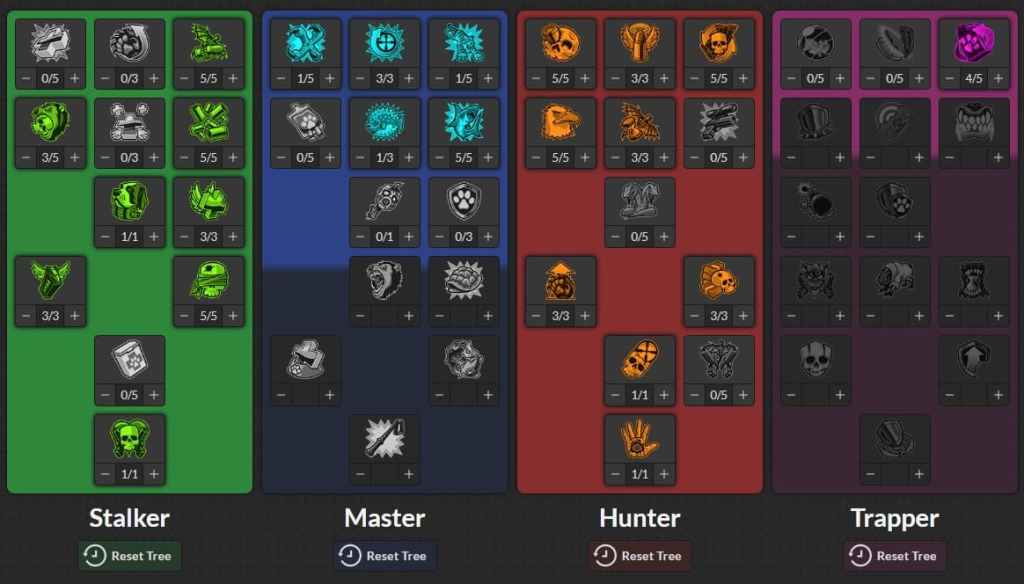 Skills
Furious Attack (V1 damage boost)
Overclocked (Fire rate)
Eager To Impress (Action skill cooldown)
Lick The Wounds (Your pet revies you)
Turn Tail and Run (Damage and survivability)
The Fast and the Furryous (Damage and pet boosts)
Capstone: The Power Inside (Huge damage boost after action skill activation)
Interplanetary Stalker (Great universal damage boost)
Leave No Trace (Ammo regen)
Head Count (More cooldown reduction)
Two points into Second Intention (Reload speed)
Hunter's Eye (Combat bonuses)

Big Game (Hunter Kill Skill buffs)
The Most Dangerous Game (Long term damage buff)
Galactic Shadow (Critical damage boost)
Capstone: Megavore (Automatic critical hits)
Max out Second Intention (Reload speed)
Persistance Hunter (Skill duration and damage)
One point into Ferocity to move down the skill tree
One point into Go For The Eyes! to move down the skill tree
One point into He Bites! (it allows our pet to proc another skill)
Max out Frenzy (Awesome V1 damage boost)
Four remaining points into Agility Training (Even more reload speed
Best Moze Build
We will show you the complete build focused on Moze's damage output that will be supported by the Iron Cub action skill. Many builds rely on her using Iron Bear, however, we will show you how to constantly run and gun, without having to wait for these long cooldowns to come back.
Note: You can see the full build here: Borderlands 3 Moze Leveling Build Guide (Level 72)
Skill Tree
Skills
Cloud of Lead (Free shots and incendiary damage)
Stoke the Embers (Incendiary damage increase)
Redistribution (Ammo regen)
Ruchin' Offensive (Lifesteal)
One point into Scrappy to get down the skill tree
Four points into Scroaching RPM's (Critical damage and fire rate)
Fire in the Skag Den (A lot of incendiary damage)
Only two points into Grizzled (Lower cooldown)
Means of Destruction (Ammo regen chance)
Torgue Cross-Promotion (Splash damage and radius)
Stainless Steel Bear (Overall damage and action skill increases)
Pull the Holy Pin (Grenade critical chance)

Two points into Vampyr (Grenade survivability)
Capstone: Short Fuse (Huge damage increase, especially Explosion Damage)
Max out Big Surplus (Damage while waiting for action skill cooldown to go down)
Drowning in Brass (Stacking damage buff for Moze and her iron companion)
Vladof Ingenuity (Shield buffs)
Experimental Munitions (Incendiary critical damage buff)
Full Can of Whoop-Ass (Instant shield recharge, damage reduction - not listed)
Behind the Iron Curtain (Even more shield buffs)
Phalanx Doctrine (Important survivability and damage stacking)
Capstone: Tenacious Defense (Instant shield restore and gun damage)
Best Zane Build
We will show you the complete build focused on Zane's damage output that his Action Skills will support. It is not the most original build but the most versatile one. You can use any piece of gear with this one and make it work.
Note: You can see the full build here: Borderlands 3 Zane Leveling Build Guide (Level 72)
Skill Tree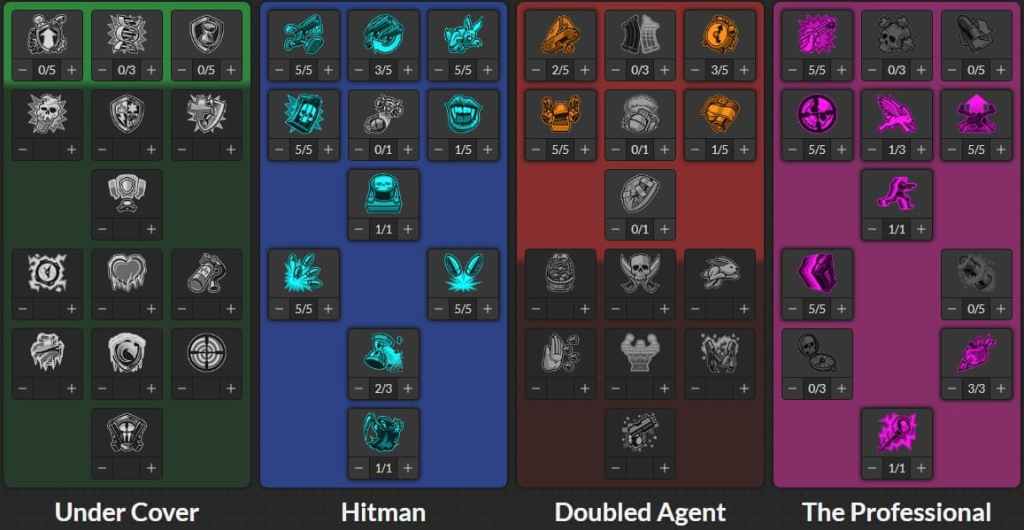 Skills
Violent Speed (Increased movement speed)
Violent Momentum (Converts movement speed into gun damage)
Salvation (Lifesteal)
Seein' Red (Buffs Zane's kill skills)
3 points into Cold Bore (Cryo damage and weapon swap speed)
Cool Hand (Reload speed increased)

Violent Violence (Fire rate increased)
Playing Dirty (Additional projectiles on shot)
2 points into Good Misfortune (Action skill cooldown)
Capstone: Death Follows Close (Kill skill bonuses buffed)
2 points into Synchronicity (Gun damage)
3 points into Borrowed Time (Skill duration)
Donnybrook (Damage and health regeneration)
1 point into Duct Tape Mod (Grenade shot chance)
Man of Focus (Improved accuracy and handling)
Headman's Hand (Critical damage increased)
Commitment (Gun damage and cooldown rate)
Fugitive (Sprint and shoot)

Tunnel Vision (Accuracy - just to go down the tree)
Domino Effect (Fire rate and reload speed increased)
Eraser (Critical shots can pierce through enemies)
Capstone: Our Man Flynt (Increased damage while aiming down sight)
For more on Borderlands 3 make sure to check out our article on Borderlands 3 Shift Codes List (September 2021) – Shift Codes for Golden Keys & Rewards and What is the Max Level in Borderlands 3?