Since Cyberpunk Edgerunner's release, the concept of Cyberpsychosis has increased in popularity, even more so with the introduction of Cyberpunk 2077 2.0.
Cyberpunk 2077 2.0 is a huge update that changes how Cyberware works, introducing consequences if you take on too much Chrome. If you are like me, you probably wonder if this means we can finally go Cyberpsycho if we push our luck with upgrades. That said, here's how Cyberpsychosis works in Cyberpunk 2077 2.0.
Is Cyberpsychosis in Cyberpunk 2077 2.0?
Before we explain all of the details, Cyberpsychosis is not a feature added in Cyberpunk 2077 2.0. In the article, the creative director at CD Projekt Red explained that they weren't going as far as adding Cyberpsychosis as a gameplay feature. This means the consequences of taking on too much Cyberware are not like in Edgerunners or Cyberpunk 2020 (tabletop game).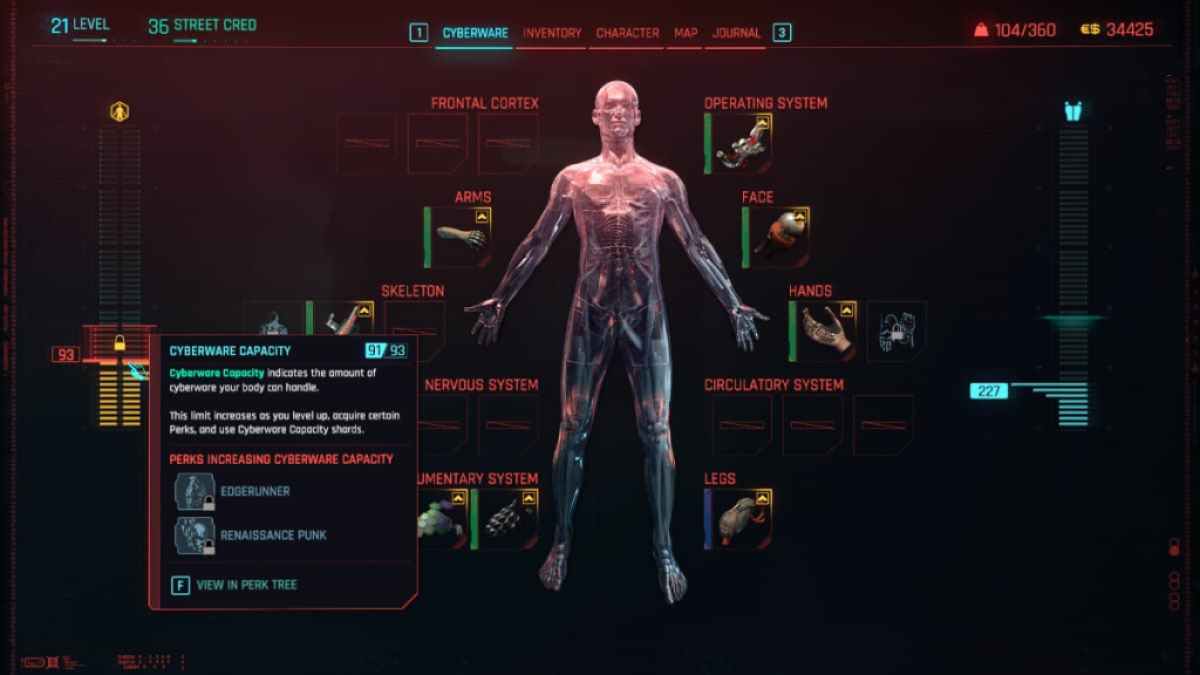 Instead, players get a feature where they must balance the risks of Going Full Borg to avoid getting debuffs. In short, players who take on too much Cyberware get debuffs to their health and other penalties. Players can also increase their Cyberware limit by unlocking perks such as Edgerunner or Renaissance. The costs of adding more Cyberware eventually lead to debuffs for players.
Overall, the concept of managing and testing the limits of having too much Cyberware remains unchanged from Edgerunners and Cyberpunk 2020. However, instead of going full Cyberpscho, as humans push their body's limits with more Cyberware, there are only debuffs and penalties to contend with. Cyberpsychosis still exists in Cyberpunk 2077, but the player can not go Cyberpsycho. Players can also still find and fight various Cyberpsychos across Night City.
How to add Cyberpsychosis to Cyberpunk 2077
If you are like me and a fan of both anime and tabletop games, you are probably itching for a way to add Cyberpschosis to Cyberpunk 2077. Luckily, modders have your back, and one such mod exists called Wannabe Edgerunner. Wannabe Edgerunner adds a basic humanity system that includes penalties and cyberpsychosis. However, the mod is likely broken with the Cyberpunk 2077 2.0 update, so you need to wait for an update. The mod's features likely conflict with the Cyberware features added with the 2.0 update as well.
All Cyberware changes in Cyberpunk 2077 2.0
The following are all major Cyberware changes detailed in Cyberpunk 2077 2.0:
Cyberware Is Armor: Clothes no longer provide armor for V; armor is tied to Cyberware instead. Each piece of Chrome also adds a certain amount of armor.
Upgrade Your Chrome: Players can now upgrade their Cyberware by visiting a Ripperdoc and using crafting materials. Overclocking Cyberware is also a thing via a Technical ability perk and can help boost your Cyberware limit and unlock better options.
Cyberware Capacity: If players want more Cyberware, they must deal with a Cyberware capacity system. In short, players start with a base limit that can increase via perks in the Techincal Ability perk tree. Players can also increase their limit by using Cyberware Capacity shards and by leveling up.
For more on Cyberpunk 2077 2.0, PGG has you covered with guides like All changes in Cyberpunk 2077 Phantom Liberty 2.0 Update and Cyberpunk 2.0 Police System explained.