Titans are the tank-style class within Destiny 2, and they have several different exotic armor pieces for players to choose from. In total, there are seven exotic helmets, 11 gauntlets, seven chest pieces, and eight leg pieces. Each of these options offers a different perk with boons to certain Titan playstyles and skill trees.
All Exotic Titan Helmets
An Insurmountable Skull Fort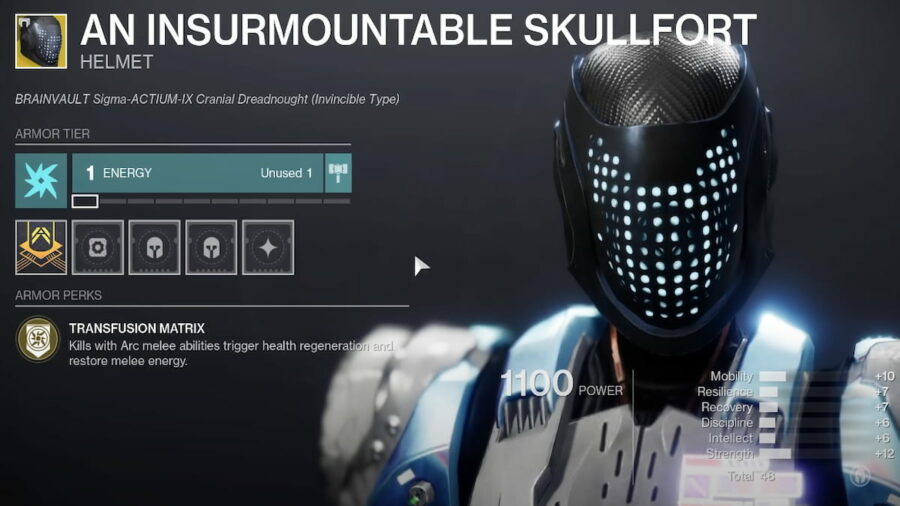 Transfusion Matrix - Kill with Arc melee abilities trigger health regeneration and restore melee energy.
Eternal Warrior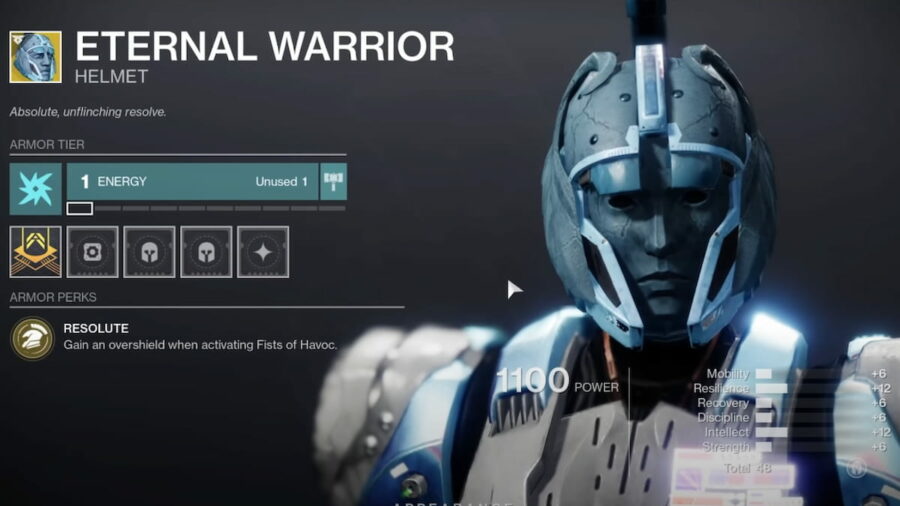 Resolute - Gain an overshield when activating Fists of Havoc.
Helm of Saint-14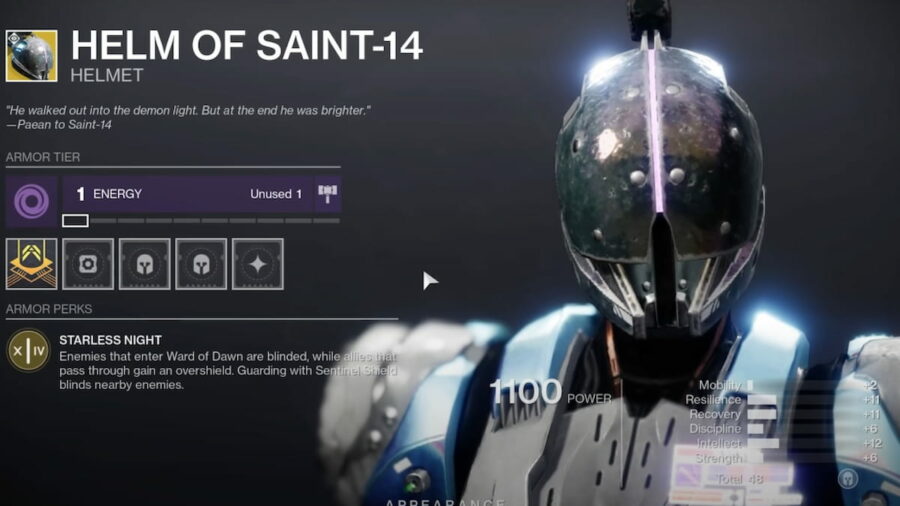 Starless Night - Enemies that enter Ward of Dawn are blinded, while allies that pass through gain an overshield. Guarding with Sentinel Shield blinds enemies.
Khepri's Horn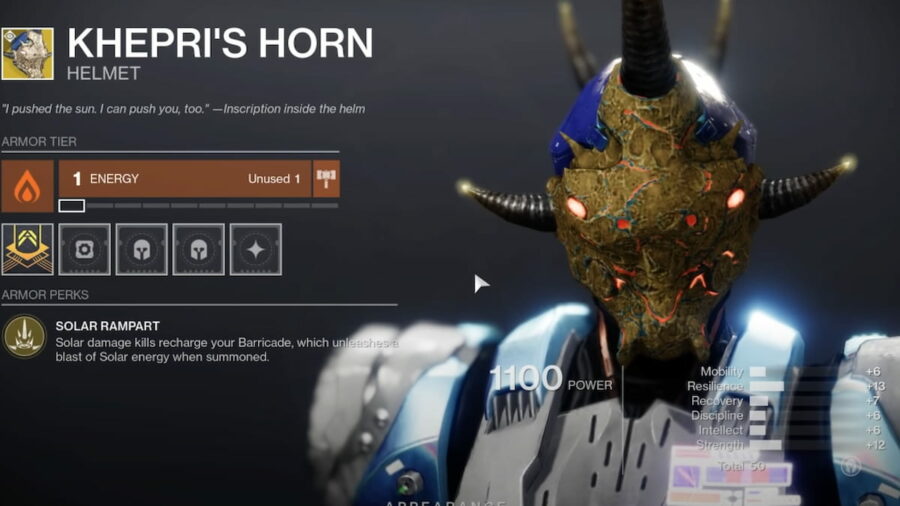 Solar Rampart - Solar damage kills recharge the player's Barricade, which unleashes a blast of Solar energy when summoned.
Mask of the Quiet One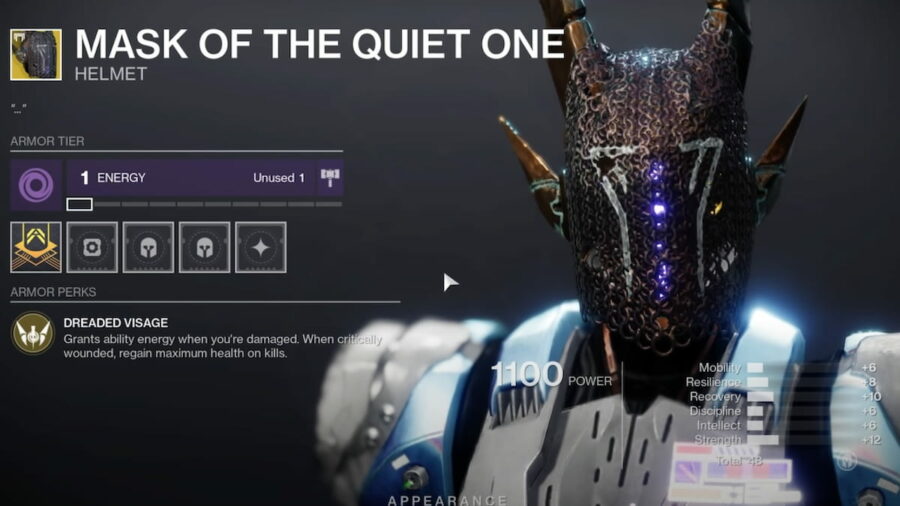 Dreaded Visage - Grants ability energy when the player is damaged. When critically wounded, the player regains maximum health on kills.
One-Eyed Mask
Vengeance - Highlights the target who dares to damage the player. Track down and destroy them for an overshield.
Precious Scars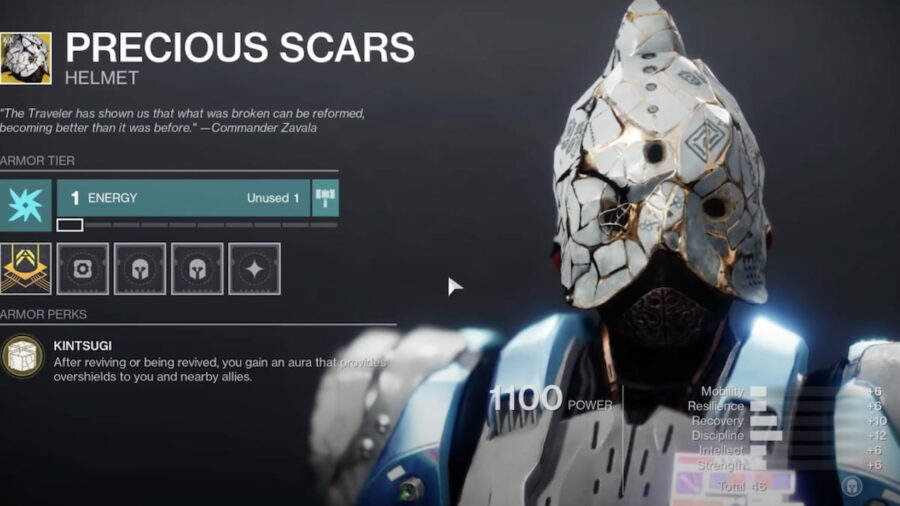 Kintsugi - Final blows from weapons with a damage type matching the player's subclass energy create a burst of healing around the player. After reviving or being revived, the player gains an aura that provides overshields to them and their allies.
Related: Best Exotic Armor in Destiny 2
All Exotic Titan Gauntlets
ACD/0 Feedback Fence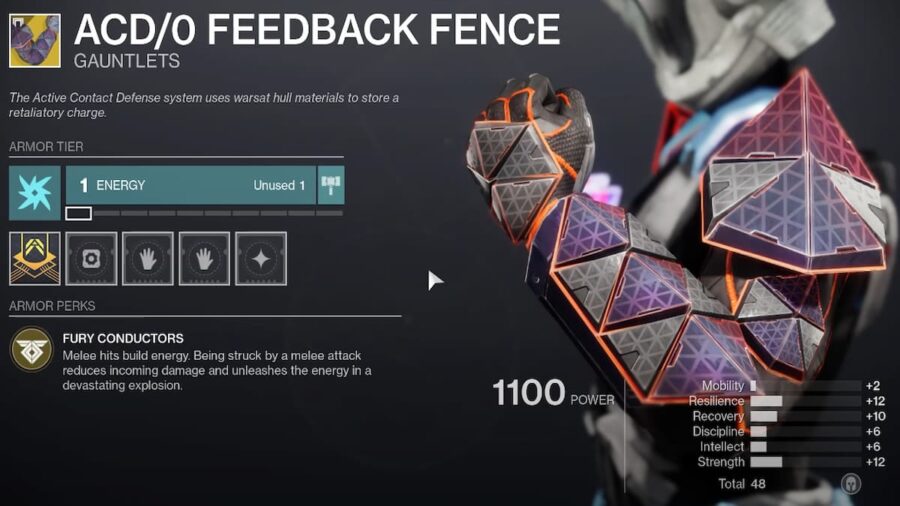 Fury Conductors - Melee hits build energy. Being struck by a melee attack reduces incoming damage and unleashes the energy in a devastating explosion.
Aeon Safe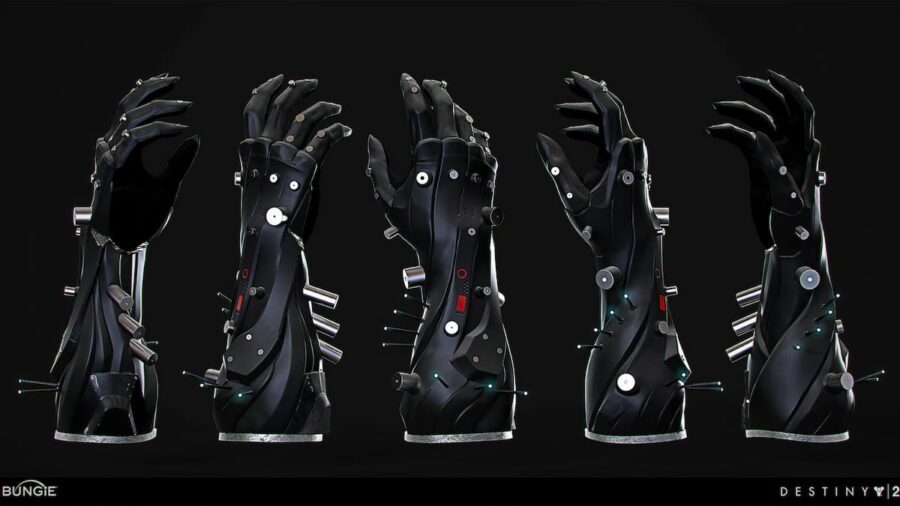 This gauntlet set offers three perk options for players to choose from:
The Sect of Force - Rapid precision hits with a weapon temporarily increase the player's reload and weapon swap speed. When stunning a Champion or defeating a boss/miniboss, the player's nearby fireteam members will gain a burst of grenade and melee energy. Aeon Cult allies who do not have the Sect of Force role equipped will also gain a burst of Super energy.
The Sect of Insight - Successive precision weapon takedowns will gain a chance to drop an Orb of Power for the player's allies. When the player uses a finisher on an Elite, they will generate Special ammo for the player's fireteam. When used on a boss or miniboss, it will generate Heavy ammo for them instead. Nearby Aeon Cult allies who do not have the Sect of Insight role equipped will also gain a bonus burst of weapon damage for a short time.
The Sect of Vigor - Gains class ability energy when the player's allies die. Gains full class ability energy when the player resurrects an ally. When casting a Super, the nearby allies will gain an instant burst of healing. Aeon Cult allies who do not have the Sect of Vigor equipped will also gain an overshield.
Ashen Wake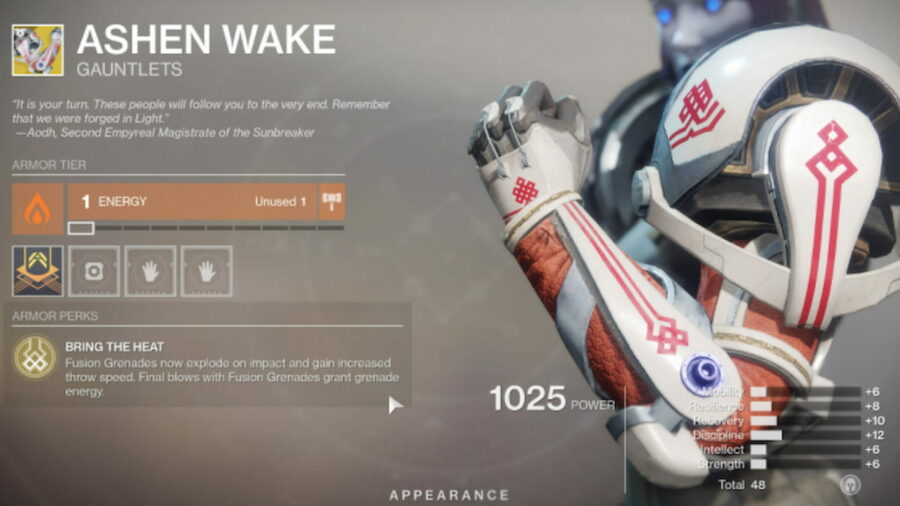 Bring the Heart - Fusion grenades now explode on impact and gain increased throw speed. Final blows with Fusion Grenades grant grenade energy.
Citan's Ramparts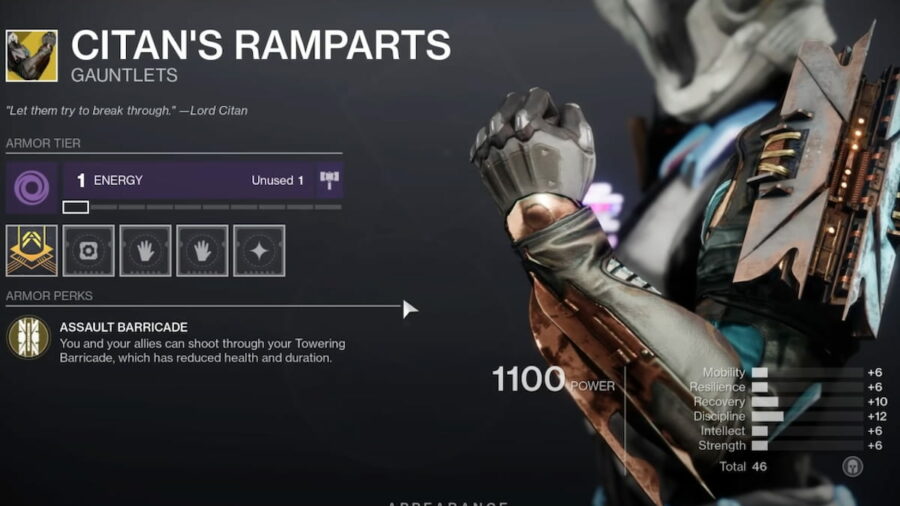 Assault Barricade - The player and their allies can shoot through the player's Towering Barricade, which has reduced health and duration.
Doom Fang Pauldron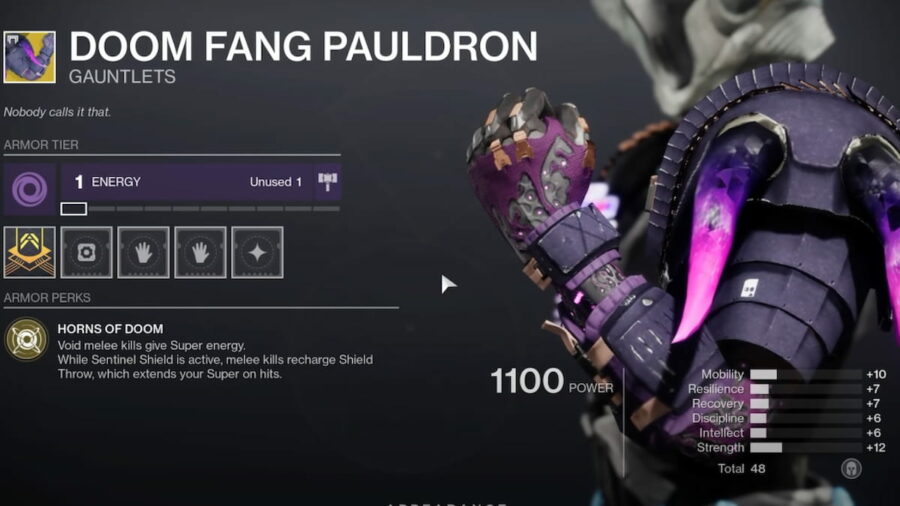 Horn of Doom - Void melee kills give Super energy. While Sentinel Shield is active, melee kills recharge Shield Throw, which extends the Super on hits.
Icefall Mantle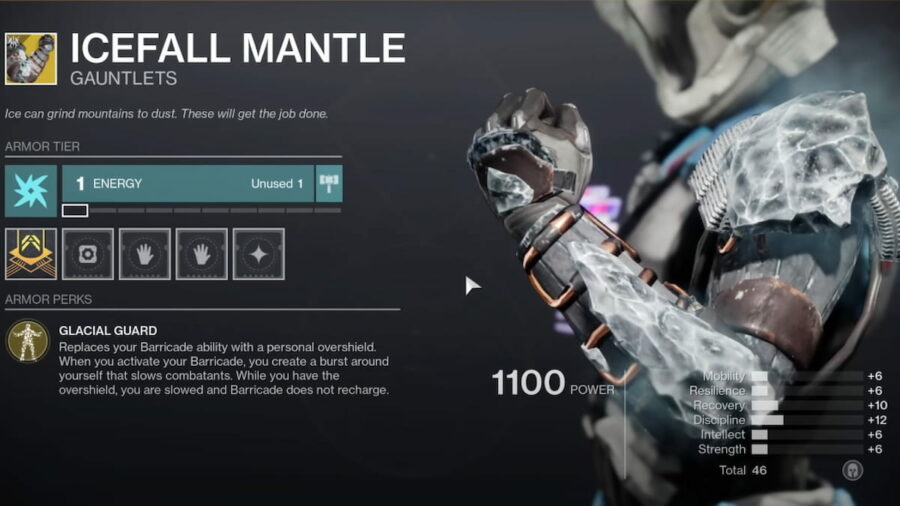 Glacial Guard - Replaces the player's Barricade ability with a personal overshield. When activating the Barricade, players will create a burst around themselves that slows their combatants. While they have the overshield, they are slowed and the Barricade will not recharge.
No Backup Plans
Force Multiplier - When the player has full melee energy, Shotgun final blows activate the player's Defensive Strike and consume their melee energy. Shotgun final blows also give the player melee energy.
Stronghold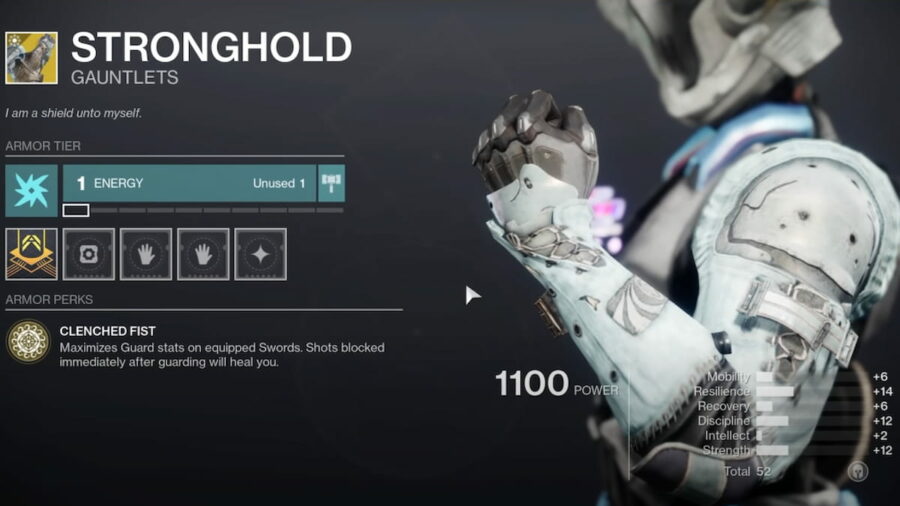 Clenched Fist - Maximizes Guard stats with equipped swords. Shots blocked immediately after guarding will heal the player.
Synthoceps
Biotic Enhancements - Increases melee lunge range. Improves melee and Super damage when the player is surrounded.
Ursa Furiosa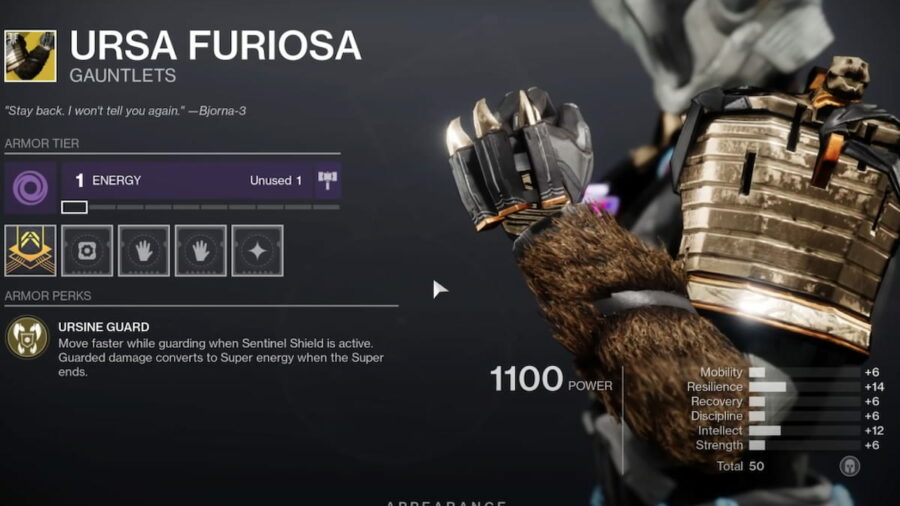 Ursine Guard - Move faster while guarding when the Sentinel Shield is active. Guarded damage convert to Super energy once the Super ends.
Wormgod Caress
Burning Fists - Melee kills increase the player's melee damage for a period of time. Additional kills extend the duration and increase the effects.
All Exotic Titan Chest Pieces
Actium War Rig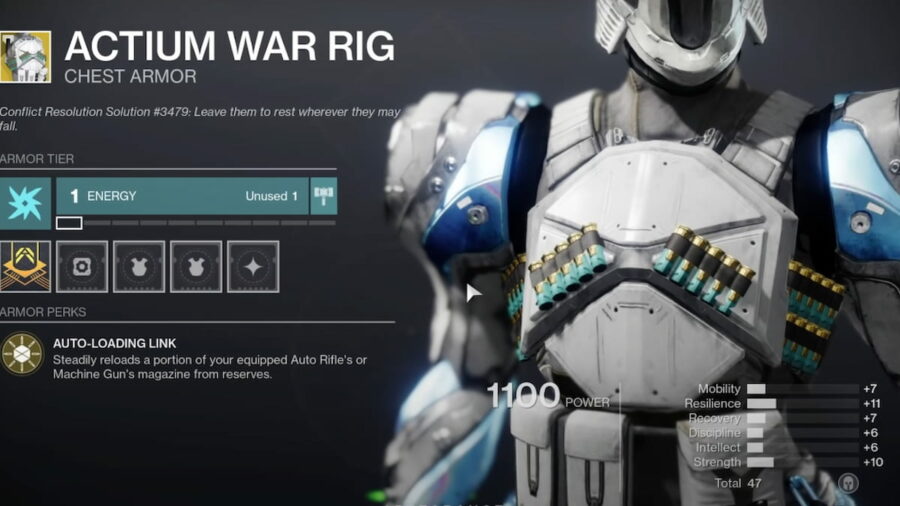 Auto-Loading Link - Steadily reloads a portion of the player's equipped Auto Rifle or Machine Gun magazine from reserves.
Armamentarium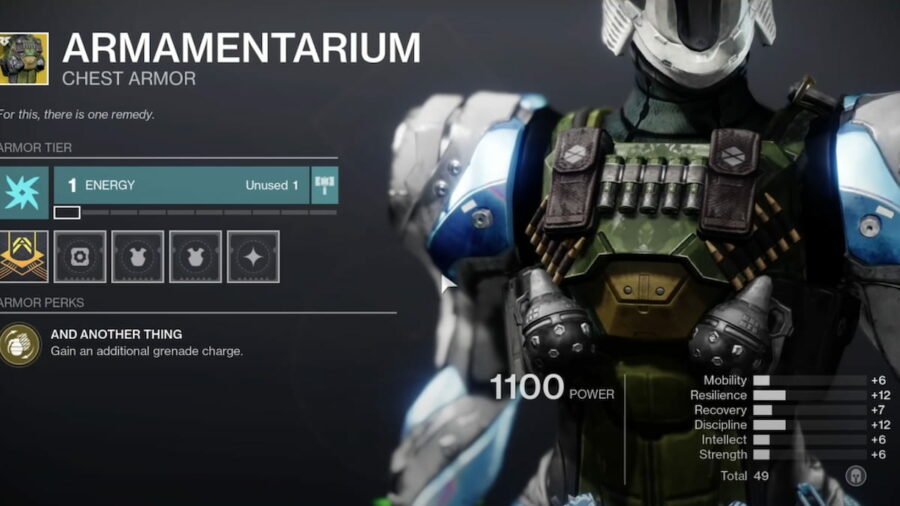 And Another Thing - Gain an additional grenade charge.
Crest of Alpha Lupi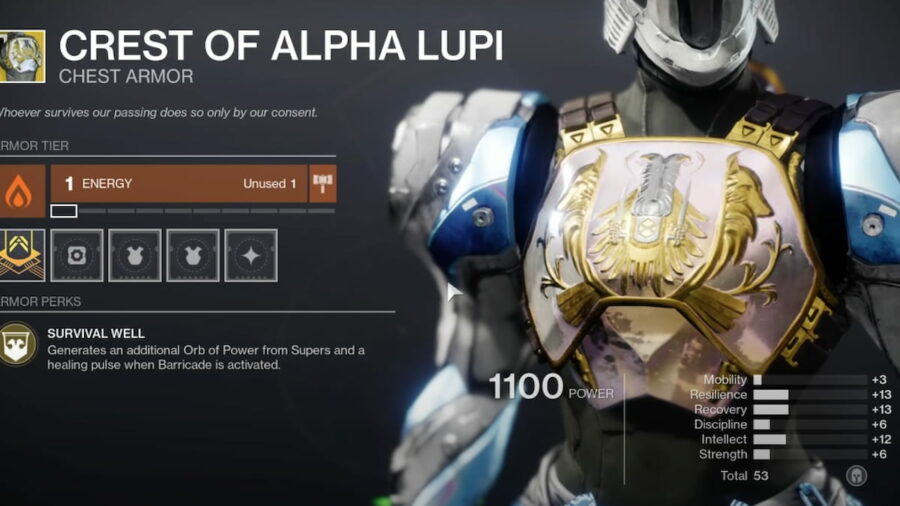 Survival Well - Generates an additional Orb of Power from Supers and a healing pulse when the Barricade is activated.
Cuirass of the Falling Star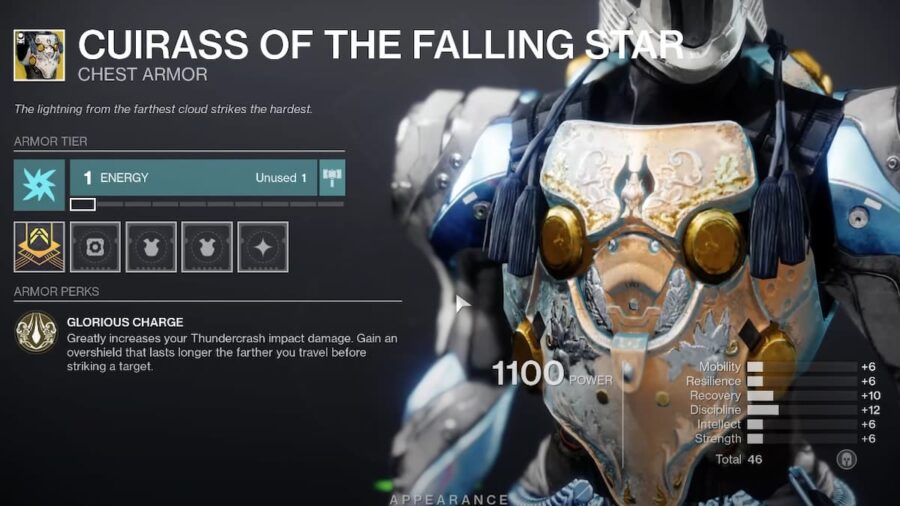 Glorious Charge - Greatly increases your Thundercrash impact damage. Gain an overshield that lasts longer the farther the player travels before striking a target.
Hallowfire Heart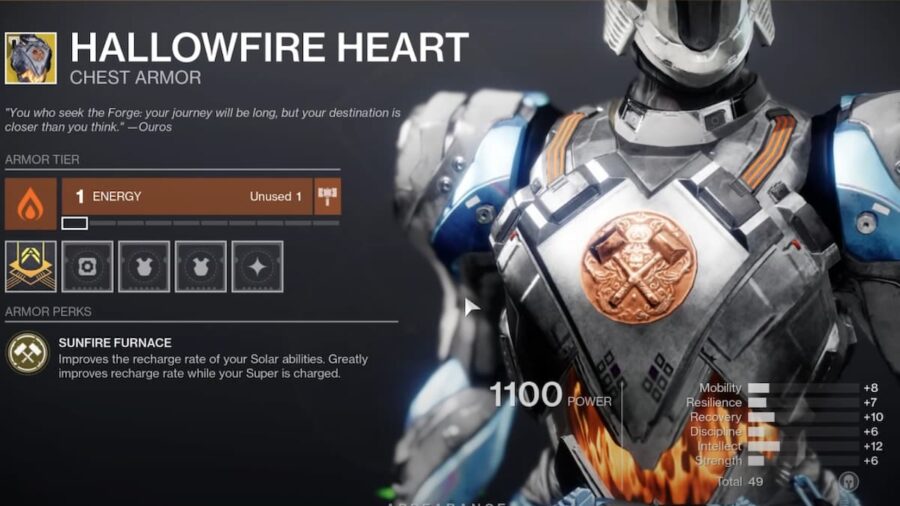 Sunfire Furnace - Improves the recharge rate of the player's Solar abilities. Greatly improves the recharge rate while the player's Super is charged.
Heart of Inmost Light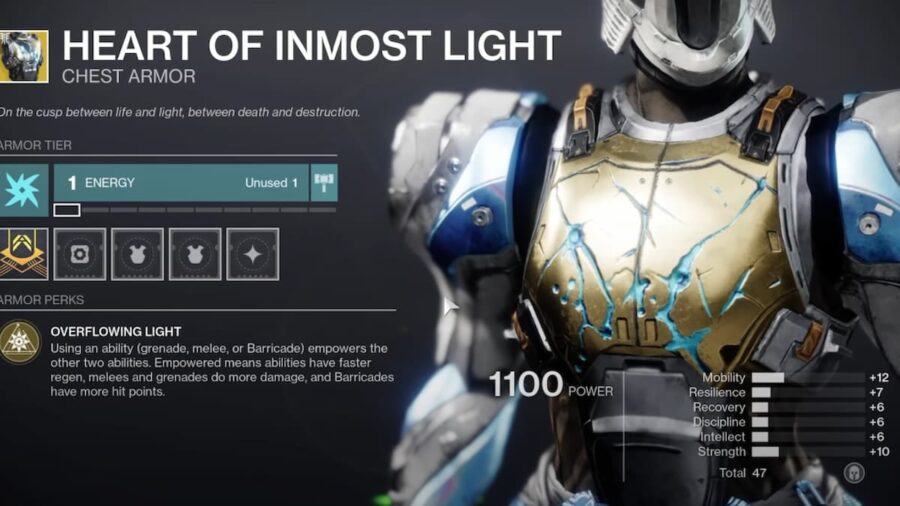 Overflowing Light - Using an ability (such as grenade, melee, or Barricade) empowers the other two abilities. Empowered means abilities have a faster regeneration, melees, grenades do more damage, and Barricades have more hit points.
Severance Enclosure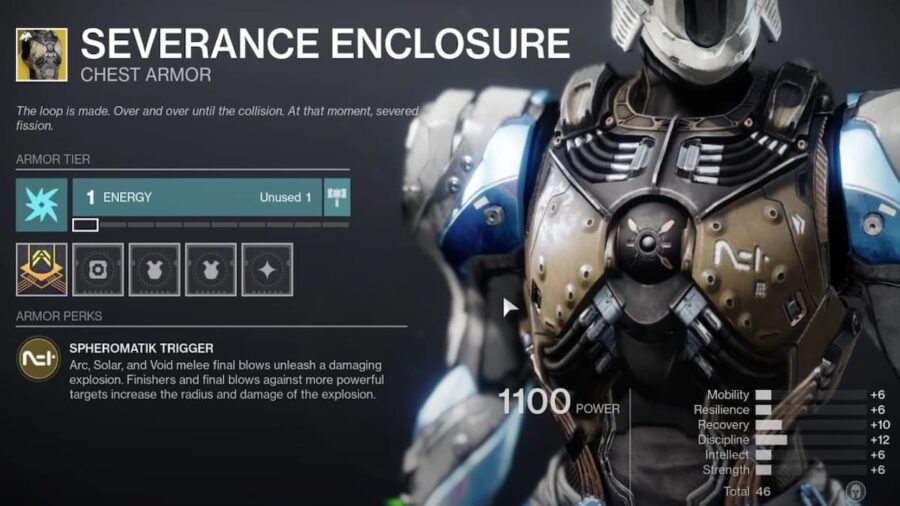 Spheromatik Trigger - Powered melee final blows unleash a damaging explosion. Finishers and final blows against more powerful targets increase the radius and damage of the explosion.
Related: Eyasluna Hand Cannon God Roll, Best Perks in Destiny 2
All Exotic Titan Leg Armor
Antaeus Wards
Reflective Vents - Improved slide. Sliding after sprinting for a short time reflecting incoming projectiles.
Dunemarchers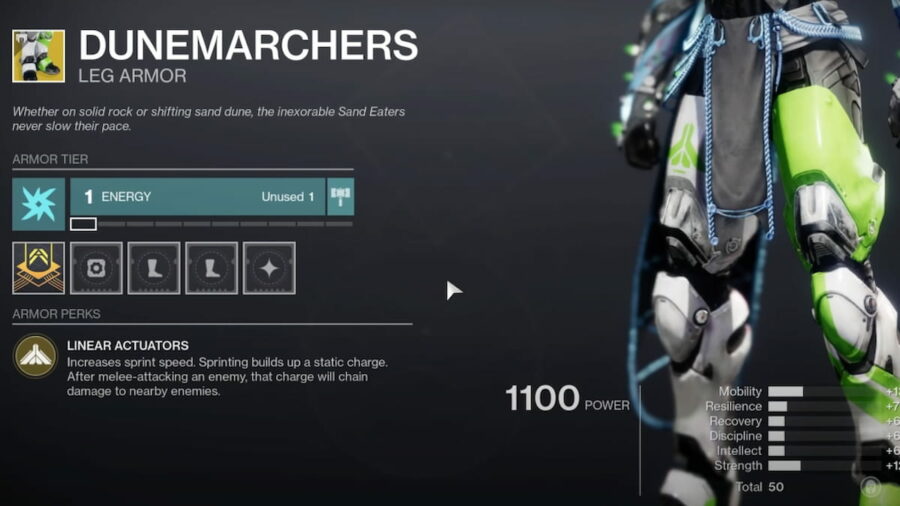 Linear Actuators - Increases sprint speed. Sprinting builds up a static charge. After melee-attacking an enemy, that charge will chain damage to nearby enemies.
Lion Rampant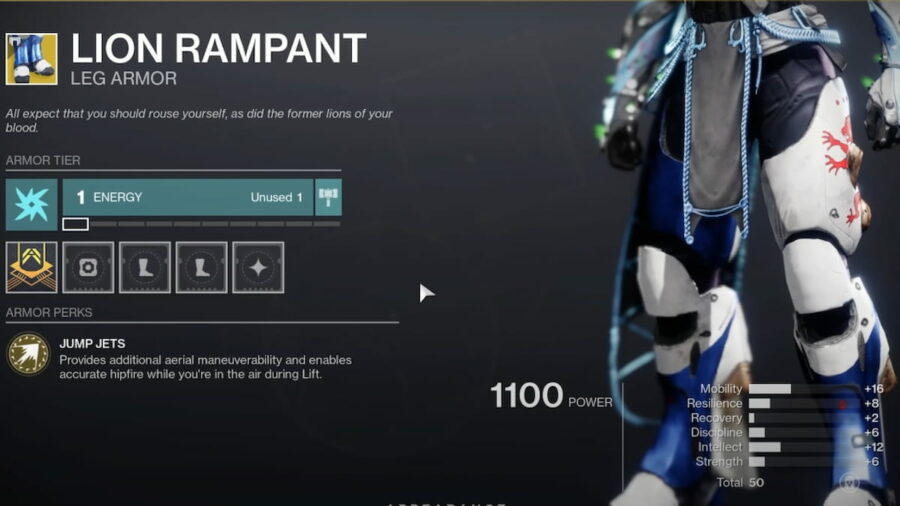 Jump Jets - Provides additional aerial maneuverability and enables accurate hipfire while the player is in the air during Lift.
Mk. 44 Stand Asides
Seriously, Watch Out - Grants an overshield when sprinting at full health with Seismic Strike, Hammer Strike, or Shield Bash equipped and charged. Hits with these abilities recharge a portion of the player's melee energy.
Peacekeepers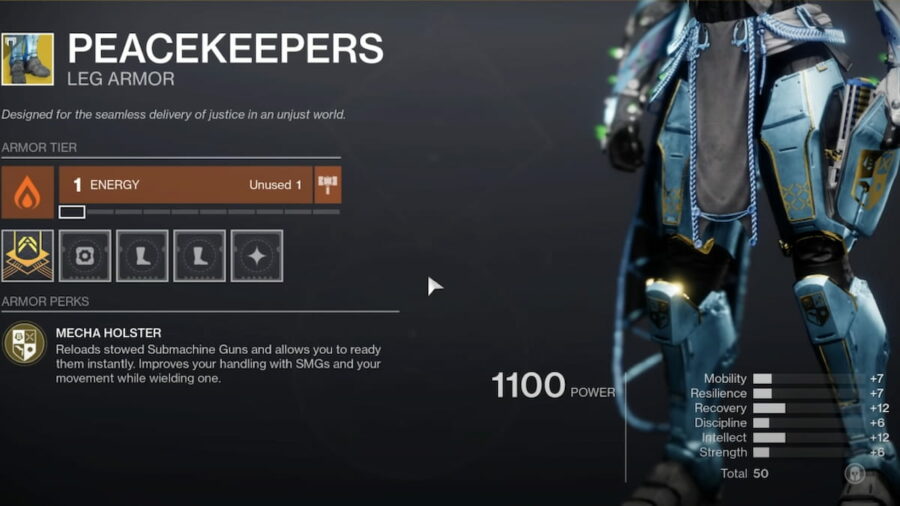 Mecha Holster - Reloads stowed Submachine Guns and allows the player to ready them instantly. Improves the player's handling with SMGs and their movement while wielding one.
Peregrine Greaves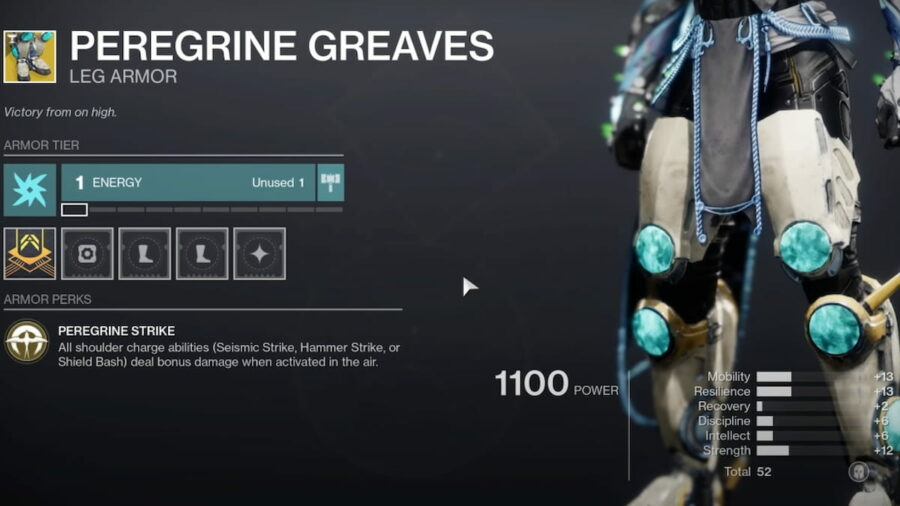 Peregrine Strike - All shoulder charge abilities (Seismic Strike, Hammer Strike, or Shield Bash) deal bonus damage when activated in the air.
Phoenix Cradle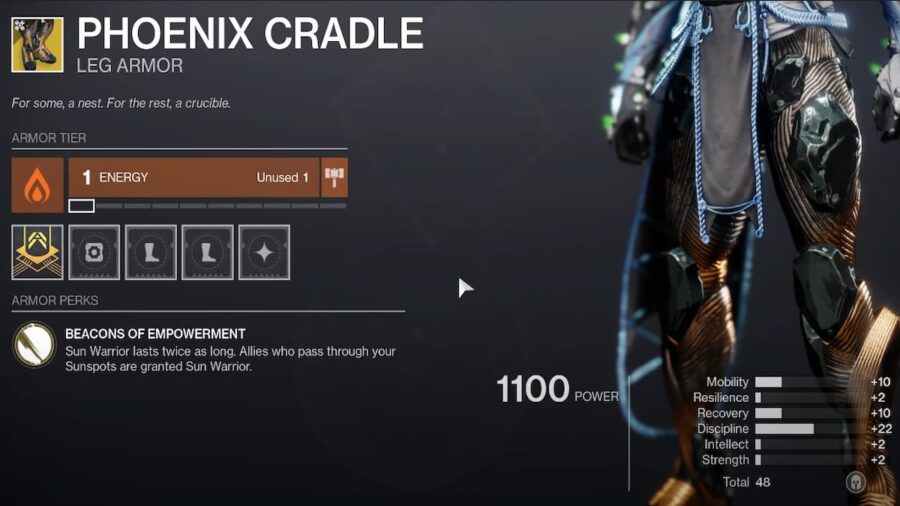 Beacons of Empowerment - Sun Warrior lasts twice as long. Allies who pass through the Sunspots are granted Sun Warrior for themselves.
The Path of Burning Steps
Firewalker - Solar final blows periodically grant the player an escalating bonus to weapon damage. The player is harder to slow or freeze with Stasis, and when they break out, they take no damage from doing so, creating a burst of Solar energy around themselves.
For more Destiny 2 content, be sure to check out What to do with Forsaken Ciphers in Destiny 2 on Pro Game Guides.