Hand cannons are some of the most popular weapons of choice in Destiny 2, and for good reason. Despite their revolver-esque appearance, hand cannons are versatile weapons that allow for long-range, cover-peaking, or even close combat situations. You just need to know the right hand cannons and the ideal stats for each weapon. These are the best hand cannons in Destiny 2.
Ace of Spades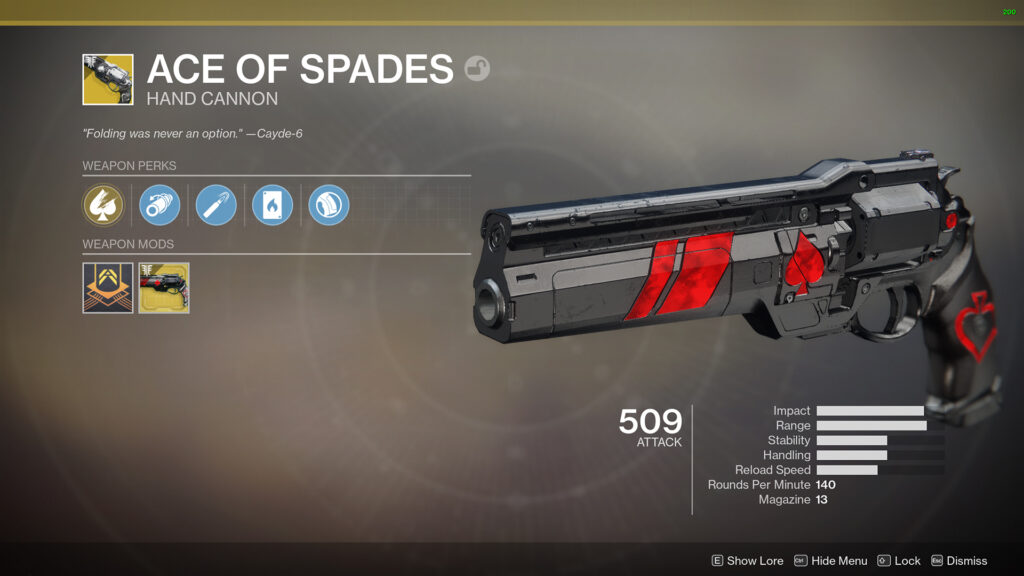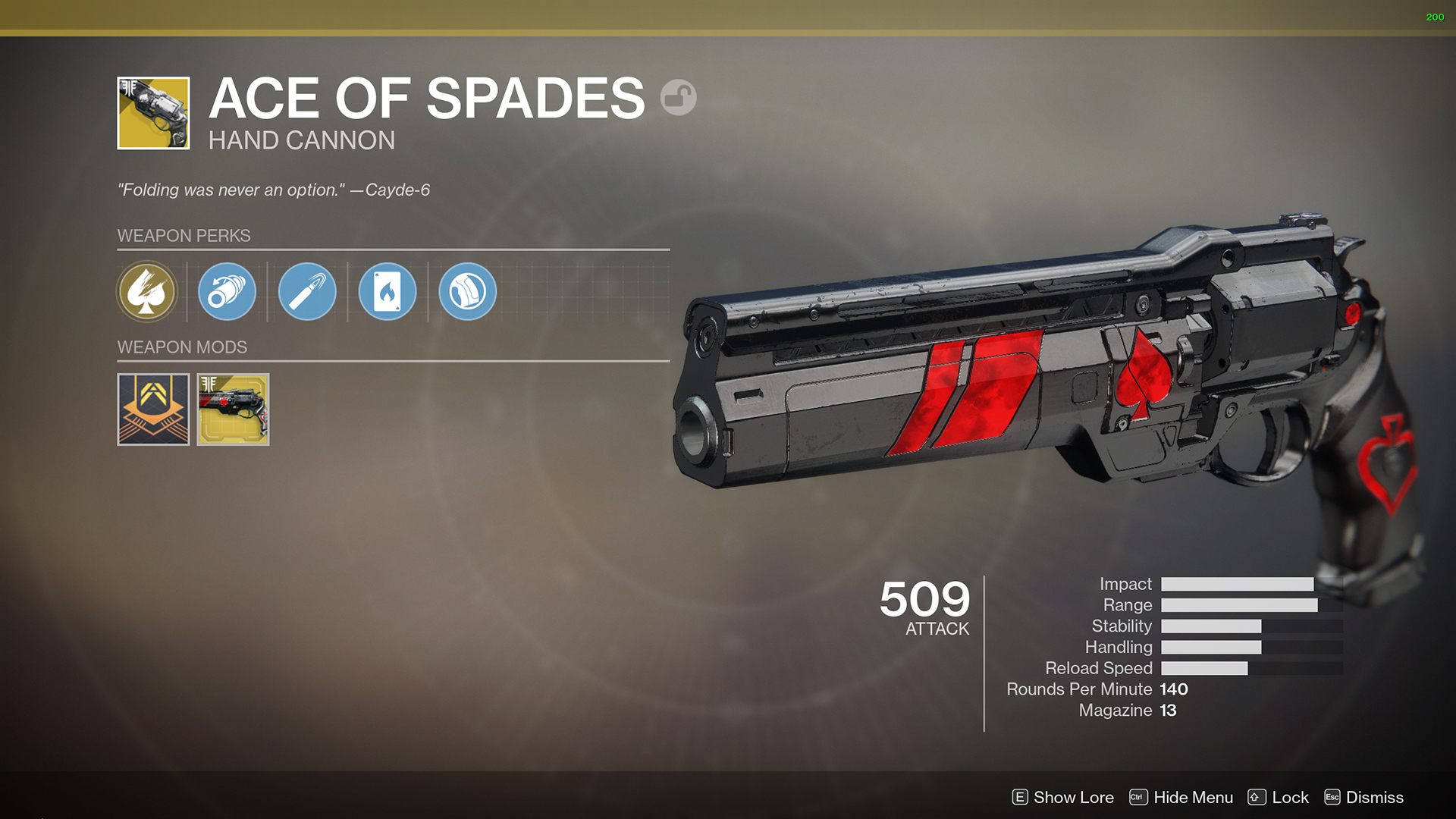 The Ace of Spades launched with Destiny 2: Forsaken and was reclaimed by the Guardian after the fall of Cayde-6. This hand cannon's highlight comes from the Memento Mori perk that works two-fold: Aiming down sights retains the top-corner radar, and extra damage bullets are awarded when reloading after a kill. Honor Cayde-6's memory by taking the Ace of Spades into the fight.
How to Get:
Exotic Questline becomes available after completing Forsaken expansion.
Bottom Dollar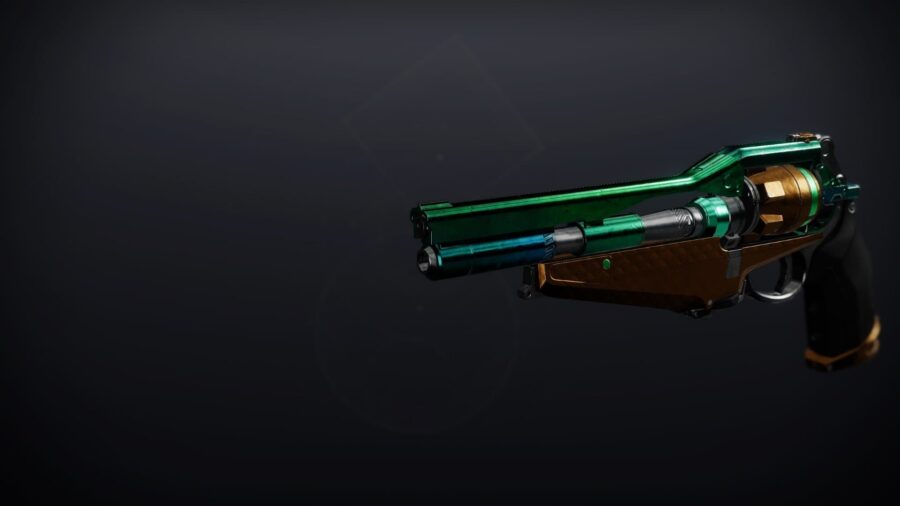 Bottom Dollar went live with the Season of the Chosen, obtainable as a random drop from Gambit matches. While not considered the most ideal hand cannon to grind for, obtaining a god roll Bottom Dollar makes for a worthy, versatile weapon. One player's God Roll might look entirely different from another player's due to the vast amount of abilities available in the Bottom Dollar's perks pool. This freedom of choice alone allows for more experimentation than many of the hand cannons in Destiny 2.
How to Get:
Random drop from Gambit matches, rank-up packages from the Drifter.
Crimil's Dagger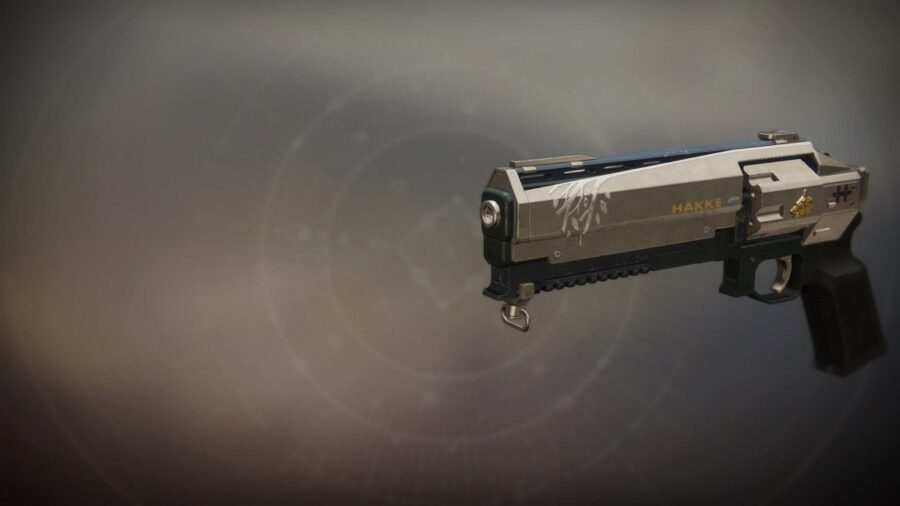 Yes, some hand cannons are useful for long-ranged combat, and Crimil's Dagger is no exception. The Rangefinder perk grants long-range gunplay, ensuring that maximum damage strikes before the bullet's dropoff time. Its one downfall is the 7-bullet magazine, but pair that with Kill Clip and reloading will be worthwhile due to the perk's damage increase.
How to Get:
Iron Banner random reward
Related: Destiny 2 Weekly Reset Time, Legacy Activities, Nightfall, & More
Fatebringer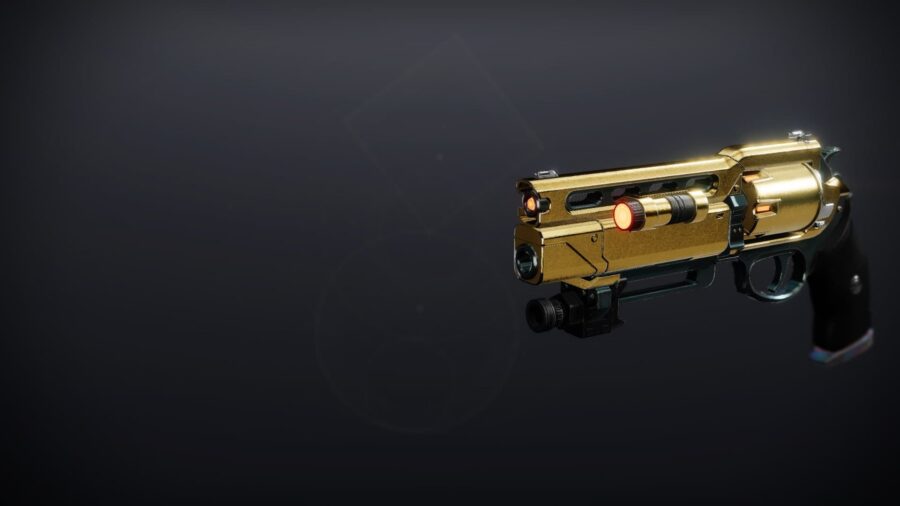 Making its return from Destiny in Season of the Splicer, Fatebringer is an ideal hand cannon for peaking corners and dealing maximum damage with the Tunnel Vision / Kill Clip perk pairing. Much of the player's chance of success relies entirely on nabbing a first kill and surviving thereafter, as the perks don't really activate until after one kill. If that playstyle suits you, then the Fatebringer is one of the best hand cannons in Destiny 2.
How to Get:
Vault of Glass raid (3rd + 4th encounters, random drop)
Hawkmoon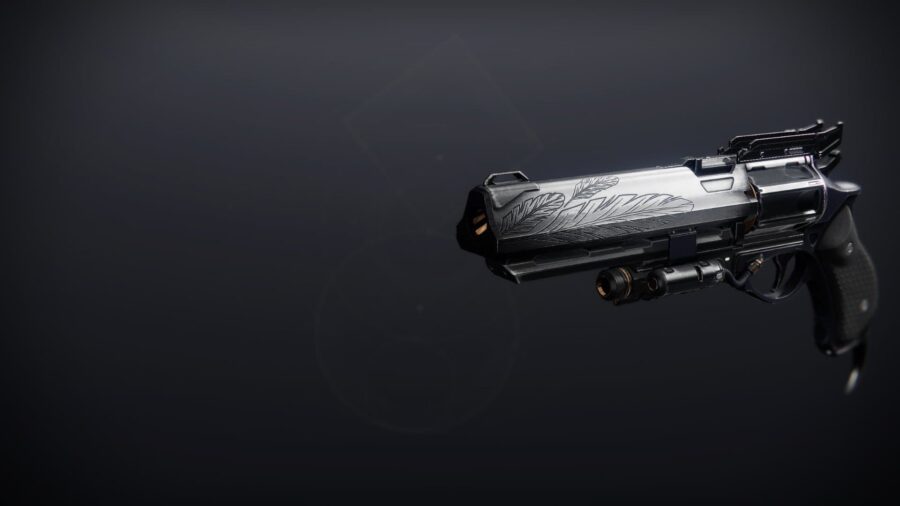 Hawkmoon's perks are appropriately themed around a bird. With the Paracausal Shot perk, landing five consecutive shots on a target causes the final shot to explode and deal, most likely, a killing blow. Moreover, the fifth, final blow does not need to come from the same Guardian. If a whole Fireteam uses Hawkmoon, the final shot counts toward anyone on the team that lands it, so long as the target has been struck four times already.
How to Get:
Complete How the Crow Flies quest and restore power to Hawkmoon
Igneous Hammer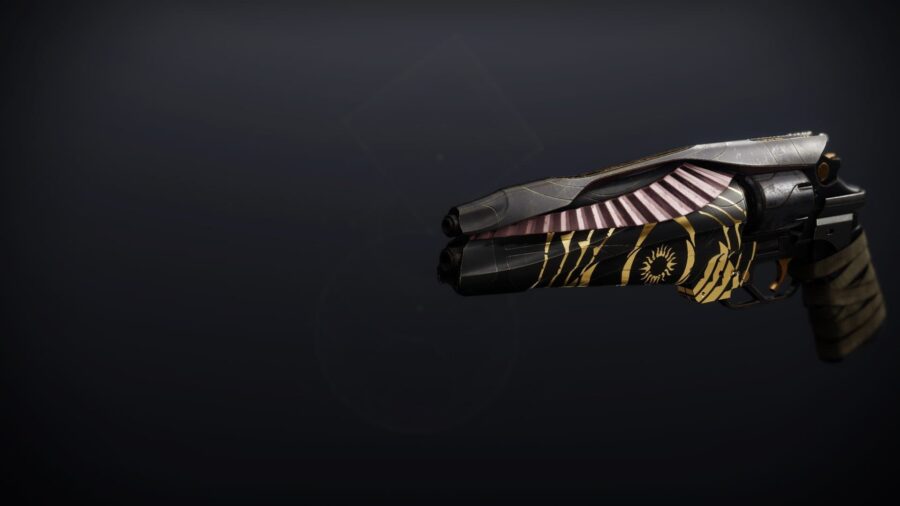 Admittedly not the easiest weapon to obtain by a long shot, the Adept version of the Igneous Hammer can only be obtained by completing a Flawless Trians of Osiris run. This hand cannon is designed for the sweatiest Destiny 2 players. If you exist with this category (first thing: Congrats!!), the Igneous Hammer possesses range similar to a Pulse Rifle, and can knock out targets with with just two bullets. You'll absolutely want Rampage for this hand cannon.
How to Get
Trials of Osiris reward, must be the week's featured weapon
Palindrome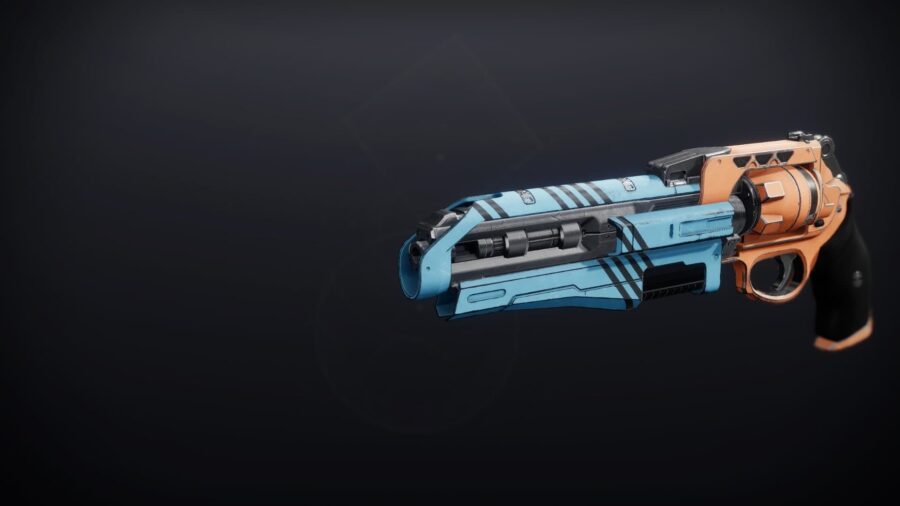 The Palindrome was introduced during Season of the Chosen and is unlocked as a rotating reward for completing Nightfall Vanguard activities. Rolling Overflow and/or Rampage on this Hand Cannon has the potential to reload the weapon beyond capacity and stack damage increases up to three times. It was a favorite PVP weapon during the Destiny days, and the Palindrome continues to be one of the best 140 RPM hand cannons in Destiny 2.
How to Get:
Complete a Nightfall activity when Palindrome is the featured weapon.
Steady Hand
For players that enjoy a more diverse range of playstyles during combat, the Steady Hand is your go-to. One of the main perks you'll want to roll for is Swashbuckler, which gains increased damage from both melee kills and regular kills. This perk alone particularly benefits the Hunter's melee throwing knives ability. While many hand cannons on this list feature long-range, cover-peaking advantages, the Steady Hand truly allows for up-and-close firing, if you so choose.
How to Get:
Iron Banner, must be the week's featured weapon.
Sturm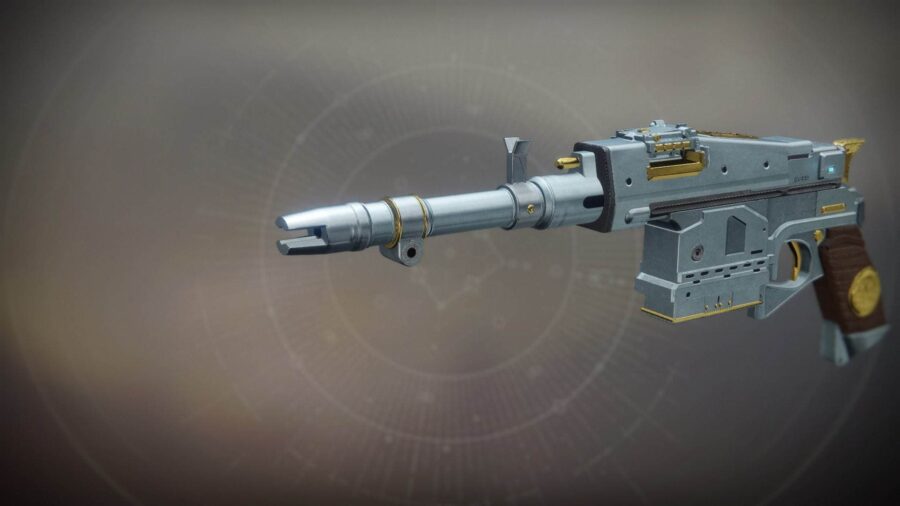 One of the more unique hand cannons on this list, Sturm is actually part of a two-weapon pairing, it's other half being the sidearm Drang. For every kill made with Drang, Sturm receives an overcharged bullet in its magazine. By itself, however, Sturm is still a worthy contestant with a large magazine clip and improved recoil.
How to Get:
Must obtain Drang through an Exotic questline before completing the Sturm exotic questline
True Prophecy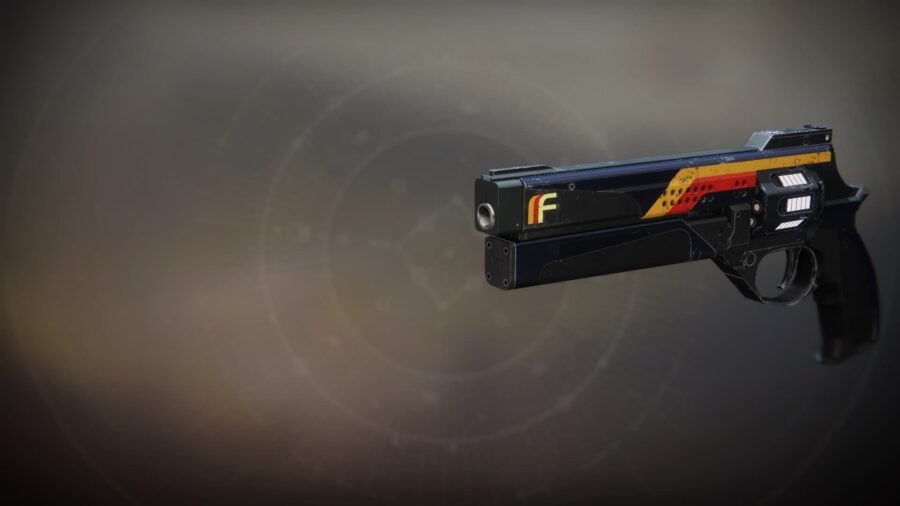 Similar to the Steady Hand, the True Prohecy is another alternative for a hand cannon that offers diverse playstyles. Making its return in Season of the Chosen, True Prophecy is a worthy rival due to its Rampage perk stacks and increases damage with every kill. Rangefinder also makes True Prophecy a great long-ranged hand cannon, but if you're a melee player, Grave Robber allows you to get up close and personal.
How to Get:
Banshee, from a Legendary engram
For more Destiny 2 content, check out Destiny 2: Fatebringer Best God Roll, Stats, and How to Get and Destiny 2: Hung Jury Best God Roll, Stats, and How to Get on Pro Game Guides.