In Expeditions: Rome, there are many difficulties and various settings. Each difficulty is named after a famous Roman, and there are two extra settings that players can select.
It is tempting to pick Normal (Caesar) difficulty, but the series is incredibly unforgiving. We recommend Easy (Augustus) if you have never played XCOM or Divinity: Original Sin on their Normal difficulties.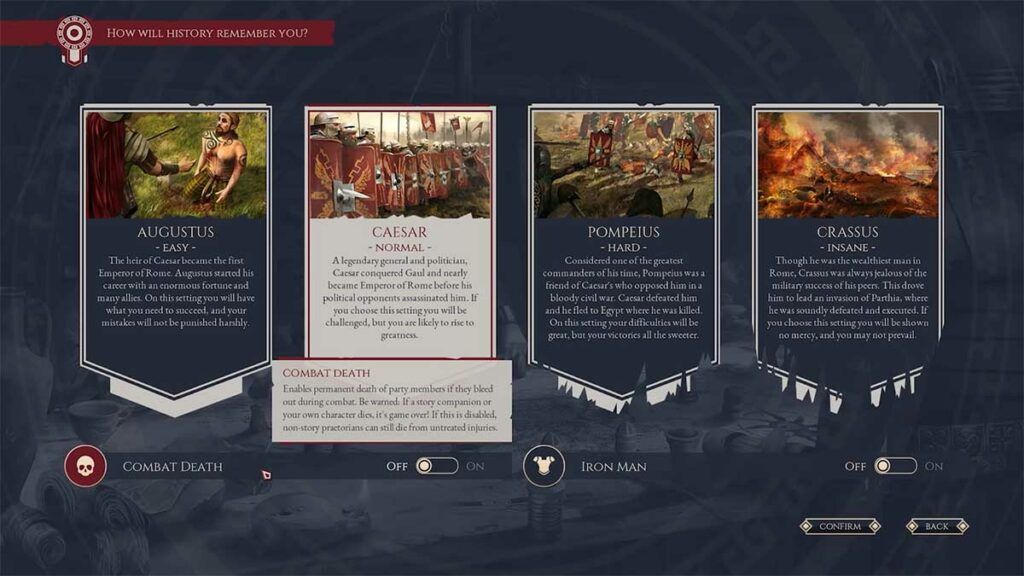 Related: Expeditions: Rome – Pre-Order Bonus, Special Editions
While we can debate the inaccuracy of the descriptions of these Romans, we'd rather point you in the right direction.
| | |
| --- | --- |
| Difficulty Setting | In-Game Description |
| Augustus (Easy) | The heir of Caesar became the first Emperor of Rome. Augustus started his career with an enormous fortune and many allies. On this setting you will have what you need to succeed, and your mistakes will not be punished harshly. |
| Caesar (Normal) | A legendary general and politician, Caesar conquered Gaul and nearly became Emperor of Rome before his political opponents assassinated him. if you choose this setting you will be challenged, but you are likely to rise to greatness. |
| Pompeius (Hard) | Considered one of the greatest commanders of his time, Pompeius was a friend of Caesar's who opposed him in a bloody civil war. Caesar defeated him and he fled to Egypt where he was killed. On this setting your difficulties will be great, but your victories all the sweeter. |
| Crassus (Insane) | Though he was the wealthiest man in from, Crassus was always jealous of the military success of his peers. This drove him to lead an invasion of Parthia, where he was soundly defeated and executed. If you choose this setting you will be shown no mercy, and you may not prevail. |
| Combat Death | Enables permanent death of party members if they bleed out during combat. Be warned: If a story companion or your own character dies, it's game over! If this is disabled, non-story praetorians can still die from untreated injuries. |
| Iron Man | Disables manual saving, restricting you to a single autosave. Your save is not deleted upon death, but you must live with your mistakes! |
Keep Iron Man off if you haven't played it before since you'll want to experiment, so don't try this one.
Combat Death is really a matter of personal preference, but we recommend keeping it on. It's as real as games can get because it makes losing party members more realistic. The game mentions praetorians, which really just means your personal guard members.
Now that you're updated on the Pre-Order information, you should read How to download the demo of Expeditions: Rome and try the game out! For more info, guides, and news on Expedition: Rome, stay here on Pro Game Guides!