One of the most enticing things about Final Fantasy XIV is the large array of classes and roles in which players can participate. No matter what playstyle is your preference, there is sure to be a class that fits user needs.
There are currently 18 combat classes, or jobs, in Final Fantasy XIV, with two more releasing in the Endwalker expansion. These jobs fit into three categories, based on their utility in parties:
Tank—These bastions of defense focus on drawing enemy fire and shielding their allies from damage.
Healer—These jobs use their abilities to heal, sustain, and revive party members in the heat of battle.
DPS—These jobs prioritize dealing damage to adversaries, and unlike their counterparts, they fall under three categories:

Melee DPS—Close range fighters that enact combos to deal large amounts of damage.
Physical Ranged DPS—Long range fighters that damage foes via physical attacks who may also provide support.
Magic Ranged DPS—Users of the arcane arts that fight using their magic attacks from a distance and specialists of burst damage.
Related: How long does the free trial last in Final Fantasy XIV?
Tanks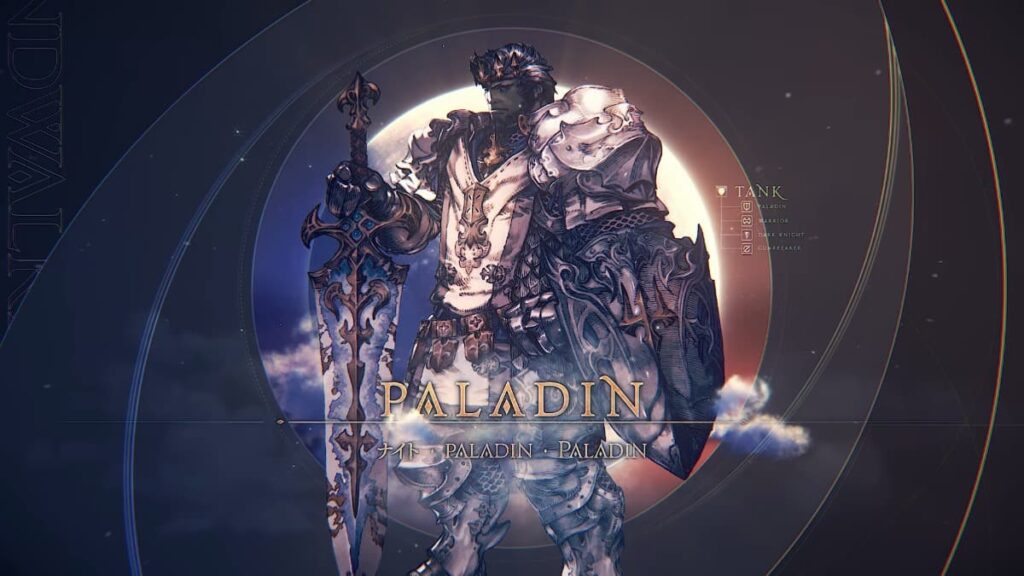 Paladin—Specialize in swords and shields and they start out as the level 1 Gladiator.
Warrior—Greataxe users that begin as level 1 Marauders.
Dark Knight—Greatsword wielders introduced in Heavensward. Dark Knight requires no prerequisite job like Paladin and Warrior. Unlocks at level 30 via the A Dark Spectacle quest. (Must be level 50 to accept.)
Gunbreaker—Gunblade users added with the Shadowbringers expansion. Unlocks at level 60 via the The Makings of a Gunbreaker quest. (Must be level 60 to accept.)
Healers
White Mage—Light magic users who heal party members with restorative techniques. White Mages start as the Conjurer at level 1.
Scholar—Faerie users that use the familiar to aid teammates. Scholars begin as the Arcanist at level 1.
Astrologian—Healer added in the Heavensward expansion that has no base class. Astrologians start at level 30 via the Stairway to the Heavens quest. (Must be level 50 to accept.)
Sage—Noulith wielders that use the tools to heal allies and attack enemies. Capable of constructing barriers to defend allies. Starts at level 70, unlocked via the Sage's Path quest. (Must be level 70 to accept.)
Melee DPS
Monk—Brawlers that fight with knuckles against enemies, focusing on positional attacks. Monks start as the Pugilist at level 1.
Dragoon—Use lances to impale and attack enemies while using superior mobilty to deal damage. Dragoons start as the Lancer at level 1.
Ninja—Dual blade masters that combine quick attacks, evasion, and Ninjutsu to overwhelm their enemies. Ninjas start as the Rogue at level 1.
Samurai—DPS introduced in Stormblood. Masters of the katana that string together successive blade strikes to eviscerate foes. Has no precursor class and can be unlocked via The Way of the Samurai quest. (Must be level 50 to accept.)
Reaper—Scythe users who harness the power of the void to summon shades and overwhelm enemies with a flurry of strikes. Starts at level 70, unlocked via The Killer Instinct quest. (Must be level 70 to accept.)
Physical Ranged DPS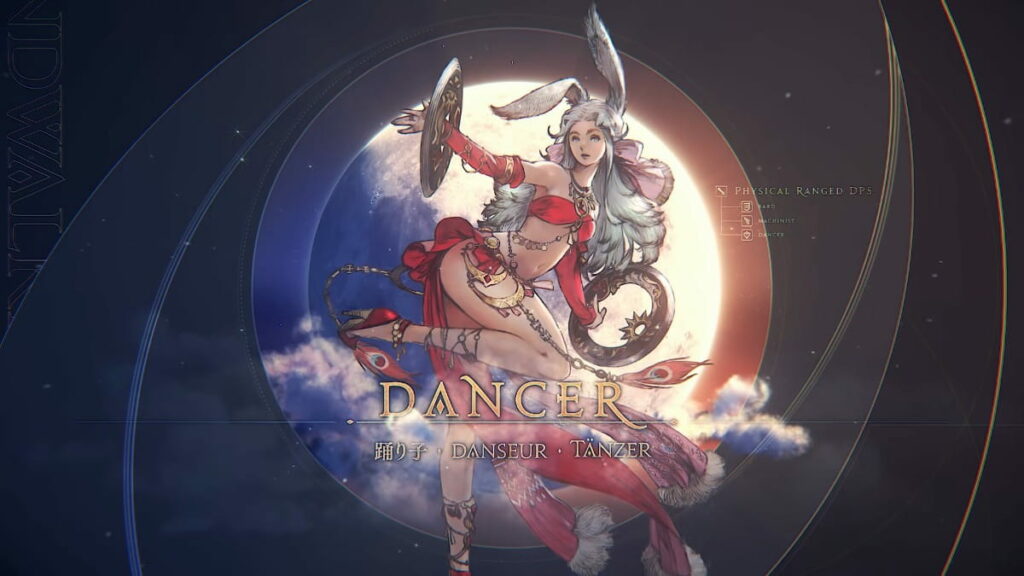 Bard—Archers who use musical abilities to enchant allies in battle. Bards begins as the Archer at level 1.
Machinist—Gunner that deploys machinery while firing a volley of projectiles at enemies. This class was introduced in Heavensward and has no base class. Machinist begins at level 30 via the Savior of Skysteel quest. (Must be level 50 to accept.)
Dancer—DPS job introduced in Shadowbringers focuses on buffing a single party member or "dance partner" while attacking from a distance. Unlocks at level 60 via the Shall We Dance quest. (Must be level 60 to accept.)
Magic Ranged DPS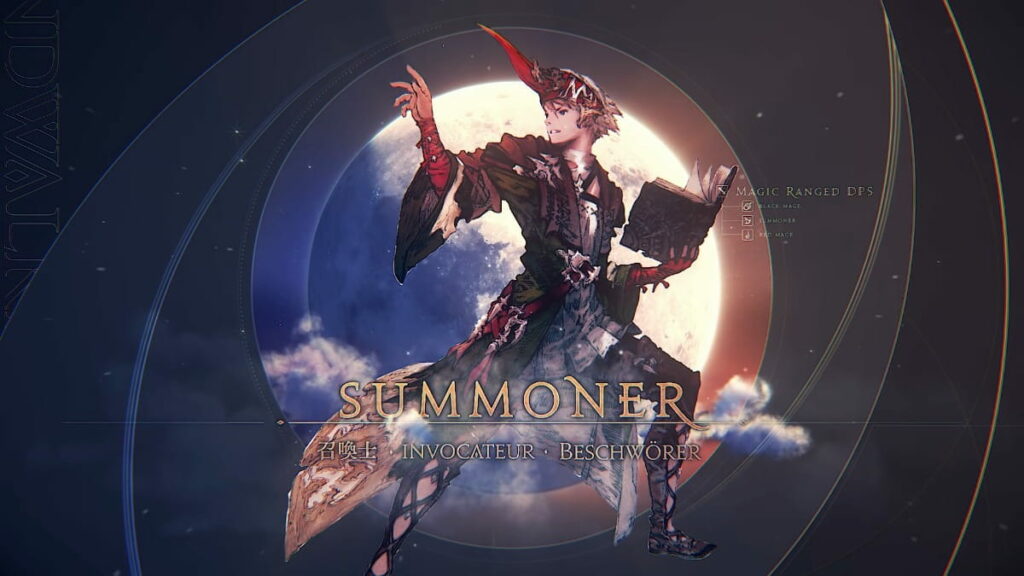 Black Mage—Dark magic users that focus on single target damage via elemental spells. Black Mages start as the Thaumaturge at level 1 and can upgrade to the Black Mage after completing the Taking the Black quest at level 30.
Summoner—Masters of Area of Effect damage that call forth familiars to aid them in battle. Summoners begin as the Arcanist at level 1.
Red Mage—A hybrid class introduced in Stormblood that melds physical attacks and magical prowess. Red Mages have no preliminary class, and unlock at level 50 through the Taking the Red quest. (Must be level 50 to accept.)
Blue Mage—Limited job that caps at level 70, does not have access to Duty Roulettes, Eureka, Squadron Missions, Deep Dungeons, PvP, Stone, Sky, Sea, Hall of the Novice, or Main Scenario Quests. Can be acquired by accepting the Out of the Blue quest. (Must be level 50 and complete The Ultimate Weapon Main Scenario Quest.)
For more on Final Fantasy, be sure to check out the other articles on Pro Game Guides, like What is the max level in Final Fantasy XIV?