The holiday season is fast approaching, so it's time to start shopping for any Fortnite fans in your family. But since they've already got Fortnite, you may not want to resort to a V-Bucks gift card or feed their Battle Pass.
So take a look at our curated list of the best Fortnight Toys and Gifts below!
The Battle Bus is one of the most iconic features of Fortnite, and that's what makes this one of the best Fortnite Toys around. Unfortunately, there simply aren't enough Battle Bus-related toys out there, so when you see one, it's a must-buy.
What's more, this one comes with a pair of two exclusive figures, not available in any other sets. So this is the perfect toy set for kids to play a match of pretend Fortnite when they're not playing real Fortnite!

The Contract Griller is one of Fortnite's coolest and most popular Outfits. A large-scale action figure of this Outfit is the perfect way to show off your love of that skin.
It's as smooth-looking as the in-game model and packed with articulation and other features that make it perfect for imaginative play. This is an excellent toy for kids or an ideal display piece for collector enthusiasts.
Related: Star Wars' Boba Fett is coming to Fortnite on Christmas Eve
The Squad Packs are the perfect way to collect all the in-game Outfits and characters without having to pour money into the Battle Pass of V-Bucks. With multiple sets, each featuring four characters, you get an entire squad with each pack.
There are multiple series to collect, and each one is unique and limited edition—a perfect collector's item as well as a great gift.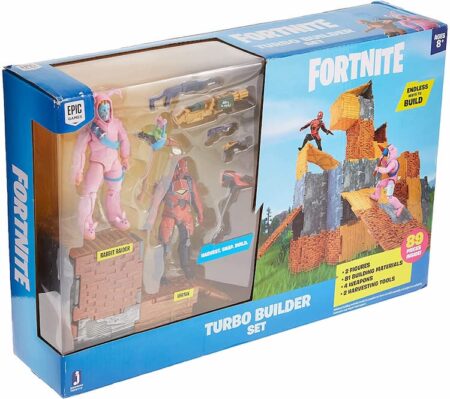 Speed-Building is one of the most challenging skills to master in Fortnite, and now you can recreate the thrill and rush of those clutch builds with this set. The Turbo Builder set features Rabbit Raider and Vertex but is also customizable and creative.
You can build the suggested Llama structure, but the building blocks can also be used to create any battlefield you want!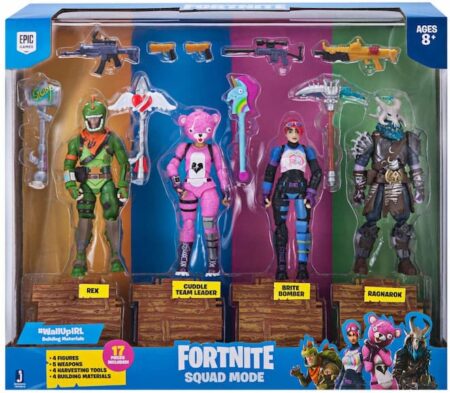 A full squad of action figures is an ideal gift pack for any Fortnite fan, and this is one of the best sets around. This set has it all with four instantly recognizable and popular characters from the game, including Rex, Cuddle Team Leader, Brite Bomber, and Ragnarok.
But beyond that, the four sets of guns, four harvesting tools, and plenty of building materials make this a great addition to anyone's Fortnite toy box.
Looking for more great holiday gift ideas? Check out Best Minecraft Toys and Gifts for Kids on Pro Game Guides.
This article includes affiliate links, which may provide small compensation to Pro Game Guides.