On Tuesday, March 30, 2021, Fortnite released update v16.10, and along with it came a massive quest path for us to complete. The path contains many challenges of varying types, although several of them are as simple as finding specific characters. This guide covers the seventh part of this line of challenges in which we need to Harvest a Wolf Fang, Boar Tusk, and Three Chicken Feathers.
How to Harvest a Wolf Fang, Boar Tusk, and Three Chicken Feathers in Fortnite
Before we begin, if you were looking for the guide to a different part of this questline, you can find the complete list at the bottom of this article in the order in which they appear.
The simple thing about this quest is that it's mostly just a matter of hunting the animals. When you kill any Wolves, Chickens, or Boars, they will drop the respective pieces you need. That is to say: a wolf will drop a Wolf Fang, a boar will drop a Boar Tusk, and a Chicken will drop a Chicken Feather.
If you are struggling to find any of the animals, you can refer to to the image below to see where their spawn locations are. Many thanks to Fortnite.GG for the use of their drawing function.
Related: Where to Find Wolves, Chickens, Boars, and Frogs in Fortnite Chapter 2 Season 6 - Pro Game Guides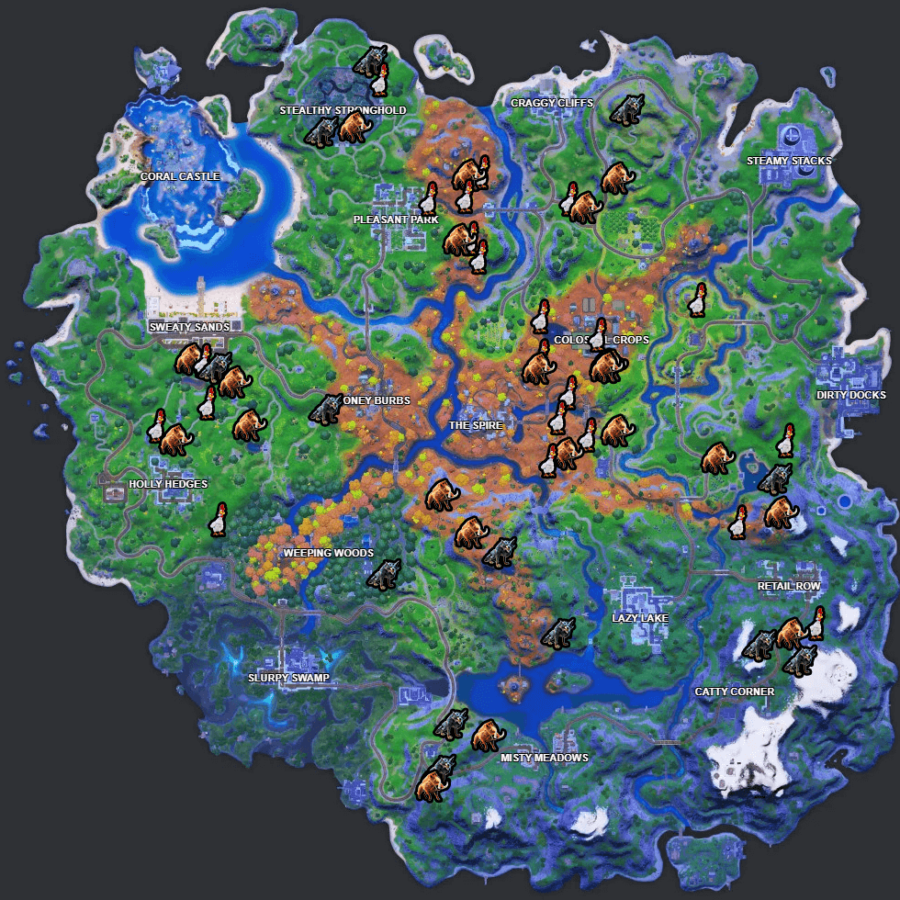 When completing this quest, you'll likely find that the most difficult part is finding a Wolf. With the recent update to v16.10, spawn locations for wolves have moved around or been removed completely. Still, it's possible to get all five pieces in one match (if you're lucky).
A useful tip for finding wolves: The most frequent location we've seen them is on the southwestern section of the map, closer to the middle area. If you stick to the areas between the Guardian of the Lake and Weeping Woods, you will likely run into at least one wolf from which you can collect its fang.
Once you harvest all the animal parts, you need to bring them back to Raz. However, you don't need to return them in the same match. We recommend completing one of the other two Spire Challenges Raz gives you, as it's possible to get all three of them in one match!
Full Challenge List
Use any of the links in the steps listed above to see how to complete that part of this line of challenges!
Don't forget to check our complete coverage of this Season in our Fortnite Chapter 2 Season 6 Guide!