On Tuesday, March 30, 2021, Fortnite released update v16.10, and along with it came a massive quest path for us to complete. The path contains many challenges of varying types, although several of them are as simple as finding specific characters. This guide covers the sixth part of this line of challenges in which we need to collect a Cult Artifact at the Spire.
Where to Get a Cult Artifact at the Spire
Before we begin, if you were looking for the guide to a different part of this questline, you can find the complete list at the bottom of this article in the order in which they appear.
The Cult Artifact can be found in one of the buildings on the top level (right at the base of The Spire). The image below show you the approximate location.
Related: How to Get The Mythic Spire Jump Boots in Fortnite Chapter 2 Season 6 - Pro Game Guides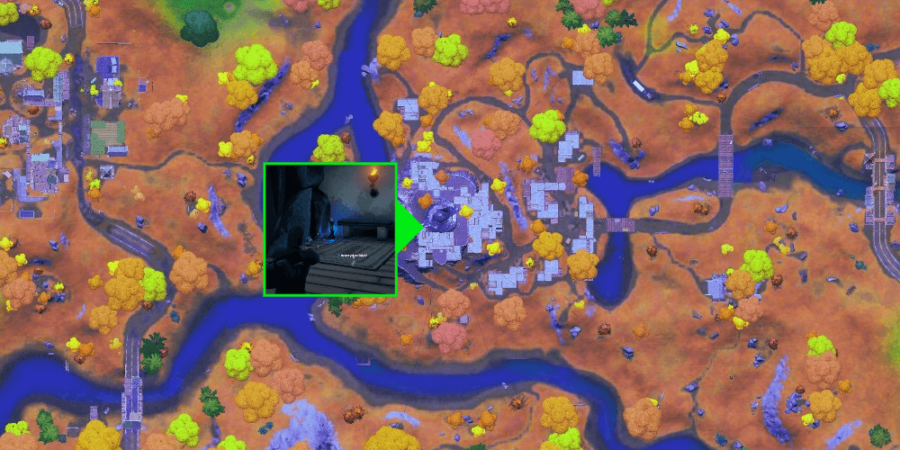 The building you are looking for is directly Southwest of the base of the spire. When you enter the building from the large archway on its western edge, you can walk straight to the back corner to find the Artifact. Simply interact with it with the primary action button or key, and the task will be marked as complete. You don't have to return the Artifact in the same match. We recommend completing one of the other two Spire Challenges Raz gives you, as it's possible to get all three of them in one match!
Full Challenge List
Use any of the links in the steps listed above to see how to complete that part of this line of challenges!
Don't forget to check our complete coverage of this Season in our Fortnite Chapter 2 Season 6 Guide!