On Tuesday, March 30, 2021, Fortnite released update v16.10, and along with it came a massive quest path for us to complete. The path contains many challenges of varying types, although several of them are as simple as finding specific characters. This guide covers the second part of this line of challenges in which we need to collect Artifacts for Tarana.
Where to Collect Artifacts for Tarana in Fortnite
Before we begin, if you were looking for the guide to a different part of this questline, you can find the complete list at the bottom of this article in the order in which they appear.
The best part about this quest is that all the Artifacts are located in Boney Burbs. If you follow the guide below, you can likely find them all in one match. In the image below, we've provided the approximate location of all three artifacts.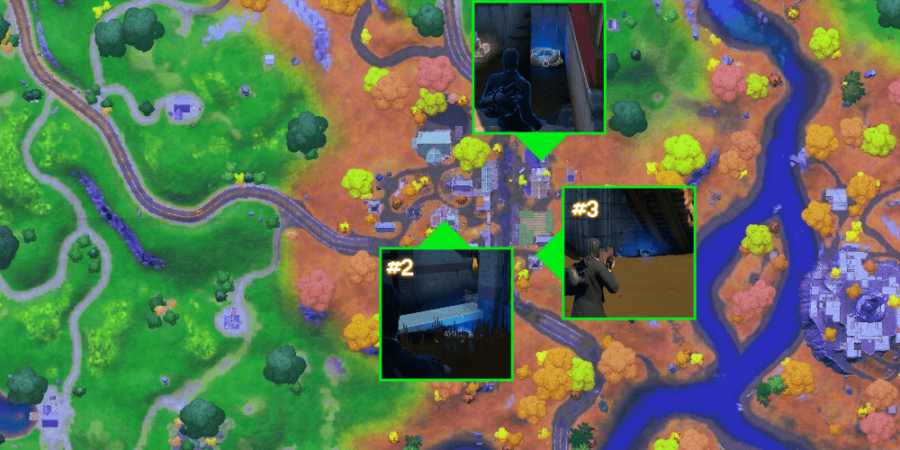 The first Artifact is in the gas station on the northeastern corner of town. There is a tree growing inside, and you'll find the Artifact (which appears to be a picture) hiding behind it. It's fairly easy to spot as it has a bright blue glow surround it.
The second Artifact is in the large building in the middle of town. You will find it at the very bottom of the building, resting on a counter. The very bottom of the building means the level in which it is partially buried in the ground, not the first floor.
The third Artifact is underneath the stairs connected to the clock tower. It is underneath the very bottom section of stairs that are touching the ground.
Once you have collected all three Artifacts, your next step is to speak to Tarana again. When you speak to her, she will give you one last task: Find the Thief.
Full Challenge List
Use any of the links in the steps listed above to see how to complete that part of this line of challenges!
Don't forget to check our complete coverage of this Season in our Fortnite Chapter 2 Season 6 Guide!