Bennett is one of the four available characters to interact with in Genshin Impact's new Hangout Events series. If you're drawn to this adventurer's optimistic charm, read on to find out how to complete all of his unique endings and max out your quest rewards.
Hangout Event Series I: Bennett Guide
Before you can unlock the Hangout Events, you'll need to have met the following conditions:
Adventure Rank 26 and above
Have story keys (earn one key for every eight commissions completed)
Completed the Archon Quest: Prologue: Act III - Song of the Dragon and Freedom
Related: All Genshin Impact Character Ages, Birthdays, and Zodiac Signs
There are six total endings in Bennett's Hangout Event, meaning there are also six different photos you can collect. The Genshin Impact Hangout Events series won't punish you for choosing the wrong option—in fact, miHoYo encourages players to unlock all of the endings by revisiting certain scenes and choosing different outcomes! Almost every playthrough awards you with primogems and the opportunity to collect more photos, so don't worry if you select a wrong choice the first time around. You can even unlock multiple achievements during Bennett's event.
Read on to discover how to attain all six of Bennett's endings.
Taste Tester Royce
Starstruck upon finally meeting Mondstadt's Honorary Knight, Bennett will practically beg to accompany you on an adventure. Agree with him by saying, "Sure! Let's go on an adventure!" After this, Bennett will ask about your usual preparations for exploring. Go with the "cautious choice," telling him that you always cook before heading out.
Your response inspires Bennett to cook a meal for the two of you. Unfortunately, this meal takes the form of an Ominous Dish and looks like death on a plate.
Once inside the ruins, Bennett's constant string of misfortune causes the entrance to close shut. The two of you hear another adventurer calling out in distress and go to investigate the noise, which turns out to be Royce, one of the former members of Benny's Adventure Team. Royce is upset about being locked inside with Bennett, especially since he's already run out of supplies.
When Bennett asks you for your opinion on sharing the Ominous Dish with Royce, respond with, "You cooked it, you can do whatever you want with it."
Bennett's well-intentioned act causes Royce to collapse, resulting in the "Taste Tester Royce" ending.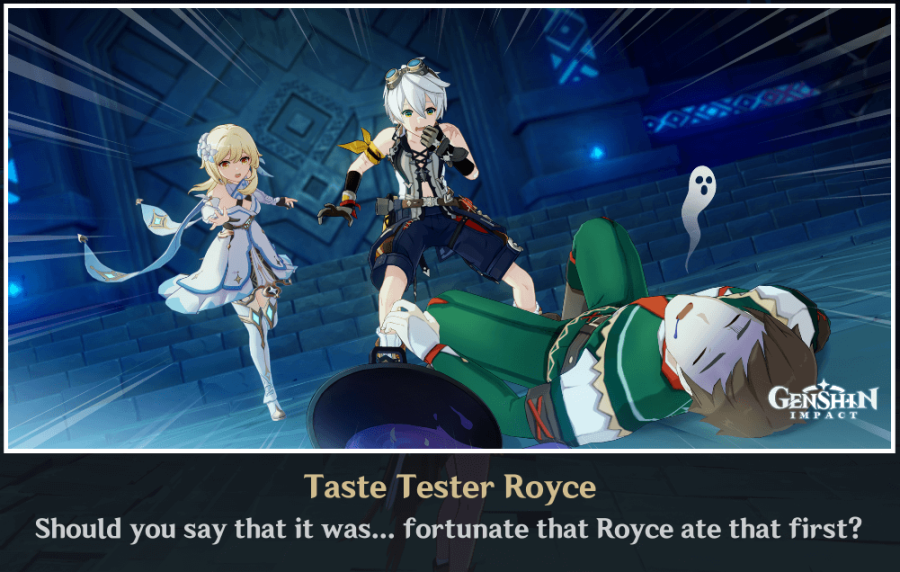 Ready to Make Sacrifices
Follow the steps from the previous branch: agree to go on an adventure and then say you always cook first. However, when Bennett asks you about sharing the Ominous Dish with Royce, respond with, "No way. You don't owe him anything."
Bennett's misfortunate, unsurprisingly, continues to wreck your chances of escaping the ruins. Realizing that his bad luck only occurs when he's conscious, Bennett decides to eat the Ominous Dish himself in the hopes that it will knock him out, therefore allowing you to find a way back to the outside world.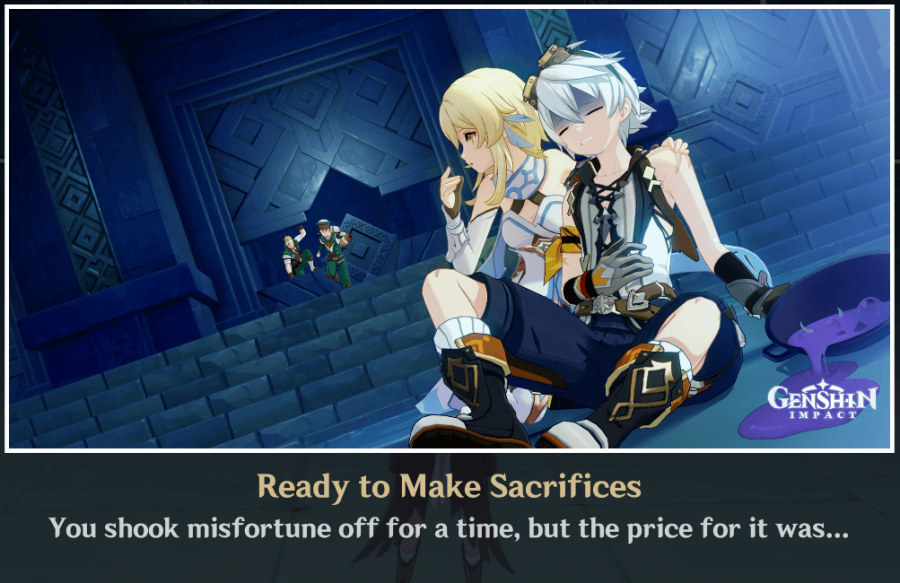 Fortunate Outcome
Tell Bennett, "Sure! Let's go on an adventure!" like in the previous choice branches. This time, when he asks whether you cook meals in preparation, tell him no—you always leave straight away.
You'll enter the ruins together and come across a room full of traps. When Bennett suggests disabling them by himself, say, "Hmm, how can I let you face the danger alone?"
Working as a team, you successfully turn the mechanisms off and proceed to the next room. Solve this room's puzzle by activating the mechanisms in this order:
Three torches
One torch
Two torches
Completing the puzzle rewards you with a "The Power of Luck" achievement. You'll also reach the Fortunate Outcome ending and earn this adorable photo.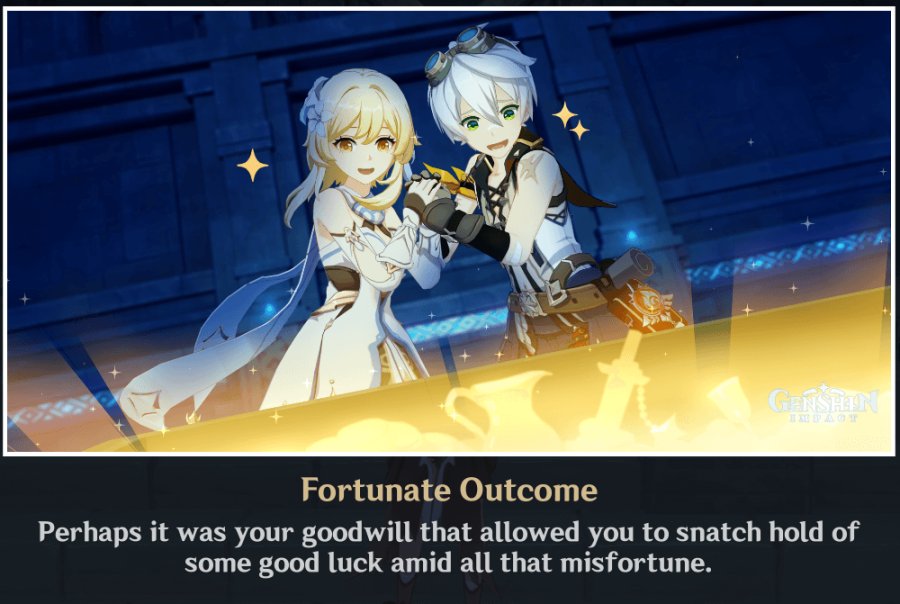 No Wonder It's a Top-Class Commission
Once again, agree to go on an adventure with Bennett and tell him that you always leave straight away.
You'll enter the ruins full of traps and Bennett will offer to experiment with the mechanisms himself. Say, "Go ahead! We won't get anywhere just staring at them."
Of course, since the mechanisms require teamwork, this response leads to an instant failure. But hey, at least you unlocked a new ending!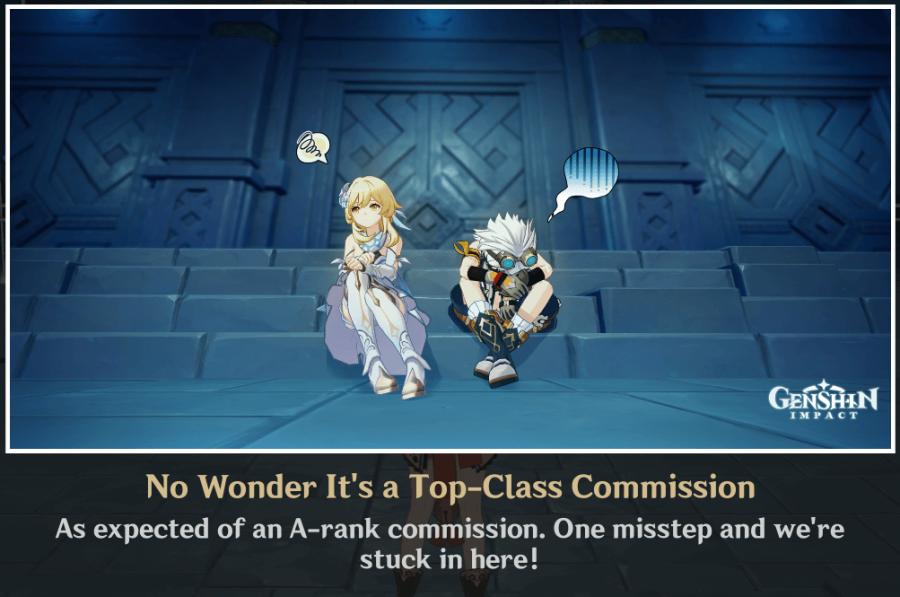 Fruitless Anticipation
When you meet with Bennett at the Adventurer's Guild desk and he asks to go on an adventure with you, respond with, "We could just do something else instead." Bennett asks what activity you'd like to do. Tell him, "How about we hang out around town?"
Bennett's misfortunate proves to be consistent even outside of adventuring: the staff at Good Hunter is too busy to cook for you, and Marjorie at With Wind Comes Glory doesn't have any of the items Bennett asks for. A disheartened Bennett brightens up when the two of you find a sign for a 50% discount at the Mondstadt general store, but Blanche, the owner, doesn't seem to be available.
After waiting for a very long time, Blanche finally appears—only to tell you that the discount was for yesterday, and that the wind must have stolen the updated sign explaining that the store is closed for business.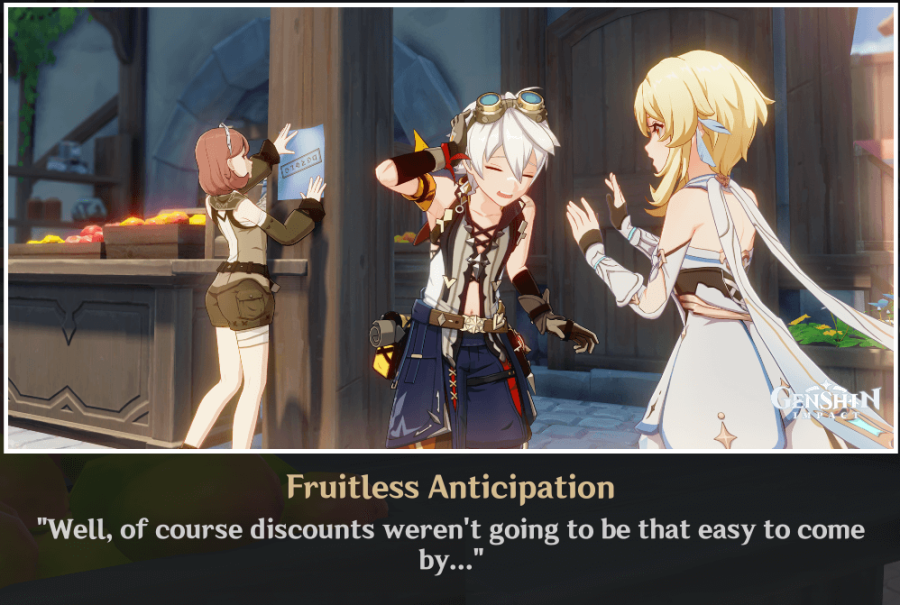 Hasty Farewell
Tell Bennett that instead of going on an adventure, "We could just do something else instead." When he asks what plan you have in mind, suggest, "How about a walk in the wild?"
Bennett wants to show you a meadow full of dandelions, so you meet him at the high slopes of Stormbearer Point—only to encounter a depressingly empty field and a sky full of rain. As the two of you walk around a bit, Bennett mentions his dads, the men of the Adventurer's Guild who raised him, and how he often acts as their caretaker.
As you talk, the storm becomes even worse. Someone from Mondstadt arrives looking for Bennett and tells him to return to his dads, who are suffering from the terrible weather. Along with unlocking this final ending, you'll also earn the "Archaic Lord of Lightning and Blitz" achievement.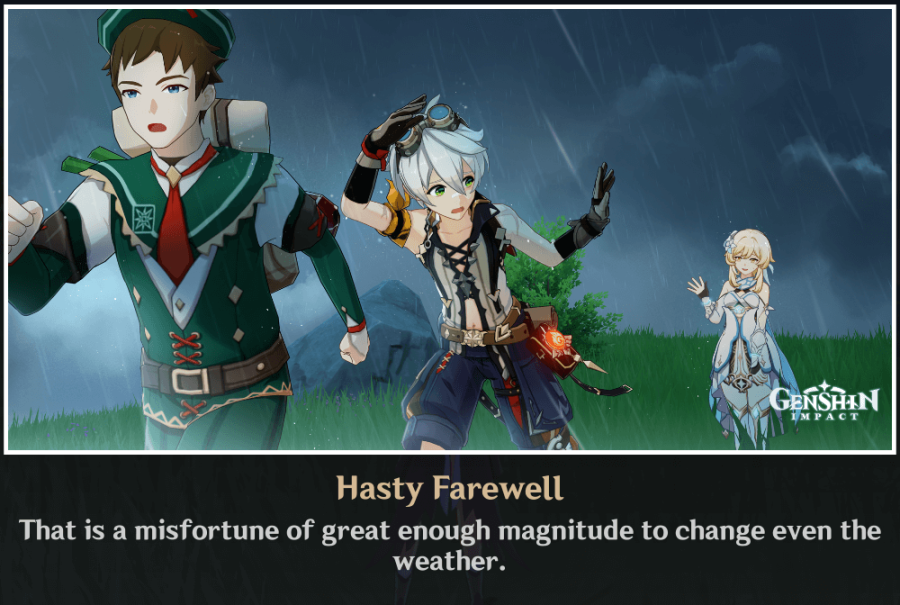 These are all of the available endings for Bennett's Hangout Event. Don't forget to claim your ending rewards in the Hangout Events banner once you've completed them all!
All Hangout Event Guides
Be sure to read our other character interaction guides to get the most out of your Hangout Events:
Excited about the brand new Genshin Impact 1.4 update? Check out Invitation of Windblume: Genshin Impact 1.4 Patch Notes to get an overview of all the new content available. Stay up to date with upcoming banners and, of course, free Genshin Impact codes!