Chongyun is one of the four available characters in Genshin Impact's new Hangout Events series. If you want to uncover the hidden layers beneath the exorcist's calm demeanor, use our guide to learn how to win him over and max out your quest rewards.
Hangout Event Series I: Chongyun Guide
Before you can unlock the Hangout Events, you'll need to have met the following conditions:
Adventure Rank 26 and above
Have story keys (earn one key for every eight commissions completed)
Completed the Archon Quest: Prologue: Act III - Song of the Dragon and Freedom
Related: All Genshin Impact Character Ages, Birthdays, and Zodiac Signs
There are six total endings in Chongyun's Hangout Event, meaning there are also six different photos you can collect. The Genshin Impact Hangout Events series won't punish you for choosing the wrong option—in fact, miHoYo encourages players to unlock all of the endings by revisiting certain scenes and choosing different outcomes! Almost every playthrough awards you with primogems and the opportunity to collect more photos, so don't worry if you select a wrong choice the first time around. You can even unlock multiple achievements during Chongyun's event.
Read on to discover how to attain all six of Chongyun's endings.
Blessing in Disguise
Tell Chongyun that the supernatural clues he's gathered are far-fetched, which will prompt the "Curious Gaze" track in which the two of you discover a small child watching your exchange. Tell Chongyun to give the child only one of his remaining popsicles. Your next course of action is visiting the Wanwen Bookhouse to look for more evidence of ghostly sightings. Here, Chongyun will ask you three questions. Answer all the questions correctly to unlock the "Behold, Mine Evil-Espying Eye!" achievement.
Answer 1
"Lurking in Liyue Harbor is a massive demon that was transformed from a popsicle." -2 hearts
"At the foot of Mt. Qingce is a Violetgrass that has turned into a gigantic, man-eating monster." -2 hearts
"There's a ghostly shadow skulking about Feiyun Slope at night. It's suspected to be a vengeful spirit."
Answer 2
"It's said that people often see a demon who loves eating chilis in Wanmin Restaurant." -2 hearts
"Deep in the Sea of Clouds, a marauding demon has been raiding commercial fishing boats and building a luxurious palace."
"In Jueyan Karst, there's a piece of thousand-year-old amber that has gained consciousness and now roams about causing trouble." -2 hearts
Answer 3
"There is a vigilant demon adept at concealing itself in mist. Recently, people have found traces of it in Mingyun Village, Guili Plains, and Yaoguang Shoal."
"A strange man wearing a mask and wielding a pole was once seen in the distance around Guili Plains. There's something eerie about his presence." -2 hearts
"I saw an exorcist with blue hair who is actually a transformed demon." -2 hearts
Chongyun will want to check out Wuwang Hill to see if the monster you've just read about will appear. The only thing you'll find there, however, are just a few hilichurls—defeat them, and then enjoy the beautiful scenery together.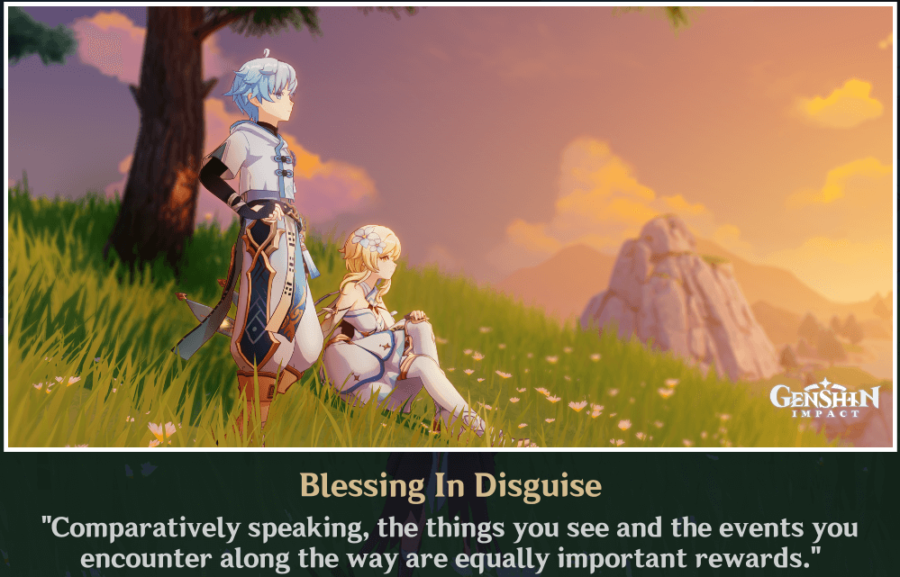 Idle Amusements
When Chongyun describes all the clues he's collected at Liyue Harbor, tell him they're far-fetched, beginning "Curious Gaze."
The child is interested in the popsicles Chongyun has on him, but Chongyun only has two left. Urge Chongyun to give the kid both popsicles so that he and his sister can each have their own.
Since these popsicles are Chongyun's remedy to battling the excessive yang energy his body produces, he'll obviously need to restock on more. You offer to accompany him to Wanmin Restaurant, but no one is there. Saying you'll make the popsicles yourself opens up three new options with different recipes you can try. For "Idle Amusements," select either the "Mist Flower and Qingxin" or "Sunsettia and Valberries" ingredient combos.
Chongyun enjoys the taste of your homemade popsicles, but says they're not as effective at suppressing yang energy. The two of you decide to give the new batch of popsicles to the kid you met earlier so he and his sister can enjoy them instead. The children are delighted, and the rest of the day is spent playing hide-and-seek and watching Chongyun discover a new, playful side of himself.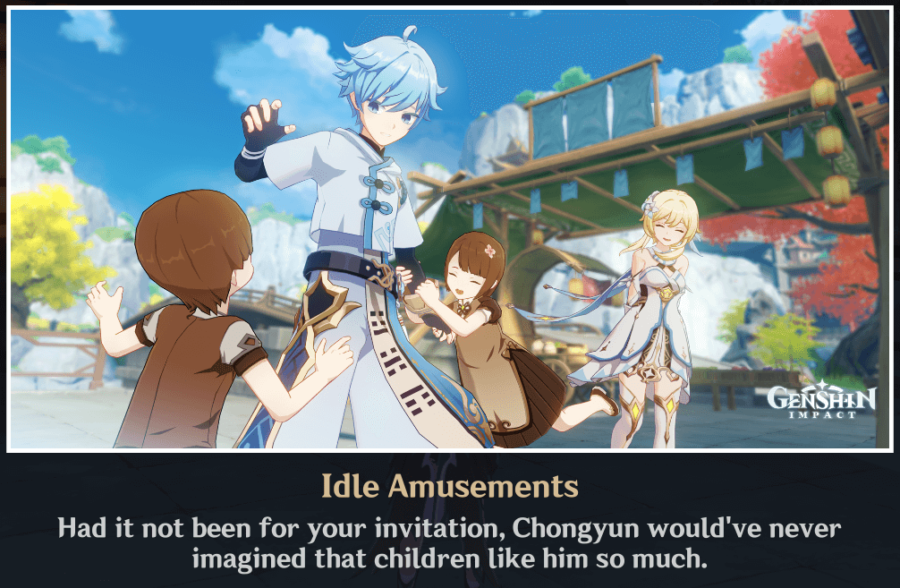 Can't Beat This Heat
Return to the ingredients decision on your choice branch and, this time, select the "Jueyun Chili and Slime Condensate" option. Not only will you unlock a new photo, you'll also earn a "Red Hot Chili Popsicles" achievement.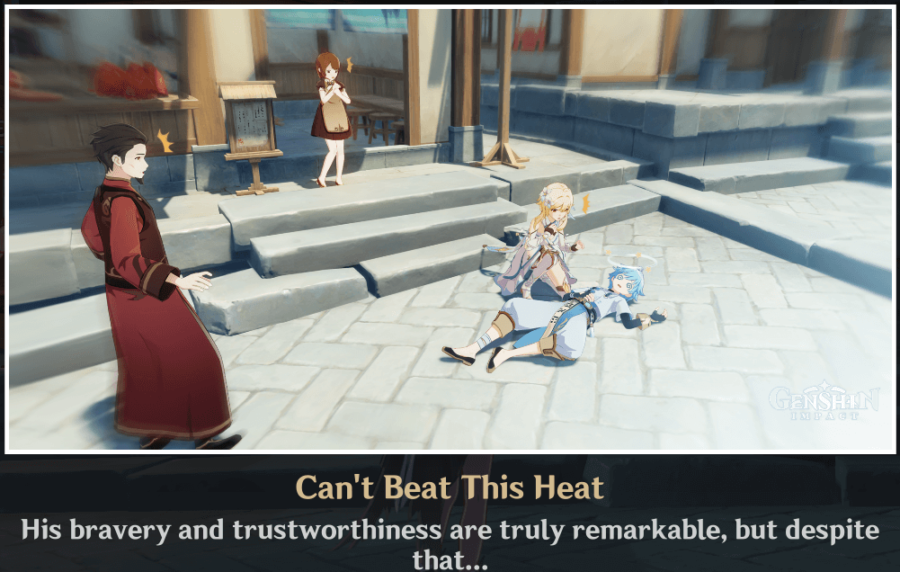 Nothing Gained
Don't tell Chongyun his clues are far-fetched, allowing him to invite you to the Courage of Test event on Wuwang Hill. The coordinator of the event will offer you a drink that boosts your yang energy. When prompted, tell Chongyun that you'll both drink it.
Chongyun, predictably, will begin to feel pretty bad while you explore the hill. When he confesses that he needs to sit down for a bit, tell him you'll continue investigating on your own.
You'll then have a quick encounter with Fu San'er, the true "ghost" behind the Courage of Test, and have to burst Chongyun's bubble by telling him the truth. By this point, Chongyun is in even more pain and requests your help in walking back to Liyue Harbor.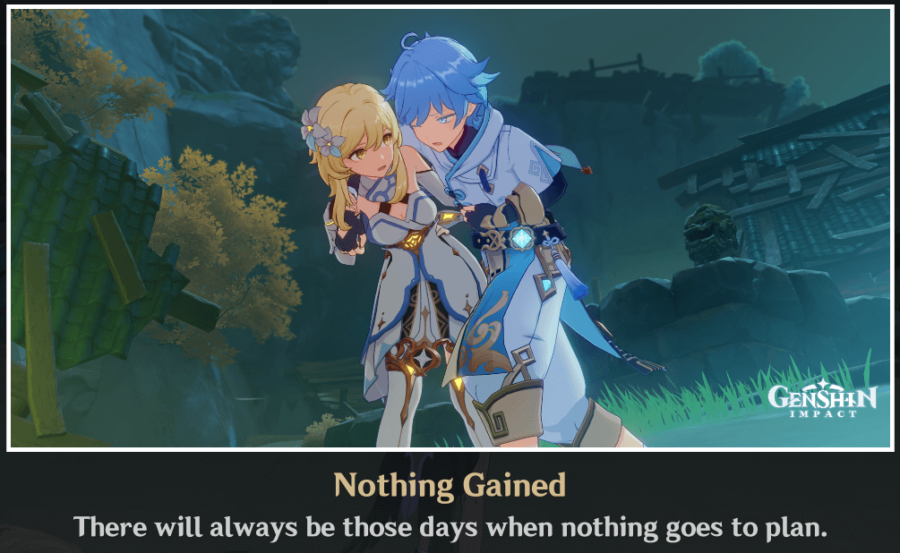 Small Regrets
Return to the beginning of the Courage of Test event, when the coordinator gives you the drink, and once again decide that you and Chongyun should both drink the mixture.
When Chongyun needs to take a break, choose "Let me help you find a place to rest."
Once situated, Chongyun will explain that he needs a certain monster drop to feel better—either Cryo Slime Condensate, or Cryo Whopperflower Nectar. It doesn't matter which monster you choose to fight since both ingredients have the same effect.
After you explore the hill by yourself and discover the source of the fake hauntings, return to tell Chongyun the unfortunate truth. Afterwards, choose "Right, let's head back."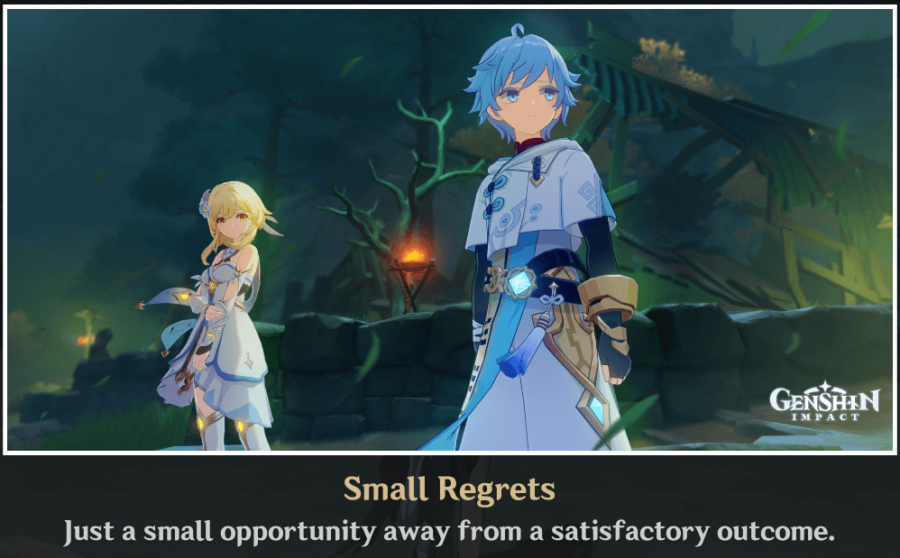 Goodbyes
To reach the "Goodbyes," ending, don't tell Chongyun his clues are far-fetched so the quest will progress with the Test of Courage event.
Choosing the drink the yang energy mixture alone will automatically lead to "Goodbyes," but you can also get this ending by helping Chongyun find a place to rest when he feels weak from taking the drink with you.
Looking after Chongyun's wellbeing in either of these ways will allow you to meet Qianqian, a peaceful ghost girl who dwells on Wuwang Hill. She drives away the people targeting Chongyun and, having decided she's not a malevolent spirit, Chongyun will leave Qianqian be.
These are all of the available endings for Chongyun's Hangout Event. Don't forget to claim your ending rewards in the Hangout Events banner once you've completed them all!
All Hangout Event Guides
Be sure to read our other character interaction guides to get the most out of your Hangout Events:
Excited about the brand new Genshin Impact 1.4 update? Check out Invitation of Windblume: Genshin Impact 1.4 Patch Notes to get an overview of all the new content available. Stay up to date with upcoming banners and, of course, free Genshin Impact codes!