The Fraught Return is a Genshin Impact Challenger: Series V Achievement that can be obtained by stopping the Hydro Hypostasis from reviving itself without destroying any of the "water droplets" by placing obstacles or repelling them. To get it, you must first have access to the Hydro Hypostasis' cave near Suigetsu Pool on Watatsumi Island.
There are a couple of methods to complete this, but the easiest is using the Geo Traveler. Resonate with Geo in advance and place Aether or Lumine in your team with their Elemental Burst ready.
How to repel the water droplets without destroying them in Genshin Impact
You should start by engaging in battle normally against the Hydro Hypostasis. Once its HP is nearly gone, it will summon three dark blue "water droplets," which are creatures that look like Slimes. Normally, you must destroy them with Cryo or Pyro before they reach the boss so the latter doesn't revive. But to get this Achievement, you can't defeat any water droplets. Instead, place obstacles (such as Geo Constructs) or repel them (such as by freezing) until the Hydro Hypostasis dies.
Related: How to get the One Step Too Far Sumeru Hidden Achievement in Genshin Impact
As soon as the Hydro Hypostasis summons the three dark blue water droplets, step in the middle (in the same position as the exposed core, pictured above) and activate Geo Traveler's, Elemental Burst. This will block two water droplets until the boss dies.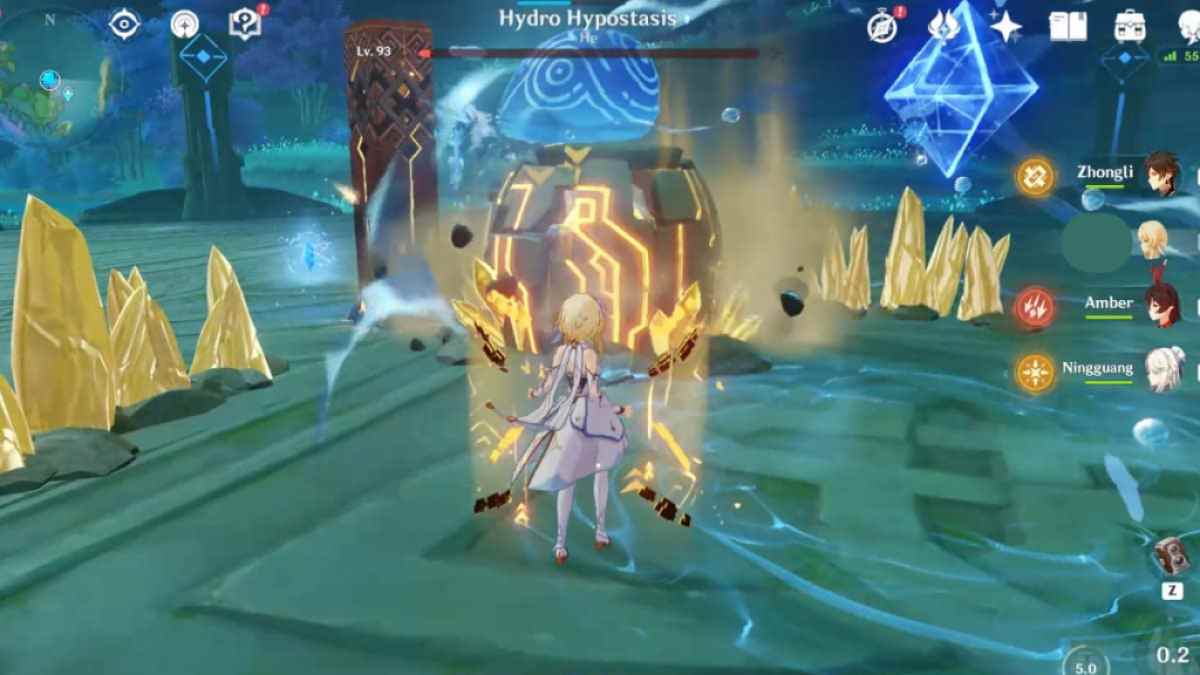 But one water droplet is still left unaccounted for. Before it gets too close, use Geo Traveler's Elemental Skill to block its path. You can position the Geo Construct by holding the Elemental Skill button, then releasing it at the exact area you want to place the giant rock on. Make sure to position the Elemental Skill in front or on top of the water droplet so it can't move forward.
Watch out as the Elemental Skill expires before the boss dies, so you must block the water droplet a second time. The Hydro Hypostasis will eventually die after a while. If none of the water droplets reach the boss, you'll get the Challenger: Series V Achievement called The Fraught Return.
Check out our guide on How to get the Salt for My Foes, and Water for Me Achievement in Genshin Impact here on Pro Game Guides for another Achievement related to the Hydro Hypostasis.