In Guild Wars 2, engineers are technological and alchemical masterminds. Engineers have a second set of skills in their tool belt that provides them with many options for any situation. They use turrets, grenades, elixirs, gadgets, and even their own Engineering Kits to defeat their enemies. This is for you if you don't want to build the best Guardian and would rather work with mechs or grenades. Below, we have the best Engineer builds in the game.
The Best Grenadier
Anyone can use this build, regardless of whether they pay a subscription fee or not. The build is also excellent for players who want to be good overall, but it requires players to have a Grenade Kit.
Skills
Main Skills

Grenade Barrage - Throw many grenades in one area, dealing large amounts of damage.
Throw Wrench - Throw a wrench in boomerang style, damaging all enemies in the path.

The wrench will return at the end of the skill.

Grenade Kit

Grenade - Throw a lot of grenades at once.
Shrapnel Grenade - Throw grenades that blow up and create a hail of shrapnel, damaging enemies and causing bleeding.
Flash Grenade - Throw grenades that create a blinding flash when they explode. This causes Blinded to all nearby enemies.
Freeze Grenade - Throw a grenade that, when it explodes, will give enemies a Chilled debuff.
Poison Grenade - Throw many grenades at once that create a poisonous blast.

Utility

Elixer H - Drink Elixer H to heal yourself and gain Protection, Regeneration, and Swiftness.
Grenade Kit - Equip your grenades.
Tool Kit - Equip a kit that gives you tools.
Elixer C - Drink Elixer C, which converts all debuffs to buffs.
Elixer X - Drink Elixer X to become a ramping brute or whirling tornado.
Specializations
When you level up, you can select one of these specializations:
Alchemy

Lesser Elixir B
Lesser Elixir C
Compounding Chemicals

Explosives

Explosive Entrance
Steel-Packed Powder
Shaped Charge

Tools

Optimized Activation
Mechanized Deployment
Excessive Energy
Related: Best MMOs and MMORPGs on PC
PvE Mechanist
If you don't want to just focus on grenades and want to be able to solo the environment, this build is for you. It relies on you having both a mace and a pistol but isn't hard to develop once you know what to do. We recommend this class as a PvE build. While you may not be as strong as a single warrior, you have a mech that can do heavy damage.
Skills
Main Skills

Crash Down - Your Jade mech attacks a targetted area. The recharge time goes up if your mech is attacked during this time.

Staff

Mace Strike - Strike your target.

This is a basic attack but is good nonetheless.

Energizing Slam - Jump forward and slam onto the ground. This gives Vulnerability and Confusion to enemies while granting Vigor and Regeneration to party members.
Rocket Fist Prototype - Launch your first at the target. If it hits, it damages and stuns any nearby enemies.
Blowtorch - Shoot flames from your pistol to burn enemies. The damage is increased the closer you are.
Glue Shot - Shoot a glue puddle at a target area.

All enemies caught in the puddle will be crippled.

Utility

Rectifier Signet - This passively heals the player and mech. When activated, you heal yourself and your mech much faster.
Grenade Kit - Equip the Grenade Kit to get some grenade skills
Superconducting Signet - Passively improves damage dealt. When active, it creates a damaging field around the player that gives debuffs to any enemies nearby. If your mech is active, the field radiates from the mech instead.
Shift Signet - Passively increases movement speed, and any Boons you get are given to your mech. You and your mech Shadowstep to a location you choose. This also removes any negative conditions on you and your mech.
Overclock Signet - Passively reduces the recharge of the signets above. When activated, your mech will fire its ultimate weapon, the Jade Buster Cannon.

If your mech isn't present, it will be summoned.
Specializations
It will help if you chose these specializations as you level up:
Explosives

Explosive Entrance
Steel-Packed Powder
Shaped Charge

Firearms

Sharpshooter
Hematic Focus
Serrated Steel

Mechanist

Mechanical Genius
Rocket Punch
Exigency Protocols
Related: Best PC Games of 2021
Holosmith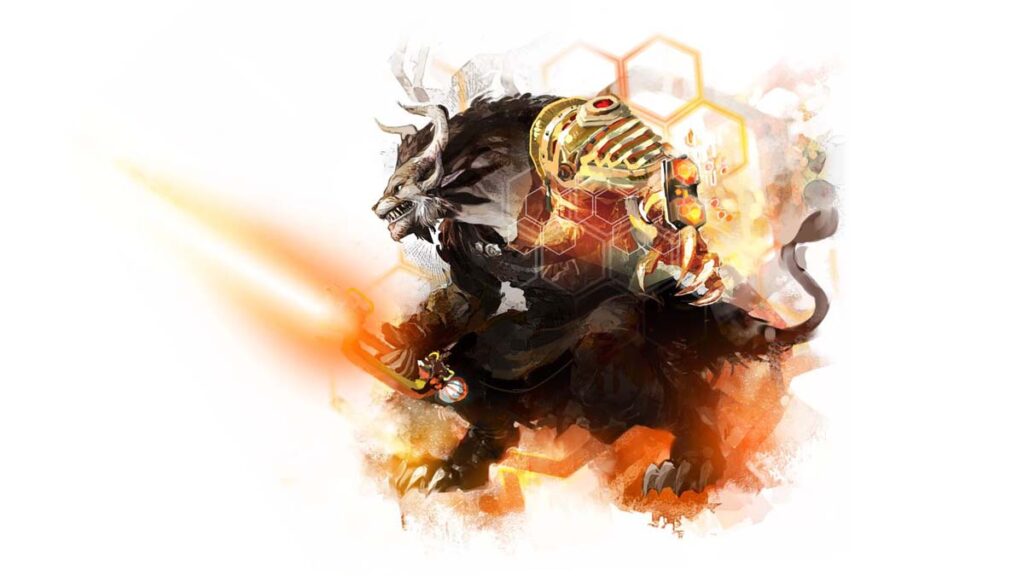 When an Engineer is a Holosmith, they cannot go wrong. Engineers will find this build to be the best PvP build and the best build for destroying any enemy. This is the class for you if you want to be unstoppable.
Skills
Main Skills

Toss Elixir H - Toss Elixir H to a target area. This grants Protection, Regeneration, and Vigor to all nearby party members.
Grenade Barrage - Throw a bunch of grenades at once, causing devasting damage to any enemies nearby.
Toss Elixir U - Throw an Elixir U in front of you, greatly increasing your movement speed.
Toss Elixir S - Toss an Elixir S, which grants Stealth to all party members in the area.
Engage Photon Forge - Activate your Photon Forge, which grants access to new skills. This will disable the use of kits for a short duration.

You generate Heat while Photon Forge is active, and if your Heat grows too high, you will overheat and take damage.

Sword and shield

Sun Edge - Strike your enemies and inflict Vulnerability. This attack will deal more damage based on your Heat level.
Refraction Cutter - Slash at your foes in front of you and launch a blade of light at your enemies. Launch extra blades if your heat level is high, each dealing with different debuffs.
Radiant Arc - Leap to your target and create an arc of light that strikes nearby enemies. You will gain Quickness based on your heat level.
Magnetic Shield - Create a magnetic field that deflects projectiles and can be released to knock back enemies.
Static Shield - Electrify your shield and throw it at enemies. All nearby enemies are stunned.

Utility

Elixir H - Drink Elixir H to heal yourself.

This also gives you Protection, Regeneration, and Swiftness.

Grenade Kit - Equip a trusty grenade set that gives you grenade skills.
Elixir U - You drink Elixir U to gain buffs.

This gives you Quickness, Stability, and Vigor.

Elixir S - Drink Elixir S to shrink yourself but recover from Stun and Evade attacks.
Supply Crate - Request a supply drop of turrets. Turrets overcharge when they first drop.
Specializations
As a player advances through levels, they can choose these specializations:
Explosives

Explosive Entrance
Steel-Packed Powder
Shaped Charge

Alchemy

Lesser Elixir B
Lesser Elixir C
Compounding Chemicals

Holosmith

Overheat
Heat Therapy

Crystal Configuration: Zephyr

Laser's Edge

Enhanced Capacity Storage Unit
For more on Guild Wars 2, check out 5 Tips for Beginners in Guild Wars 2 or All Professions in Guild Wars 2 here on Pro Game Guides!