Hearthstone is one of the best card games, with lots of modes that play like individual games with their own rules. The most popular mode by far is Battlegrounds, an auto-battler where eight players are fighting with each other, one on one. Here you have different heroes than in Standard mode, and the battle itself has Recruit and Combat phases. In the first one, you buy minions in Tavern with Coins, and in the next one, they auto-battle.
Strongest Hearthstone Battlegrounds Minions
Instead of building a deck, you're raising an army on the go, which requires planning and a little luck. Battlegrounds mode has different cards that you buy and sell between combat phases. If you recruit three same minions, they will merge and become a single card.
To have stronger minions, you have to upgrade Tavern. That way, you'll access cards from higher Tavern Tiers. You'll often be forced to change strategy on the fly if you can't buy the cards you want for your build. In that case, it's good to know which are the best Hearthstone Battlegrounds cards.
Related: Best Hearthstone Legendaries
Wrath Weaver
Wrath Weaver is a Tier 1 card that can be very dangerous if you plan a Demon build. In that case, he will gain stats quickly. But that power comes with a price, as your hero will take damage every time he gets stronger.
Lava Lurker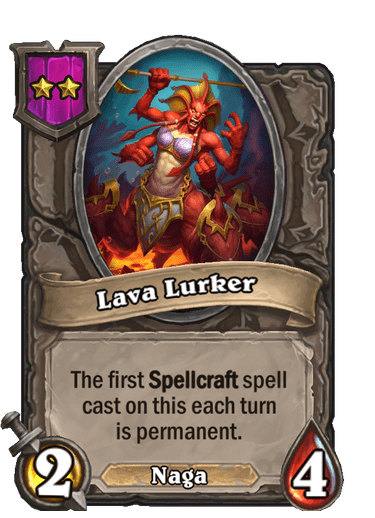 The Voyage to Sunken City expansion gave us Nagas, a new minion type that quickly became a dominant build in Battlegrounds. Lava Lurker is one of the reasons why these cards are so strong. The first time you cast a spell on him, it becomes a permanent bonus, which can buff his stats fast.
Leeroy the Reckless
What can you expect from Leeroy other than some crazy charge on enemies? Stats are not that important for this card because his strength comes from his Deathrattle ability. Whoever kills him will be destroyed, no matter how much health he has.
Related: Worst Hearthstone Legendaries
Aggem Thorncurse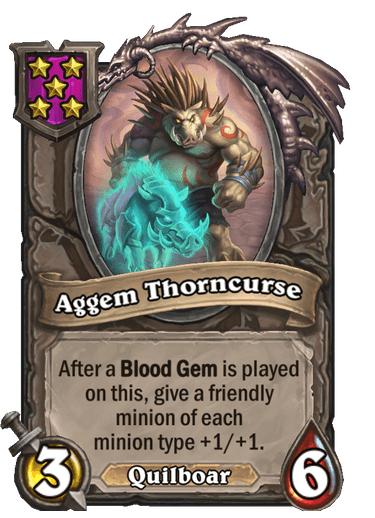 Blood Gem is a spell that gives a friendly minion a +1/+1 stats upgrade (attack and health). Its use also triggers Aggem Thorncurse's specialty of buffing each minion type. This ability allows you to build a strong army if you have a steady stream of Blood Gem spells.
Lightfang Enforcer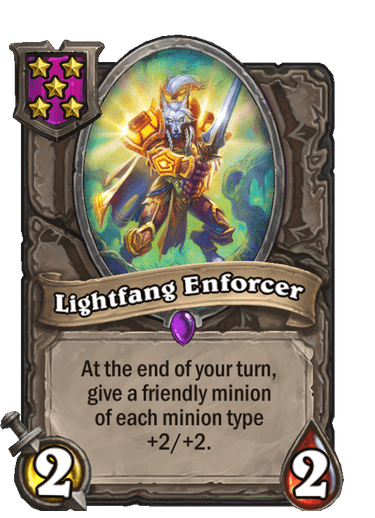 Lightfang Enforcer is one of the best Hearthstone Battlegrounds cards as he will buff your minions permanently at the end of every turn. His ability can become even stronger if you manage to upgrade him (recruit three Lightfangs).
Mama Bear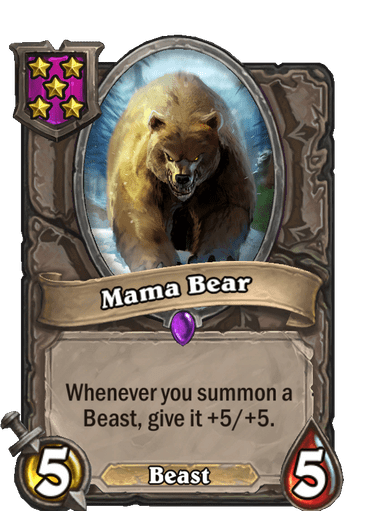 Mama Bear loves Beasts, so she'll give them a +5/+5 stat upgrade every time you summon one of them. Even if you don't play that many Beasts, you can use her for a turn or two and catch a break until stronger Tavern Tier minions come along.
Charlga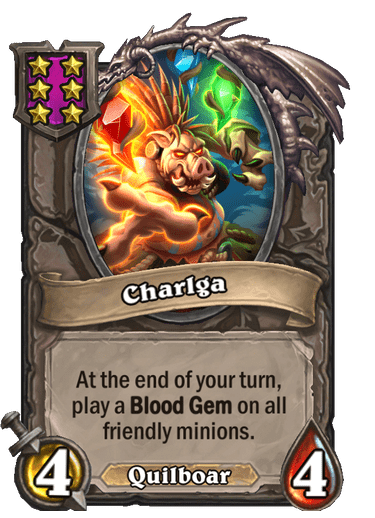 Charlga is another Blood Gem enthusiast, as most of the Quilboars are. This minion can help you strengthen the army no matter what minion type they are. That flexibility can help you in endgame fights where only the strongest minions survive.
Related: How to share a deck code in the chat in Hearthstone
Dread Admiral Eliza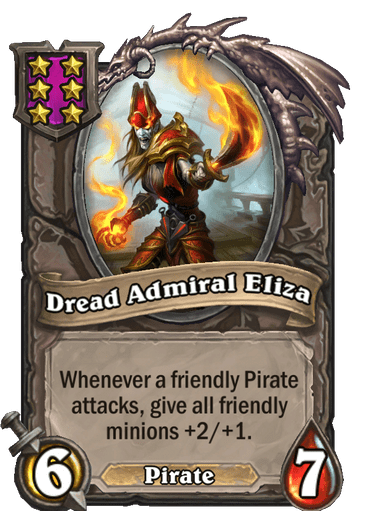 Dread Admiral Eliza is a powerful Pirate card that can be a real game-changer. But to maximize its strength, you'll have to focus on Pirate minions. These swashbucklers are a great choice, as they have excellent synergy between themselves. Pirate builds also allow you cheaper Tavern upgrades and bring you extra Coins.
Mantid Queen
Mantid Queen is, for starters, a poisonous minion, which is always great for dispatching opponents with a bunch of health. Like that's not enough, more bonuses can make it even more deadly. A combination of Windfury, Divine Shield, and Poisonous can take out two minions at the begging of the battle, which is a huge advantage.
Tidemistress Athissa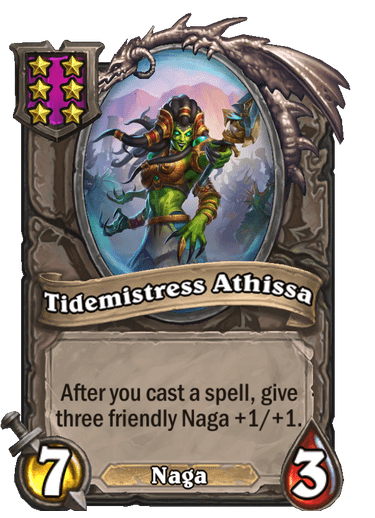 Tidemistress Athissa is essential in Naga build as she will buff others as long as you have spells to cast. Multiple spells cast while preparing in Tavern can do wonders for Nagas, which is why this minion type is so prevalent in meta.
For more on Hearthstone, check out Tips for starting or returning to Hearthstone Mercenaries, How to upgrade cards to gold in Hearthstone, or How to favorite card backs in Hearthstone here on Pro Game Guides!