Hogwarts Legacy features many customization options, from the character creator to unique gear. There are also thirteen different cosmetic options for you to unlock for your broom, so you can go flying in style. Here's our picks for the best broom options in Hogwarts Legacy.
All Broom options in Hogwarts Legacy, ranked
All of the broom options available to you are strictly cosmetic. You can initially choose from one of five different options from Spintwitches Sporting Needs after completing your Flying Class. Speak to Albie inside the shop in the southern end of Hogsmeade across from Ollivanders Wand Shop. Once you've completed some side missions for Albie, you'll also be able to upgrade the performance of any cosmetic option you purchase.
There are four other cosmetic options that you can obtain as a reward from popping balloons around the countryside. Another four can only be purchased from Wandering Merchants, such as Priya Treadwell, the wife of Nora Treadwell, who you met while learning about Merlin Trials.
Here's our picks for the Best Broom skins in Hogwarts Legacy.
13. Yew Weaver
While it will get you from one place to another, the Yew Weaver Broom, in our opinion, is the most basic of basic brooms. Nothing about its design stands out in particular, leaving it a little dull for our taste. If you disagree, you can easily pick up this option from Albie at Spintwitches for 600 Galleons.
12. Family Antique Broom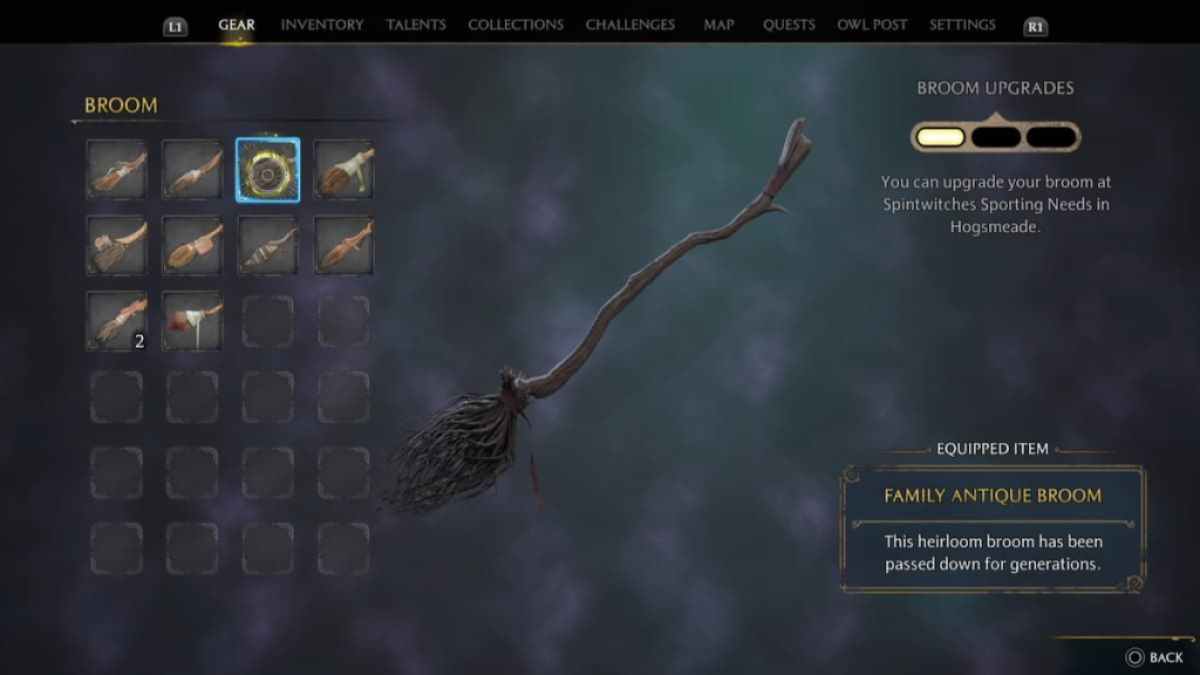 The Family Antique Broom is a little bit more difficult to get, but in our opinion not worth the money. While it is meant to look worn and hand-me-down, this broom is a bit too rough for us. You may think differently, though. If you want to pick it up, you'll need to purchase it from Priya Treadwell. She is a wandering merchant that can be found in the southern portion of the Feldcroft Region. Purchasing this broom will set you back 2,500 Galleons.
11. Ember Dash Broom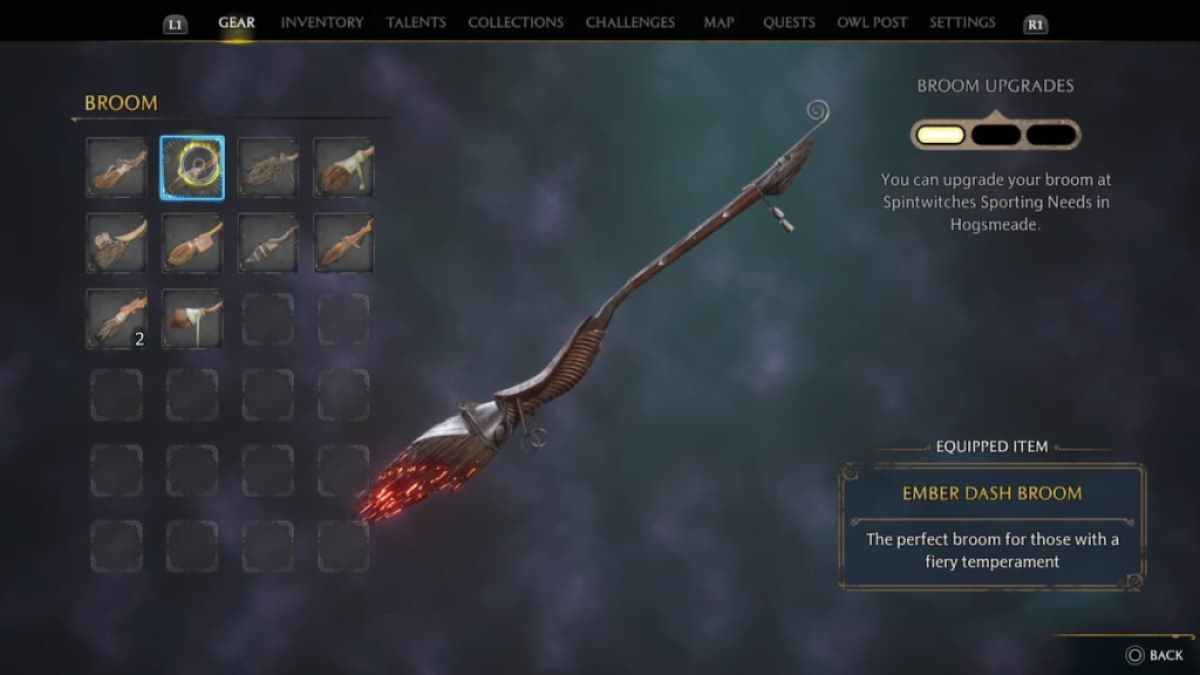 This is another of Albie's introductory brooms, while it has a little bit more flair and style than some other options, the Ember Dash broom is easily replaced by another you'll see further down this list. If you decide you want to collect this broom anyway, it can be purchased from Spintwitches for 600 Galleons.
10. Moon Trimmer Broom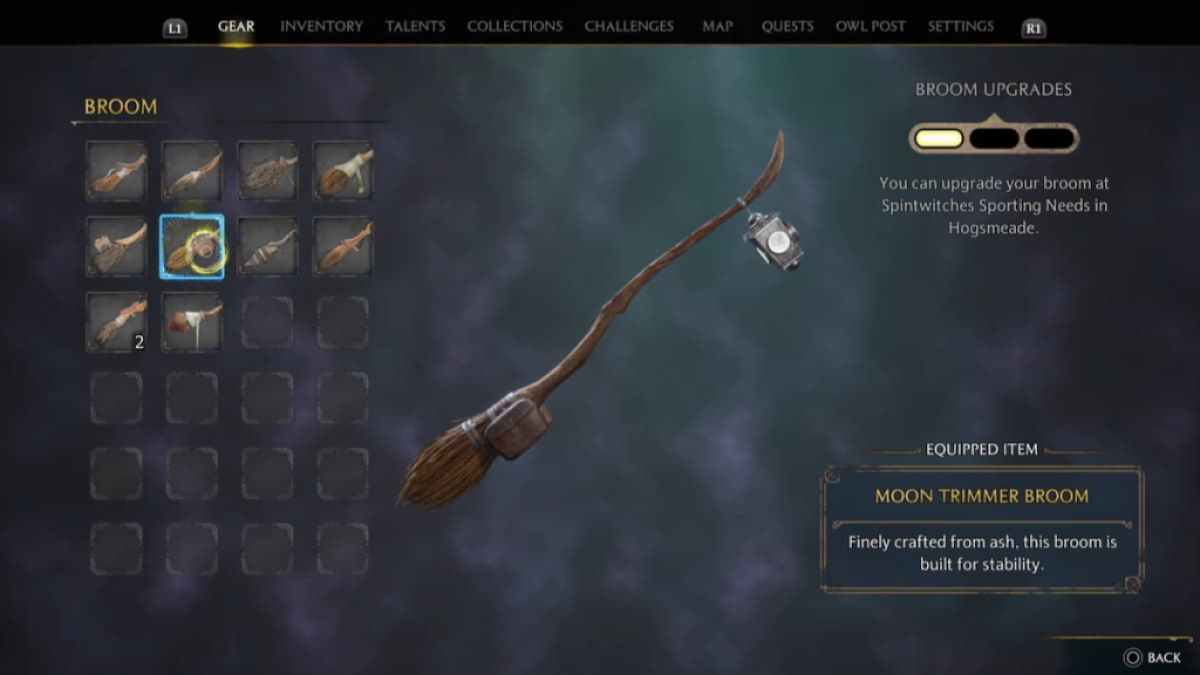 With some handy packs on the side, and a rustic lantern to light your way, the Moon Trimmer Broom is one of the more functional and unique options available to you early after unlocking the ability to fly. You'll be all set to go on adventures collecting all the potion ingredients you can find. If this Broom seems like a good style for you, you can pick it up from Albie at Spintwitches for 600 Galleons.
9. Wind Wisp Broom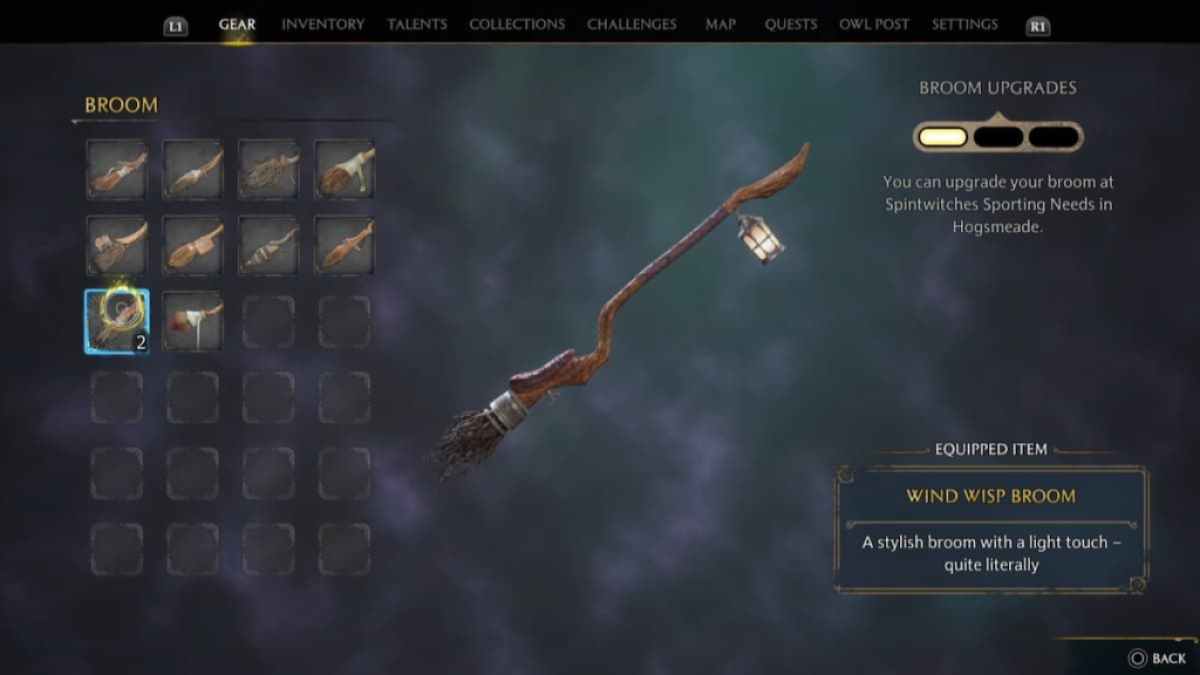 The Wind Wisp Broom shares a similar design to the Moon Trimmer Broom, but we think this style edges it out due to the more ornate lantern and unique color of the broom staff. It's bristles look like they've seen better days, but that also means it's broken in and ready to fly. This broom can also be purchased from Albie's shop soon after unlocking brooms for 600 Galleons.
8. Hogwarts House Broom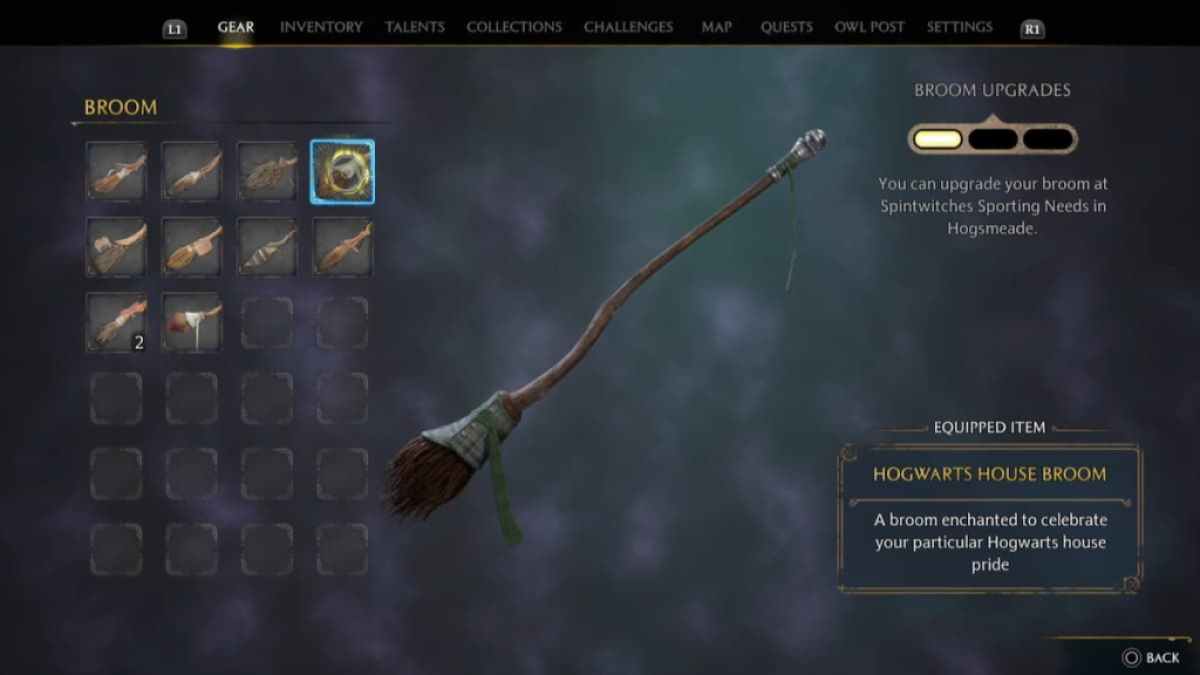 This is our top choice for the initial broom skin options available to you from Albie's shop. The reason is because you can use it to show your own unique House pride. The color of the cloth wrapping the bristles will match whatever house you were sorted into at the beginning of the game. Whether you choose it first or not, it can be purchased anytime later from Spintwitches for 600 Galleons.
7. Lickety Swift Broom
Lickety Swift is the perfect errand runner's broom and a unique step up from the Moon Trimmer skin. It's strictly brown color scheme is a little bland for our taste, though. It's not to hard to obtain, however, you'll just need to complete seven sets of balloon popping challenges scattered around the countryside.
6. Aeromancer Broom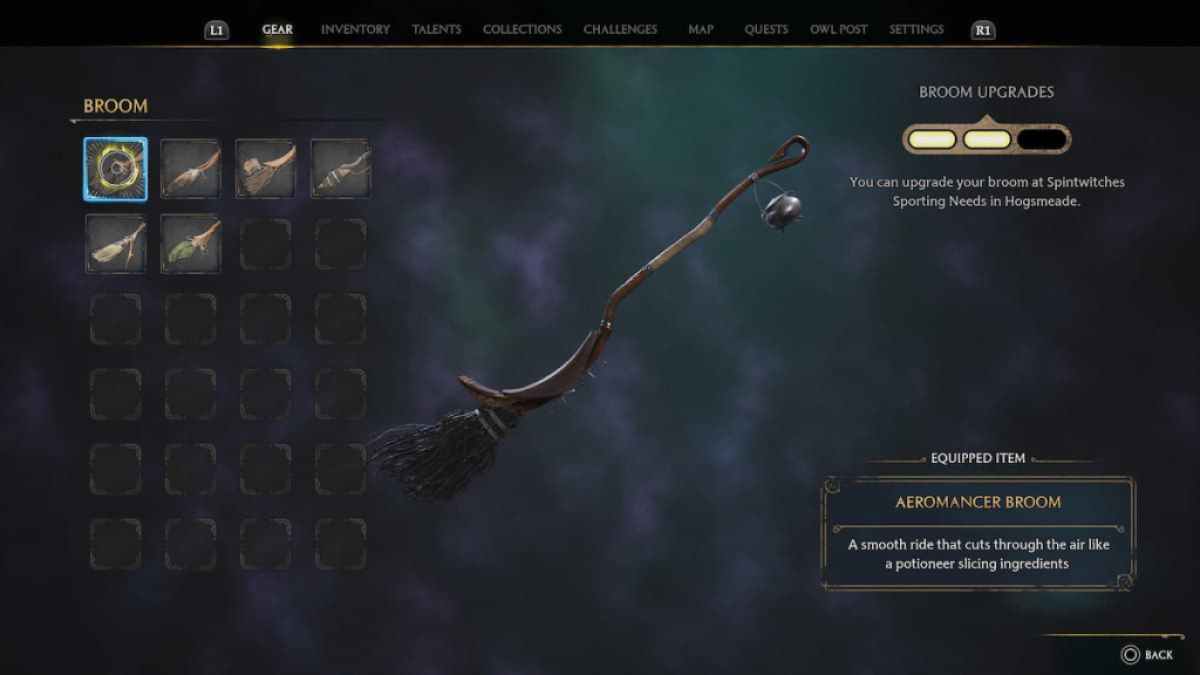 Here again, the Aeromancer Broom has a fairly mono-tone look, but it's charm is significantly boosted by the tiny cauldron at the tip. It's a shame it's not functional, as it would be handy to be able to whip up a Wiggenweld potion on the go. If you like this design you can purchase it from Rohan Prakash in Poidsear Coast. Unfortunately, you'll have to be in the late game to reach him. He's just south of the Marunweem Bridge Floo Flame. Once you can, it's available for 3,000 Galleons.
5. Night Dancer Broom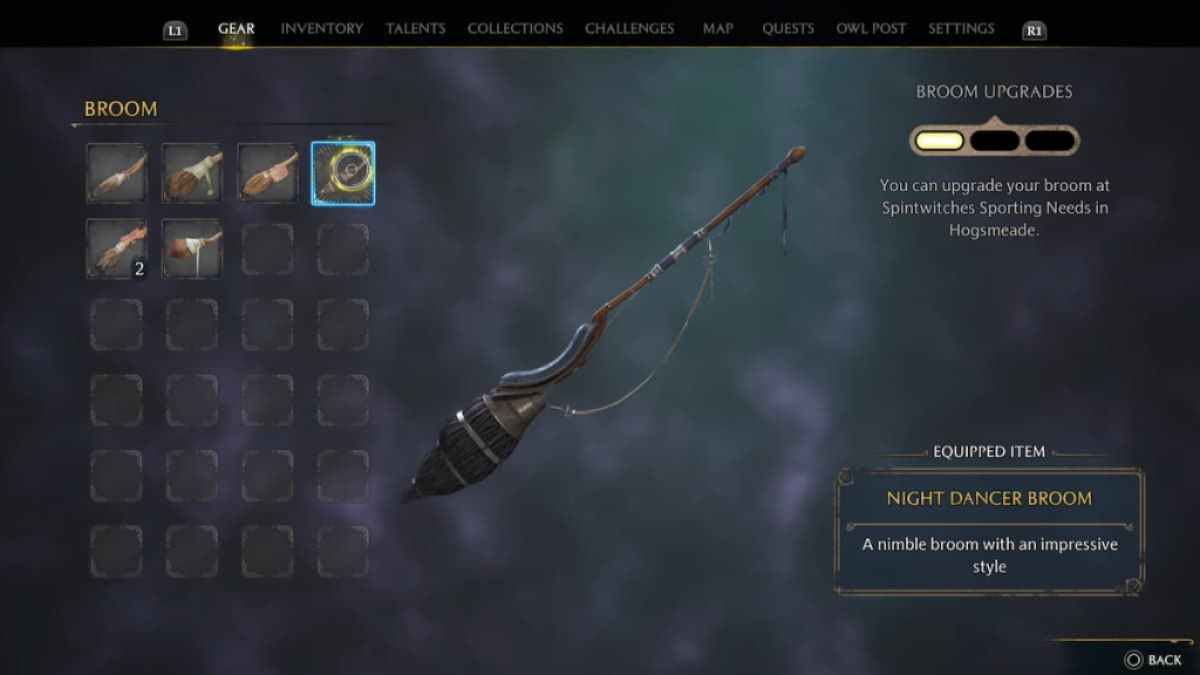 We think this is one of the sleekest brooms you can obtain, considering that little effort is required to unlock it. The wind looks like it would zip right over those brushed back, black bristles. If you want to use this broom, all you'll need to do is complete two balloon popping challenges, which you should do as part of a Professor's assignment, anyway.
Related: What does owning a shop in Hogsmeade do in Hogwarts Legacy?
4. Wild Fire Broom
This is the upgrade to the Ember Dash Broom we were talking about. The Wild Fire Broom still has an epic looking tail, fiery enough to burst you through time trials. But, as an added bonus, it has unique touches like the silver bell on the tip. To unlock this broom, you'll need to complete 17 total balloon popping challenges, not unworthy of the effort, though.
3. Sky Scythe Broom
With an ornate shaft and bristle head that looks like a artist's paintbrush, the Sky Scythe Broom certainly has one of the most intricate and unique designs. The glamour of this broom doesn't come without a cost, though. It can only be purchased from Leopold Babcoke who you can generally find in the north part of Hogwarts Valley. Purchasing this broom will set you back 5,000 Galleons.
2. Silver Arrow Broom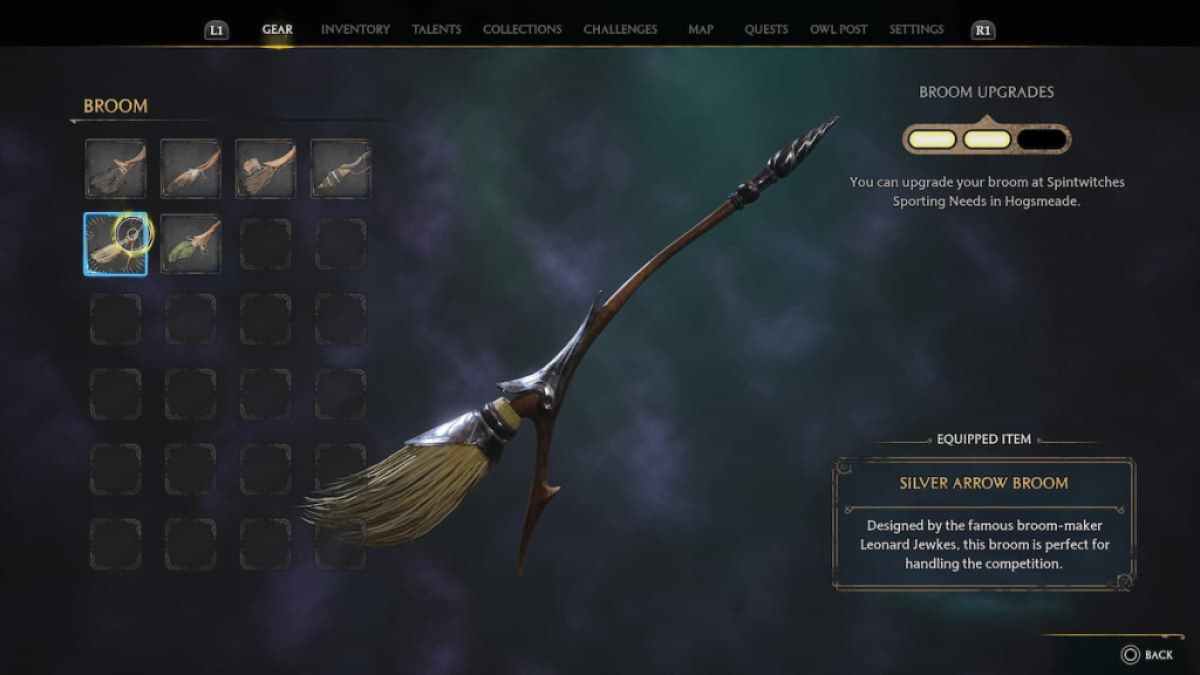 The Silver Arrow Broom requires not just money, but the completion of a specific quest to be purchased. You'll need to complete Carted Away, a side quest you'll unlock early in the game, then find Arn nearby the river in the south of Hogwarts Valley. This stylish broom that screams swish and flick can be yours if purchased for 5,000 Galleons.
1. Bright Spark Broom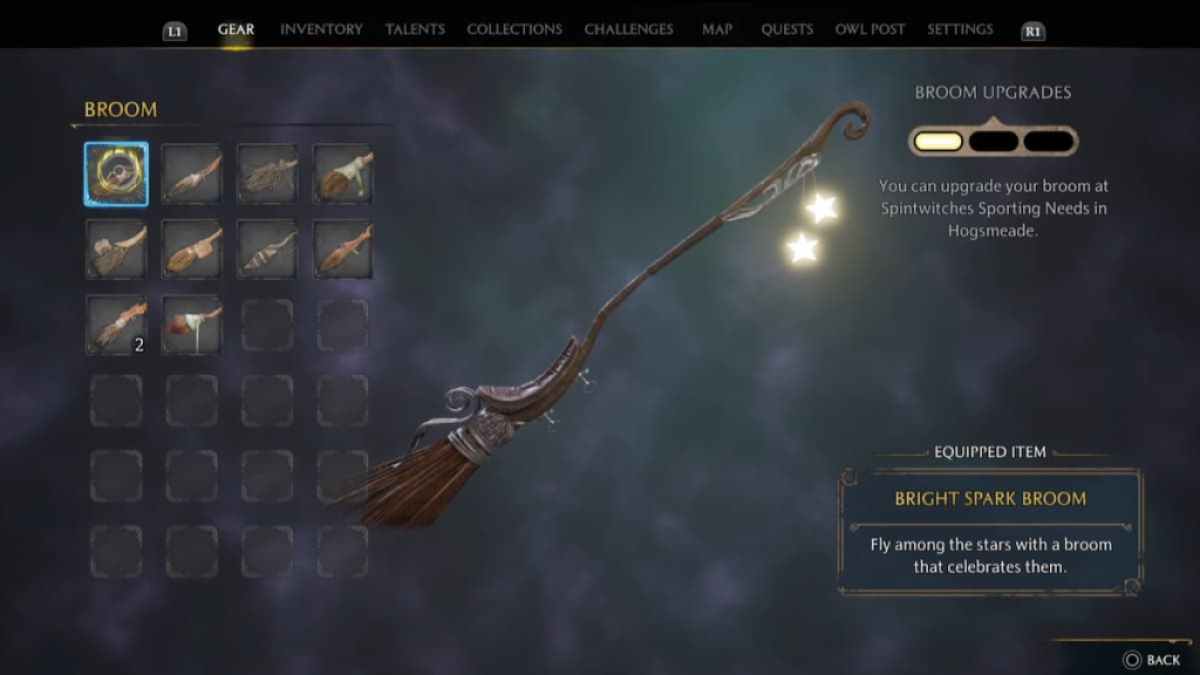 If you want a broom that glows with grace, the Bright Spark Broom is the way to go. With a sleek design and whimsical stars at the tip, this broom can light your way through any night spent exploring around Hogwarts. Obtaining it won't come easy, however. You'll need to complete every balloon popping challenge around the countryside, 32 in total.
Looking for more on Hogwarts Legacy? Check out Can you get the Dark Arts Pack separately in Hogwarts Legacy? here at Pro Game Guides.