There are a wide variety of plants you'll need to learn about in Hogwarts Legacy. Luckily, Professor Garlick will introduce you to a few. One plant that you may be introduced to in the grounds around Hogwarts is Mallowsweet. It's an herb used to initiate Merlin Trials. Thankfully they aren't too hard to come by. Here is how to get Mallowsweet in Hogwarts Legacy.
Where to find Mallowsweet Leaves in Hogwarts Legacy
When you encounter your first Merlin Trial through the main story, you'll be given a few Mallowsweet leaves from Nora Treadwell, who is researching the trials. You'll need a lot more Mallowsweet to finish the rest of the them, however. Beyond those initial few leaves, your best bet to acquire more is from the Magic Neep.
The Magic Neep is in the northwest corner of Hogsmeade, across a stone bridge from the West Hogsmeade Floo Flame. There you can purchase more individual leaves or seeds to grow your own.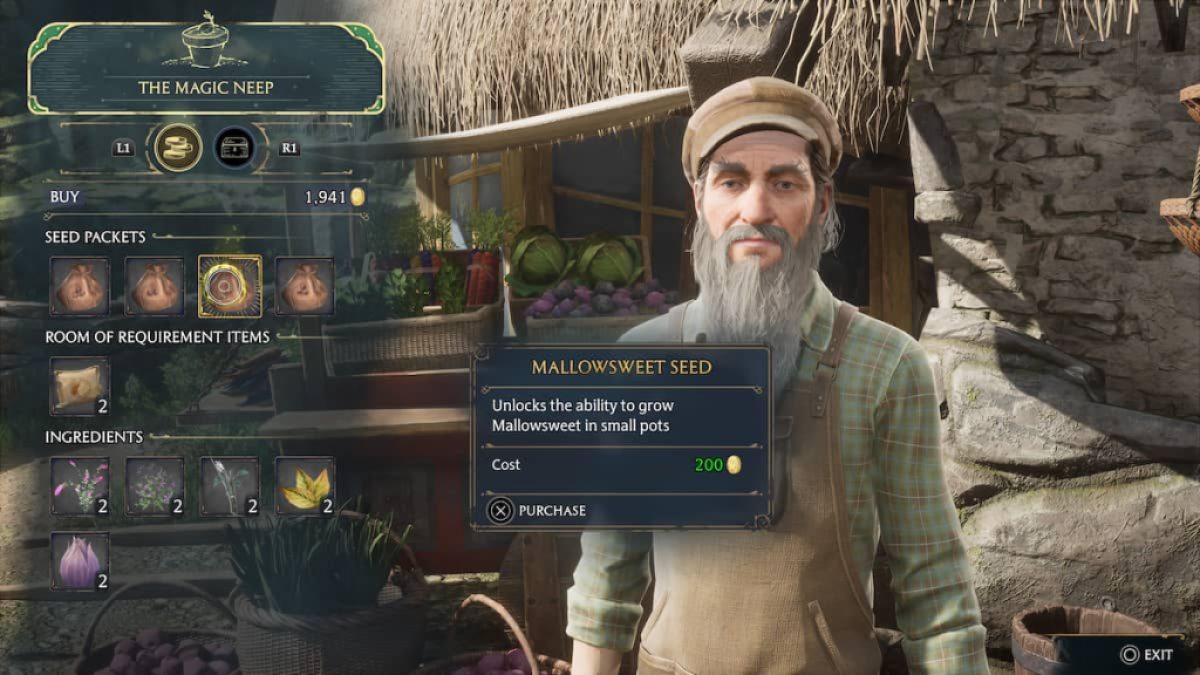 We recommend purchasing the seeds, as they are relatively quick and easy to grow. Once you've purchased the seeds, you will not have to purchase them again. Planting Mallowsweet will be permanently unlocked. You can also purchase Fertilizer here. When applied to a growing plant, this will increase the plant's crop yield.
Related: How to replicate Harry Potter's wand in Hogwarts legacy
How to grow Mallowsweet in Hogwarts Legacy
You can grow Mallowsweet in any size planter in Hogwarts Legacy. If you haven't unlocked the Planter in your Room of Requirement yet, you can find a small one in the Herbology classroom, where you grew Dittany Leaves for the first time. That pot is usable any time after your first class. Interact with the pot, then choose Mallowsweet Seeds to start a seedling.
If you need to remove an old plant from the pot first, use the indicated button in the picture above to remove the old plant and start growing Mallowsweet. Once planted, a Mallowsweet plant will produce leaves every ten minutes, which you can harvest, then wait another ten minutes for more to grow.
Looking for more help in Hogwarts Legacy? Check out All Animal Symbol Doors locations & how to unlock them in Hogwarts Legacy or How to get Fluxweed Stem in Hogwarts Legacy here at Pro Game Guides.