When playing Lost Ark, there are different kinds of collectibles that you can search for to receive rewards. Of these collectibles, one of the most interesting is the Giant's Hearts. These can be described as gems that are the heart of a giant who fell during the Hollow War. You can acquire these collectibles through various means, as outlined in the Collectibles list. You can also use them to unlock different rewards by visiting Wisdom Isle and speaking with Minerva.
The Thirteenth Giant's Heart is one of the most straightforward that you can get out of all 15. In order to acquire it, you need to complete Floor 35 of the Fatespire Tower Dungeon.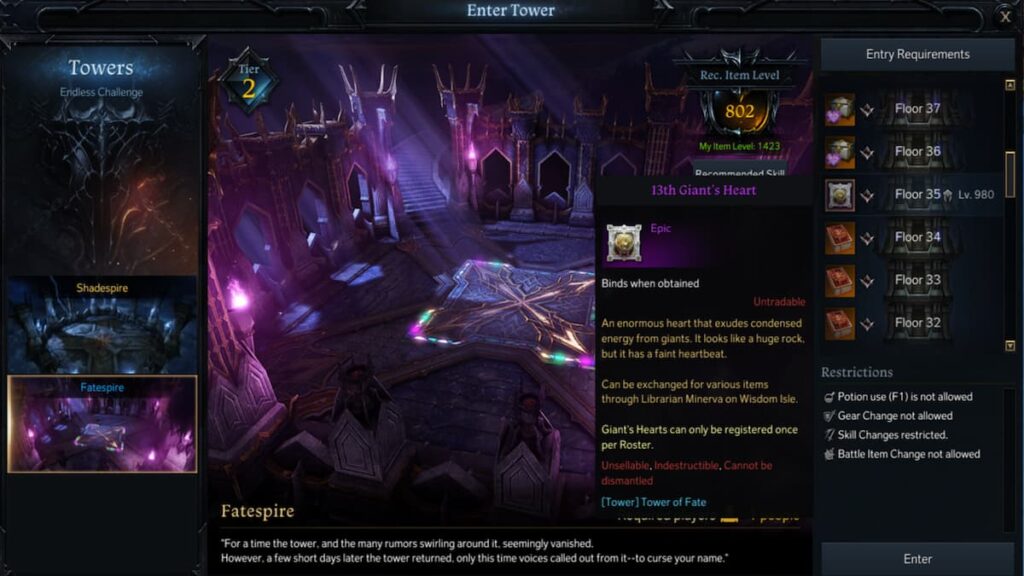 Related: Where to find the twelfth Giant's Heart in Lost Ark?
Where is the Fatespire Tower Dungeon in Lost Ark?
One of the many events that you can participate in while playing Lost Ark is called the Tower. These are dungeons that can give you different rewards as you ascend to higher floors. There are two different dungeons that you can enter and Fatespire requires an Item Level of 802 to enter. Floor 35 specifically recommends that you are at Item Level 980 before attempting it.
Once you've completed the above requirements, you will be able to get the thirteenth Giant's Heart. There is nothing that you need to do in order to accept it and bind it to your character.
For more on Lost Ark, check out Best solo PvE Classes in Lost Ark and Best PvP Classes in Lost Ark only on Pro Game Guides!