There are five difficulties in Metal Gear Rising Revengeance: Easy, Medium, Hard, Very Hard, and Revengeance. With each difficulty, the enemies possess more health, and you take more damage. With Very Hard, enemy arrangements are altered, and smaller enemies are replaced with larger enemies.
With the Revengeance difficulty, the game becomes a whole new experience. Here are some tips and tricks for beating the Revengeance difficulty in Metal Gear Rising: Revengeance.
Tips and tricks for beating Revengeance Difficulty in Metal Gear Rising Revengeance
How do you unlock Revengeance difficulty?
One way to unlock the Revengeance difficulty is by beating the previous difficulties. Beating Hard unlocks Very Hard, and Very Hard unlocks Revengeance. By participating in this progression, you learn the basic mechanics and become familiar with them. You will find yourself learning enemy arrangements, which is important for completing the Revengeance difficulty.
If you so wish, you can also use the Konami Code on the main menu to unlock the Very Hard and Revengeance difficulties, although this can only be done on a controller. The Konami Code is:
up-arrow, up-arrow, down-arrow, down-arrow, left-arrow, right-arrow, left-arrow, right arrow, B, A, START
How is Revengeance different from other difficulties?
The enemies in Revengeance will be in the same positions as Very Hard, although they will have more health. Almost every enemy can one-shot kill you, so if you have not learned to parry yet, practice that in a lower difficulty to prepare yourself for Revengeance. The boss fights will be almost identical to Very Hard, although bosses have more health and nearly one-shot you.
If you plan on practicing fights for Revengeance, do so in Very Hard. The Easy, Medium, and Hard difficulties have different enemy arrangements and will not help you learn Revengeance's enemy positions.
The perfect parry is the primary mechanic that sets Revengeance apart from other difficulties. This parry is activated the moment before an attack lands and creates an opportunity for a deadly counterattack. In Revengeance, perfect parry counterattacks are crucial to learn. A perfect parry counterattack can remove 50% of a boss's health bar and sometimes instantly kill rank-and-file enemies.
Tip - Where do you find Repair Nanopaste?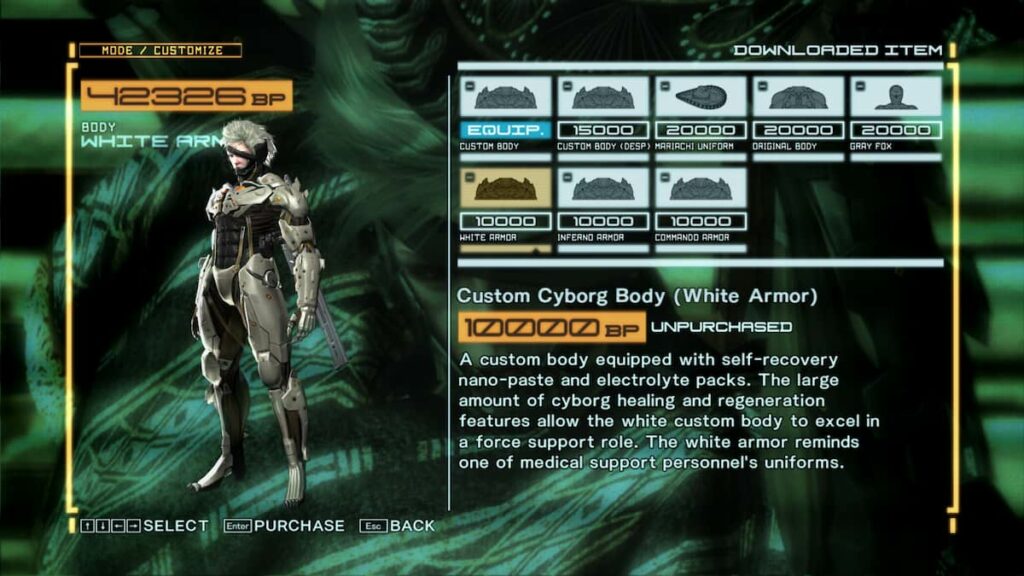 Repair Nanopaste is extremely hard to come by in Revengeance difficulty. However, by equipping the White Armor set for Raiden, you are granted an increased Repair Nanopaste capacity. With this armor, you can carry up to 10 Repair Nanopaste and Fuel Cells.
In the levels, one way of finding Repair Nanopaste is by activating AR mode to find item boxes. By scanning the environment every once in a while, you can find extra supplies that would otherwise be hidden.
One of the most reliable methods of obtaining Repair Nanopaste is from boss battles. When you slice the vehicles Monsoon throws at you, they occasionally drop healing items. During the Jetstream Sam fight, you can break the wooden box near the center of the battlefield and it may drop healing supplies. In the Senator Armstrong battle, the rubble he throws at you also drops Repair Nanopaste.
If you are especially brave, you can intentionally prolong boss battles to restock on Repair Nanopaste. With the maximum capacity of 10 from the White Armor set, this strategy is perfect for refilling your supplies before the next intense battle.
Tip - Where do you find Electrolyte Packs?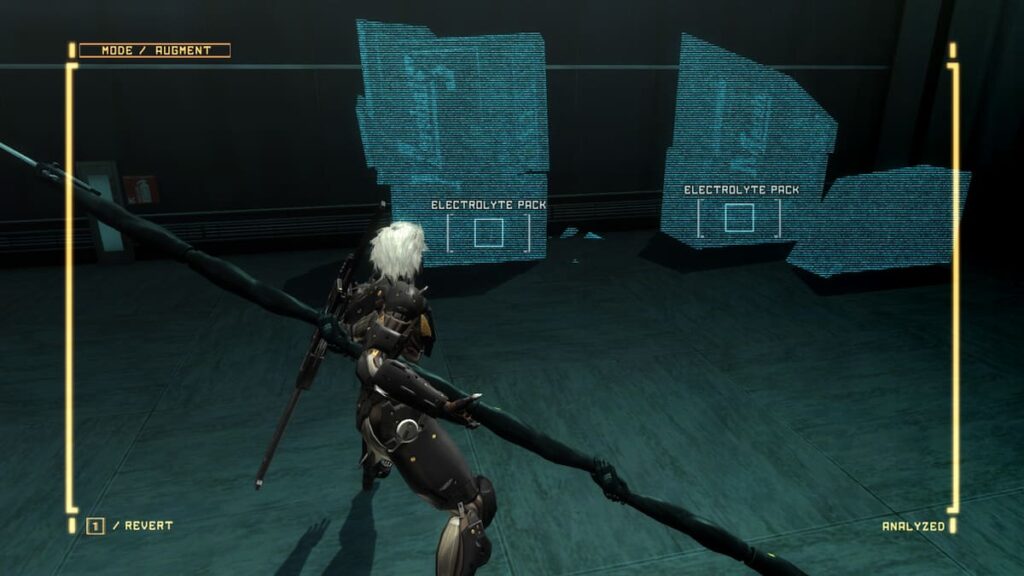 One way of obtaining Electrolyte Packs is by destroying vending machines. Each vending machine drops one Electrolyte pack. These vending machines can be found in urban areas, including the room at the top of the escalator in R-03, and next to the door that opens once you've destroyed the electrical panels in R-04.
These packs can also be found in item boxes and dropped from Monsoon's debris and Armstrong's rubble. Although they are not as scarce as Repair Nanopaste, Electrolyte Packs can be quite difficult to locate.
Related: How to beat Armstrong in Metal Gear Rising Revengeance – Boss Guide
Tip - Who are the biggest threats in Revengeance and how do you beat them?
The biggest threats in Revengeance are the GRAD units. In earlier difficulties, GRAD units are an inconvenience, but in Revengeance, they are life or death. The first fight against a GRAD in Revengeance involves not only one but two GRAD vehicles simultaneously. It is a fight that requires precise timing but is not impossible.
You can stun GRAD units with the Electromagnetic Grenade, which will incapacitate them for a moment. The radius is fairly small, so make sure you are ready to deal with the other GRAD if it does not disable both.
Perfect parrying is crucial against GRAD vehicles. With a perfect parry, you can take out half of its health bar, which makes the fight a lot less grueling. The timing is critical, though. You must execute a parry directly before the enemy's attack lands, which will take some practice to perform consistently.
Ripper Mode is also helpful against vehicles like GRADs. It does more damage and allows for quick strikes. Ripper Mode is also beneficial against Mastiffs and several other large enemies.
Tip - How do you outsmart enemy AI?
Stealthing through missions in Revengeance difficulty is challenging, due to the increased awareness of the enemy AI. Enemy AI know where you are, even when you are hiding, and patrol in your proximity. Sometimes, they will stare right at you and refuse to move, and you must sneak past when their head slightly turns.
One way to combat this intelligence is by hugging the wall or hiding in a corner. Although enemy AI will reroute to walk near you, they rarely walk to the far edges of a room. This strategy is especially helpful in mission R-04.
During stealth sections, you can kill nearly every enemy with a stealth attack. Even the giant Gekkos in mission R-01 can be killed from behind in one hit. This also applies to stealth kills from above. However, stealth attacks upon Mastiffs are unreliable, as half of the time they work and the other half it alerts them.
Tip - Which weapons are effective in Revengeance difficulty?
In Revengeance difficulty, all of the main weapons are equally viable. The High-Frequency Blade provides reliable damage and the lowest energy consumption in Blade Mode. Murasama is excellent for shredding bosses and initiating quick attacks. It has a longer range than the High-Frequency Blade, as well as improved speed, making Murasama the most efficient choice.
If you are struggling in a battle, wielding the Fox Blade with its special effect unlocked is lethal against rank-and-file enemies. With its special effect, the Fox Blade simulates a constant Ripper Mode, tearing through enemy defenses and removing the need for the actual Ripper Mode.
This strategy can feel overpowered and a little cheap, but if you are losing your sanity during a frustrating battle, it is a great way to preserve your mental wellbeing.
Out of the unique weapons, there is less competition. The Pole-Arm provides reliable area-of-effect damage and is effective against rank-and-file enemies. With Ripper Mode, the Pole-Arm becomes a lethal blender and quickly disposes of enemies like Dwarf Gekkos. Although the Sai and Pincer Blades have their charms, the Pole-Arm's advantages are hard to beat.
For more Metal Gear Rising: Revengeance guides, come check out How to Fix the Armstrong Blade Mode Glitch here on Pro Game Guides.