Octopath Traveler 2's eight characters each have their own story and quests, but you can also encounter various side stories to complete as you progress. These provide loot and lore, making them worth completing as you discover them. This includes The Sword in the Stone side story, which may leave you wondering how to complete The Sword in the Stone in Octopath Traveler 2.
Octopath Traveler 2 Sword in the Stone Side Story Walkthrough
To begin The Sword in the Stone side quest in Octopath Traveler 2, you must go to Winterbloom. There you can find a woman standing on the east side in front of a stone pierced by a sword. Try as she might, she cannot pull the sword from the stone. She requests the help of a tool used by a miner.
Related: How to complete Ruffians' Redoubt in Octopath Traveler 2
Where to find the Sturdy Pickaxe in Octopath Traveler 2
To find the pickaxe in Octopath Traveler 2, you must go to Oresrush, a mining town in the Wildlands on the west continent. This is also Partitio's starting point. However, you must have a character you can acquire items with their path action, such as Partitio or Throné. So, make sure you have one of these characters in your party.
Head to the Armorer, the building in the northeast corner. Inside you can find the Retired Miner NPC. You must steal or purchase the Sturdy Pickaxe from this NPC during the day, as Osvald cannot mug the Retired Miner at night. You also need to be high enough level to complete this. Once you have the item, return to Winterbloom.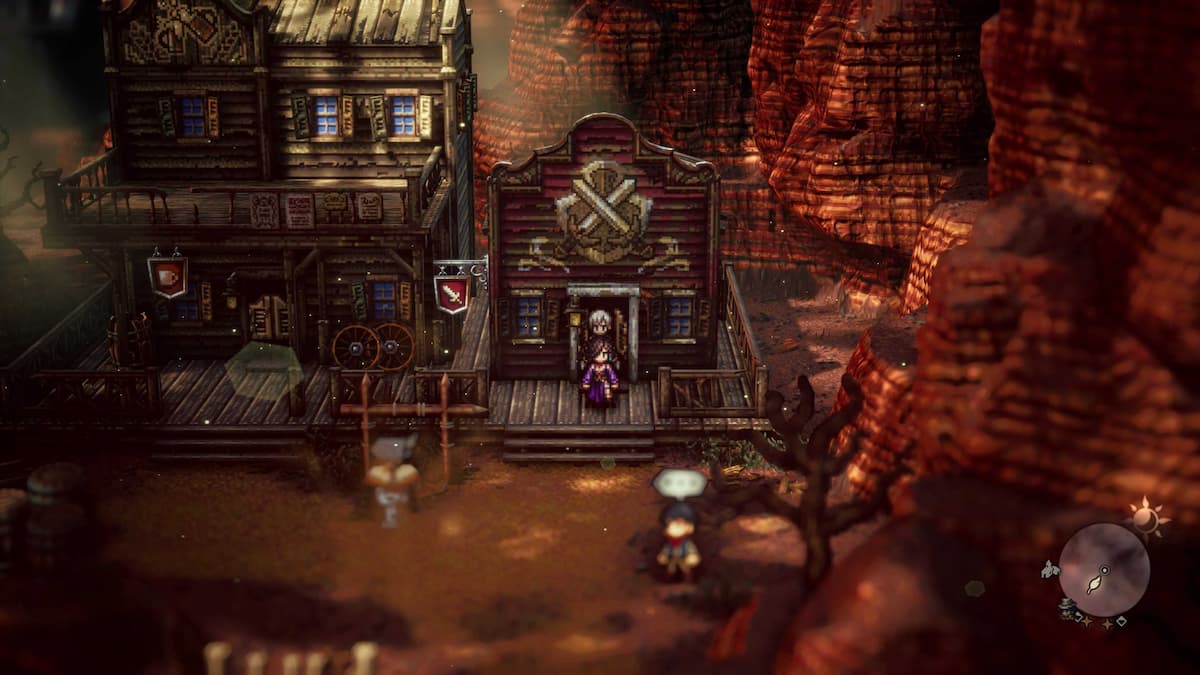 Speak to the woman and help her break the stone and retrieve the sword. She will reward you with the following items after completing The Sword in the Stone side story in Octopath Traveler 2.
Rusty Sword
7,000 Leaves
Reviatlizing Jam
For more information on Octopath Traveler, check out How to complete The Baby's Coming in Octopath Traveler 2 and How to complete Cathedral Window Repair in Octopath Traveler 2 on Pro Game Guides.