Octopath Traveler 2's eight characters each have their own story and quests. These will cross paths as you recruit more members to your party, but you can also find side quests. These optional quests provide valuable loot, making them worth completing. This includes The Traveler's Bag side quest, which may leave you wondering how to complete the side quest The Traveler's Bag in Octopath Traveler 2.
Octopath Traveler 2 The Traveler's Bag Side Story Walkthrough
After completing chapter one in Octopath Traveler 2, you will encounter a traveler named Al. Speaking to Al reveals that a thief stole his bag and escaped. He requests that you locate the thief, reclaim his bag, and return it to him.
Where to find the thief in The Traveler's Bag quest in Octopath Traveler 2
This will depend on what character you selected as your starting character. This will be every player's first side quest, as Al is encountered in each area. While the location will slightly differ, the answer will be the same. To find The Traveler's Bag thief, change the time to night and search the surrounding area.
The thief can be found at a campfire and wagon, but only at night. During the day, you can find the campfire and wagon, but not the thief. We encountered this quest and thief in the Brightlands, where he was set up north of Al in the same area we received the quest. Speak to the thief at night and select the Take the Bag Back option to battle the thief.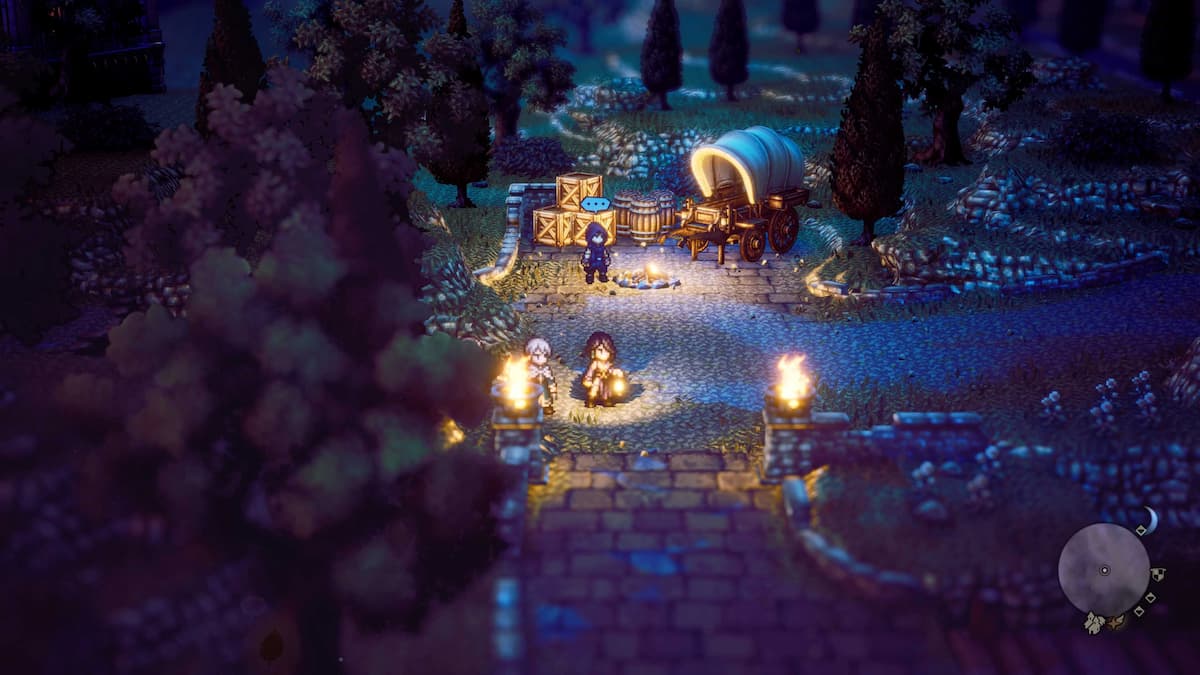 This is an easy fight, just use physical weapons to break the thief's defenses. The thief we fought was weak to dagger and staff. Once you defeat the thief, you will get Al's bag. Return this to him, and he will reward you with the following.
1,500 Leaves
1x Slippery Nut
3x Healing Grape
For more information on Octopath Traveler 2, check out Octopath Traveler 2 – JP & EXP Farming Guide and How to sprint in Octopath Traveler 2 on Pro Game Guides.