Grinding is a chore in any JRPG. But in Octopath Traveler 2, it can especially be time-consuming since there are eight characters, four party slots, and no experience sharing. Each character is also mandatory in their story chapter, so you can never really bench anyone. We'd like to think you can gain enough EXP to push through the main story by just never skipping mob battles, but there are ways to grind faster. Here's how to grind JP and levels in Octopath Traveler 2.
How to get EXP fast in Octopath Traveler 2 - Leveling Guide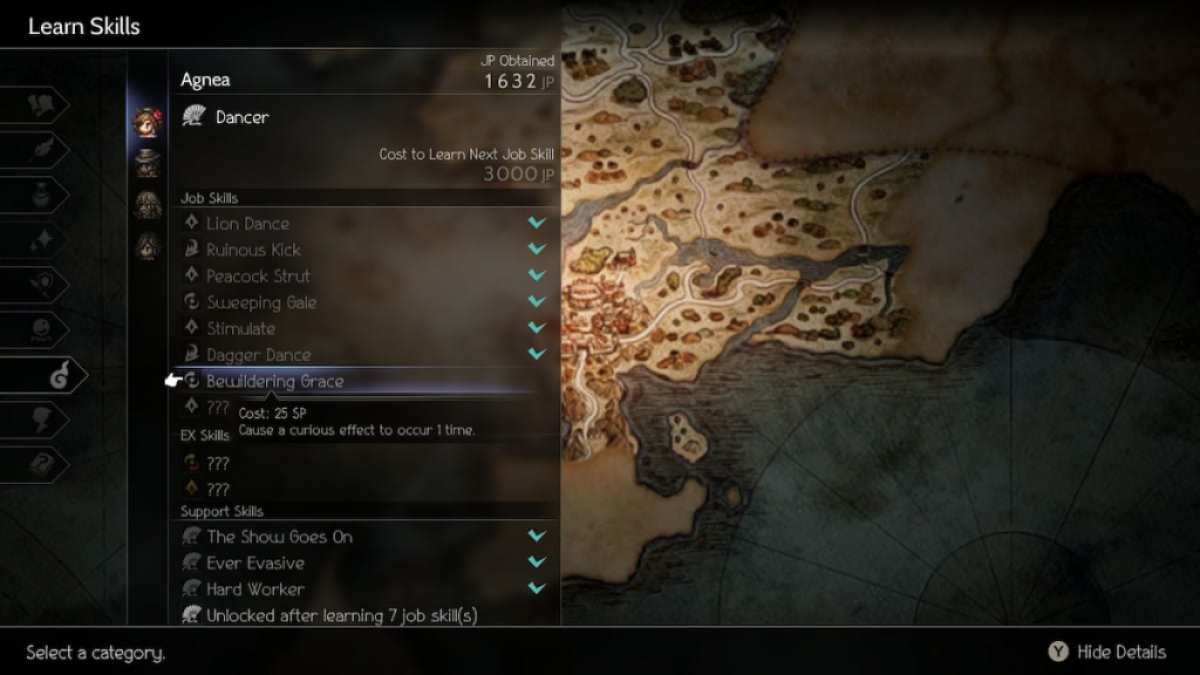 The safest way to grind EXP in Octopath Traveler is with Osvald the Scholar. After learning six job skills, he can be equipped with the Extra Experience passive skill, which increases the EXP the party gains after battles. Osvald is also arguably the best AoE/multi-enemy attacker in the game, so he can kill mobs the quickest. However, the fastest way to level grind is with Agnea the Dancer (or any member of the party with a Dancer subjob).
Dancers learn an ability called Bewildering Grace, which procs a random event in battle. It can be positive or negative. Three of its positive effects can be EXP x2, EXP x5, and EXP x100. Each Boost procs Bewildering Grace once, so Dancers can trigger it up to four times with a maxed Boost every turn.
It can also kill you, leave the entire party at 1 HP, inflict three to four random status effects, reduce SP to zero, and produce other nasty effects, so be careful.
We recommend moving to an area that's around five levels above your strongest party member. Don't be scared! With the proper equipment, you'd be surprised at how doable the next chapter areas are. Always roam around an area near a save point. Bewildering Grace stacks with the Extra Experience passive skill as well. Plus, be sure to equip Life in the Shadows, the Thief support skill that lets you gain extra EXP at night.
Do not forget to save every successful x100 roll, or even in battles with a series of EXP x5s. You don't want your hard work to go to waste.
Best EXP grinding party in Octopath Traveler 2
If you want to be efficient, your party needs to have the following members:
Two Dancers (one needs to have the Life in Shadows Thief support skill)
Partitio
An Apothecary or Cleric with Merchant passive skills
The Merchant job lets characters learn the Hang Tough passive (learned after six unlocked merchant skills) which let them survive anything lethal with one HP, including Bewildering Grace. Partitio can pass BP, letting you get those Bewildering Graces in more often.
Finally, don't forget to have a healer! Bewildering Grace can kill your entire party because of a bad roll. Apothecaries have a skill that lets them revive a party member as one of their base job skills. You can also go for a Cleric for its all-party Revive. Both jobs can support your party in case Bewildering Grace puts everyone on the brink of death. However, remember that Revive costs a lot of SP and will only revive people with 1 HP.
Once you manage to get the Dancer Secondary job, have both Agnea and another party member with the job equipped, so two of them can trigger the skill every other turn.
Related: Best secondary jobs for every character in Octopath Traveler 2
How to get JP fast in Octopath Traveler 2 - JP Grinding Guide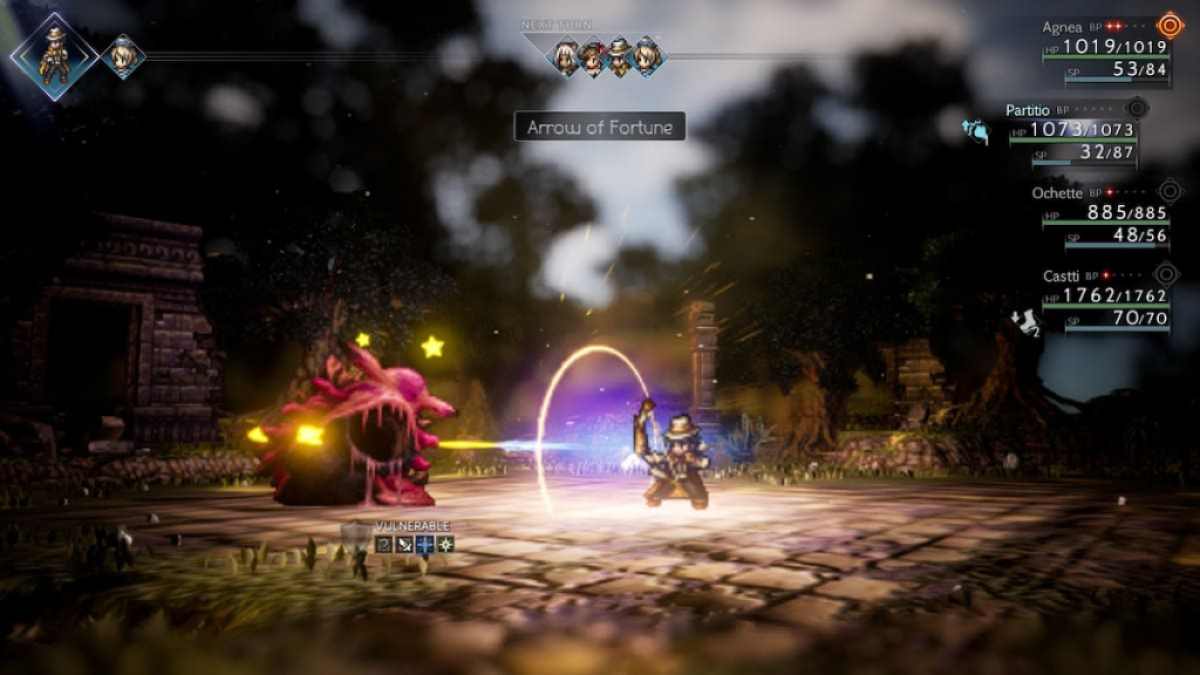 While you can also JP grind using Bewildering Grace (and might accidentally roll some JP x5s and JP x100s), there's a more reliable way. Just bring Partitio or Merchant Agnea with you and roam in an area with monsters that take forever to kill. This can be because of their high HPs or high levels.
Merchants have one of our favorite skills in the game: Arrow of Fortune. It can earn you a ton of extra JP. More boosts mean more JP gleaned from the monster it hits. The amount of JP you can get from Arrow of Fortune is dependent on two things:
The monster's HP. If you find yourself facing those very HP-fat monsters that never seem to die, they're Arrow of Fortune's best prey.
How much damage your Merchant can deal relative to the monster's HP. Arrow of Fortune will not give you a lot of JP if it's used to finish a monster with only 20% of its HP left. Make sure the monster's shield is broken for maximum damage as well.
Early in the game, we got around 15 to 18 JP per Arrow of Fortune hit and more down the line. It works, we promise! If you're JP grinding, the goal is to let your Merchants deal most of the damage in bulk with Arrow of Fortune. Absolutely do not let someone like Osvald raze your enemies to the ground.
You can use any Merchant in your party, but JP grinding is more efficient Partitio's Latent Power. If you remember it fully replenishes his Talent Gauge on command. Once you unlock seven Merchant skills on him, he even learns the Full Power passive, which fully replenishes said gauge at the start of every battle.
Aside from Partitio, you can also bring Agnea and get her the Merchant secondary job. Agnea's Latent Power turns single-target attacks into AoE. It can be used with Arrow of Fortune for faster grinds. You can bring an assortment of characters with her to break all enemy shields at once. We recommend multi-weapon characters like Hikari and Ochette, plus Osvald to cover elemental weaknesses.
For more help with Octopath Traveler 2, take a look at All Stats in Octopath Traveler 2 and what they mean, Explained and Best team formations in Octopath Traveler 2 here at Pro Game Guides.