The Tricker is one of four classes in Outriders. With the new Outriders Worldslayer expansion, all classes have new Pax Trees, Ascension points, and legendaries to collect. The Trickster class is a close-range hit-and-run style class that can manipulate time to its advantage. Here is the best Trickster build to try for Outriders Worldslayer.
Trickster Skills in Outriders Worldslayer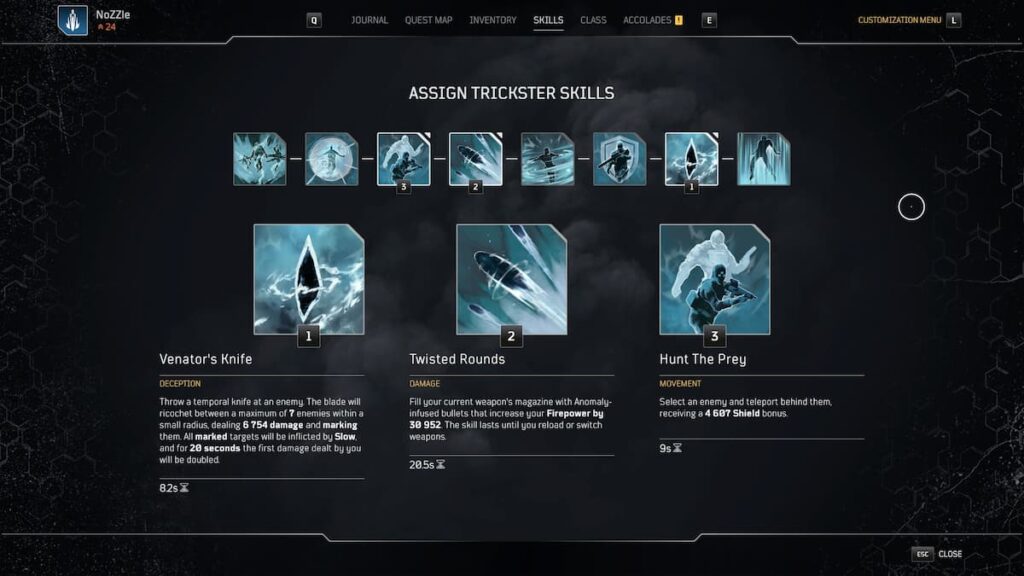 As a Trickster, your primary damage skill is Twisted Rounds. Twisted Rounds will significantly boost your damage output with your equipped weapons and give you unlimited ammo as long the skill remains active. Hunt The Prey is a movement skill used to teleport yourself out of trouble and provide a shield bonus to give your health time to recover. Venator's Knife will mark targets and double the damage done to that target. If you prefer, Venator's Knife can be replaced with Time Rift and used similarly.
Trickster Mods and Gear in Outriders Worldslayer
All gear in Outriders is randomized and finding the perfect pieces to go with your build is hard without spending hours grinding for specific pieces. Because of this, it's better to focus on getting the right Mods and secondary stats on your gear than use legendary sets as you find them. The Best Mods for this Trickster are:
Instant Reload (Hunt The Prey): Teleporting instantly replenishes magazine in your current weapon.
Strong Twist (Twisted Rounds): While the skill is active, increases weapon's Firepower by an additional 20%
Life Drain (Twisted Rounds): While the skill is active, killing shots heal you by 5% of your target's health.
Several other Mods can be slotted to boost the effectiveness of your skills; however, these three are a must. Instant Reload will allow unlimited uptime on your Twisted Rounds, as it will keep your current magazine full. You can also use the Weapon mod Perpetuum Mobile to refresh your ammo capacity. For secondary stats, the three you should look for are:
Close Range Damage: Bonus Weapon Damage Dealt to enemies within 10 meters of you.
Bonus Firepower: Increase the Weapon Damage your character deals.
Cooldown Reduction: Reduces the Cooldown of your skills.
Related: How to increase your Apocalypse Tier in Outriders Worldslayer
Trickster Ascension Points in Outriders Worldslayer
New to Outriders Worldslayer is the Ascension Points. For a Trickster, prioritize the Brutality tree, which increases your weapon damage and firepower. Max out each node in the below order:
Brutality: Close Range Damage
Brutality: Weapon Damage
Prowess: Magazine Size
Brutality: Armor Piercing
Your remaining points can be placed into the Prowess to increase your Critical Chance, Critical Damage, and Cooldown reduction.
Trickster Class Points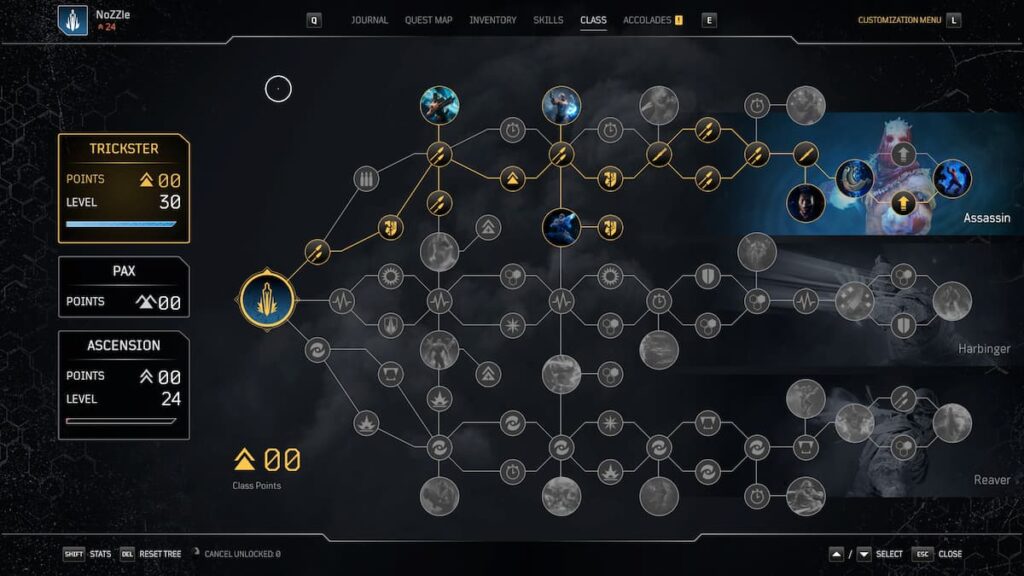 As this build centers around keeping Twisted Rounds active, you will always use a shotgun and never switch weapons. The Assassin tree is your primary focus, and you will select nodes that buff shotgun damage, close-range damage, and weapon damage.
Trickster Pax Points
The Tricksters Pax points should be specialized to the Spectre tree, aiming for Spectral Spike. This skill deals additional damage equal to 15% of your Anomaly Power, stacking up to 750%.
For more on Outriders guides, check out How to Defeat in Arbiter of Descent Outriders Worldslayer and Best Farm for Apocalypse Gear in Outriders Worldslayer here on Pro Game Guides.