One look at the Roblox catalog of user-generated games might be overwhelming. There are millions of experiences to be played, but the Roblox company does a great job of categorizing the best. Even so, it might be too difficult to choose. That's why we've made this list of the 7 best FPS games* to play on Roblox in 2020.
It wasn't easy narrowing down the pick to 7, and there are loads of amazing Roblox shooters still waiting to be played. However, you can't go wrong by starting here. Each shooter has been chosen based on a particular game players most likely have heard of, so be sure to check out the "Best for fans of" categories.
*While most games on this list are indeed First-Person Shooters, a few are third-person shooters. Frankly, they were too good to not recommend for this list, and are pretty relevant to the overall selection.
Best Roblox FPS Games in 2020
BIG Paintball!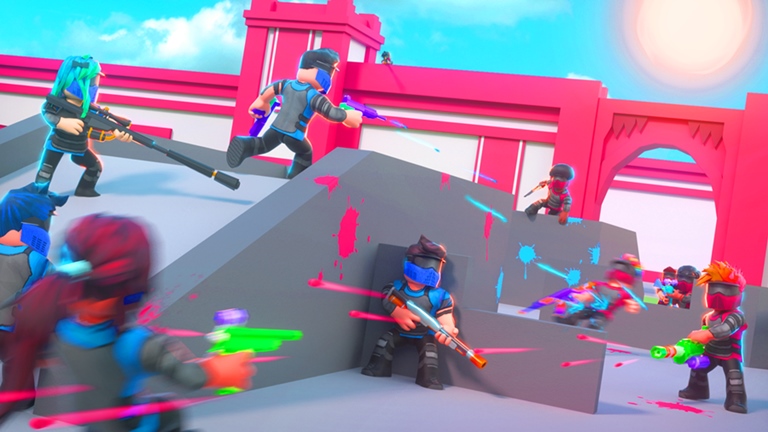 Fans who prefer more light-hearted shooters are going to love BIG Paintball! Gone are the realistic guns and locales of modern shooters such as Call of Duty or Battlefield. Instead, players are dropped into creative arenas and wield different variants of paintball guns against the opposing team.
The unique mechanics of BIG Paintball! are what really make this FPS stand out. Movement is quick, enemies are "tagged" instead of "killed," and spawning back into the match is as quick as pressing the spacebar.
Every tag and challenge completed gains the player currency for future unlockables, which should definitely be taken advantage of. Weapons are vastly different from the starter and are a blast (no pun intended) to try out. There's no wonder BIG Paintball! was a 2019 Award Winner.
Best for fans of: Splatoon
RBB! Island Royale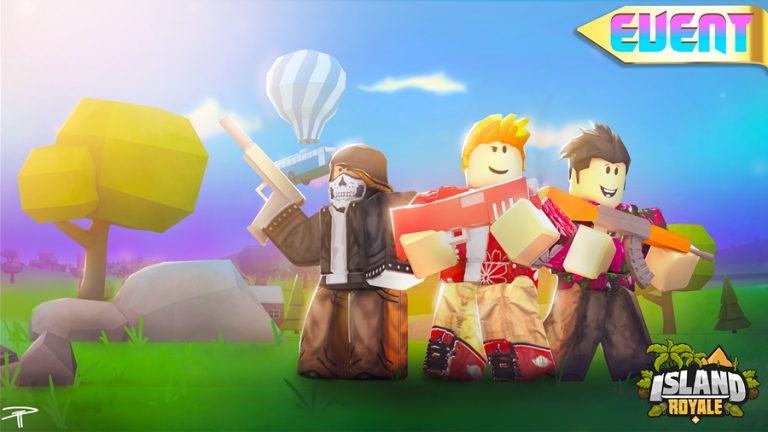 Fans of Fortnite will quickly grasp the premise of RBB! Island Royale. Like most popular Battle Royales, players descend upon a deadly island with little more than a pickaxe to gather materials and weapons. Once equipped, everyone must duke it out until only one player stands victorious.
Island Royale's impressive building mechanics make for intense fights that move beyond straightforward gun battles. Players who rely on gunplay will be at a disadvantage against those who can successfully build and gain higher ground.
Beyond Battle Royale mode, RBB! Island Royale is stuffed with awesome content. From Weekly Challenges, Badge Unlocks, Stats, and Leaderboards, there is plenty of competitive play offered free of charge. Impressively, there is also an Island Pass available to purchase for the most diehard fans of cool cosmetics.
And for those uninterested in Battle Royale games, RBB! Battle Royale offers other modes like TDM, Zone Wars, and FFA. This shooter is definitely worth your time.
Best for fans of: Fortnite, Apex Legends, Call of Duty: Warzone
Phantom Forces
Phantom Forces offers a traditional multiplayer FPS experience. With 4 classes to choose from and what seems like an endless amount of loadouts to unlock, Phantom Forces is dedicated to letting gamers customize their competitive experience.
This game operates on a rotation of modes, allowing the server to vote on what game map and mode arrives next. There are 7 types of game modes in Phantom Forces: Team Deathmatch, Flare Domination, King of the Hill, Kill Confirmed, Capture the Flag, Gun Game, and Infection.
Phantom Forces is frequently updated, with balancing tweaks, Holiday game modes, new maps, and more. If you're looking to drop into a match for a quick couple of rounds, Phantom Forces is currently the FPS to play.
Best for fans of: Call of Duty, Battlefield
The Wild West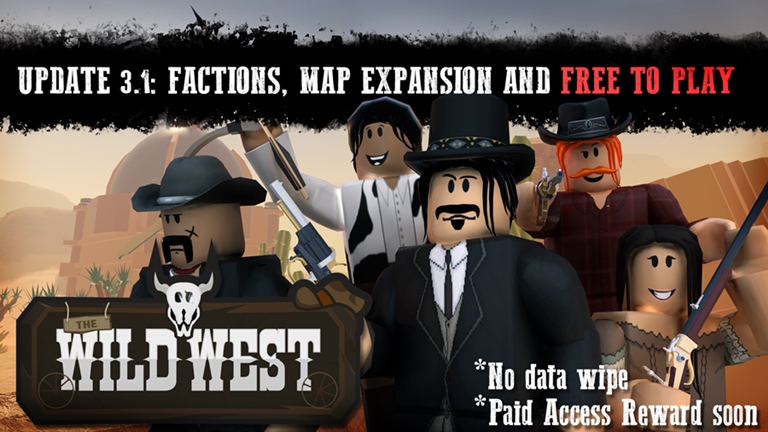 Grab your saddles, cowboy! Prepare to explore the vast world of the Wild West in this western RPG. The Wild West places players in a large western world that allows for many roleplaying options. As a cowboy, you can steal for yourself or as an Outlaw on the run. Or, if you're on the side of justice, hunt down those dastardly Outlaws for some great rewards. The moral choices are yours in this game.
In addition to playing cowboy, players can also explore deserts, Mountains, and many more locations. As you explore, watch out for rare prey to hunt, and for gold to collect. There are plenty of guns to aid you in the wild, from pistols to rifles, and grenades.
As if that wasn't enough, The Wild West is set for more content, with even more camps and settings to be added in future updates. The world is also divided into safe zones and PVP zones, for those looking to scrap with other players.
Best for fans of: Red Dead Redemption/Red Dead Online
Counter Blox

For gamers that prefer more competitive team-based shooters, Counter Blox is the must-play. This game most closely resembles Counter Strike: Global Offensive and its predecessors. And boy, does the ROLVe Community recreate it well.
Counter Blox pits two teams of 5 against each other: the Counter-Terrorists and the Terrorists. Players on the Terrorist side must plant and detonate the bomb or eliminate the entire opposing team to win the round. The Counter-Terrorists must either eliminate the entire Terrorist team before the bomb has been planted, or eliminate the Terrorists with enough time to diffuse the bomb.
This team-based game makes for some tense, split-second decision making that often results in some of the sweatiest, clip-worthy moments. While games like Counter Blox are most fun to play with a full team of friends, players can easily drop into casual games or Competitive as quickly as booting up a sever.
Best for fans of: Counter Strike, Valorant, Overwatch
Zombie Uprising
Zombie Uprising offers a palate cleansing from the typical multiplayer shooters like Call of Duty and Battlefield. Instead, a small group of players must work together to stop as many hordes of zombies. In either Normal or Hard difficulties, players must survive as many rounds (or waves) as possible while blowing these deadly zombies to bits.
This game, however, goes above and beyond just dropping players into horde mode. Before launching into a game, players can customize their avatar's appearance. Weapon mods and skins are also unlockable, which changes up the gameplay and hands more power to the player.
Best for fans of: Call of Duty - Zombies, Gears of War - Horde Mode
Bad Business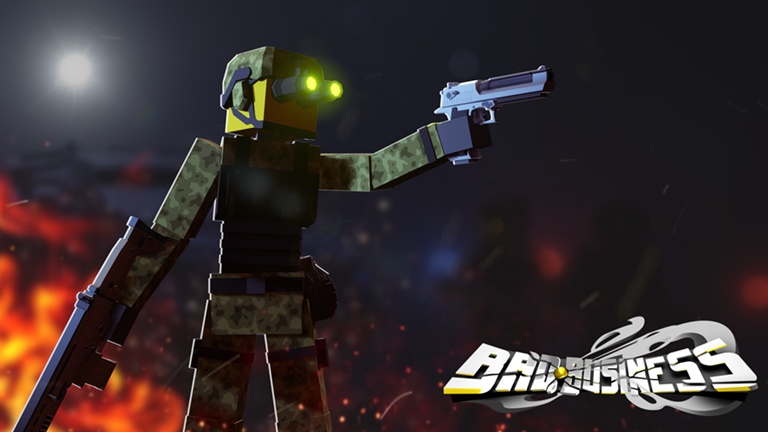 Arguably the best "feeling" Roblox PvP shooter is awarded to Bad Business. The sprinting is fast and fluid, gun control feels secure, and aiming down sights feels smooth. Even the enemy radar is impressive. All of these little details make it surprising that this game is free.
The progression system is addictive, too. Players unlock new weapons to test out as they level up, and for the most part they all feel great.
Largely, Bad Business plays as close to how a big budget shooter should feel, closer than any other Roblox FPS I've played.
Best for fans of: Call of Duty, Battlefield
---
Hopefully this list has helped you spend less time trying to decide on a game and more time playing. What are your favorite Roblox shooters? Which ones did we miss? Let us know in the comments below!
In the meantime, we've got loads of free Roblox Game Codes and free Roblox Promo Codes that you should check out.