Updated August 25, 2023

Added a new code!
Are you a fan of the famously popular Roblox experience Natural Disaster Survival? Then, chances are, you'll enjoy Emergency Landing! Though this experience is currently in its beta stage, meaning it hasn't been fully released yet, it still offers tons of thrills and fun for every player who joins it! Hop onto a plane, buckle in, and prepare for the ride of your life, literally, in Emergency Landing!
Each Emergency Landing code listed below unlocks a unique in-game bonus—from Eaglets to exclusive items, these codes have it all! If you're looking for even more freebies, be sure to check back with this article regularly—we update this list as soon as new codes come out! If you find a code in the Working Codes section that seems expired, please let us know so we can remove it as soon as possible. Keep in mind, also, that you'll need to enter each code exactly as it's written or the experience won't accept it!
If you're looking for more Roblox content, check out Roblox Anime Dimensions Codes, Roblox Tapping Legends X Codes, Roblox Military Tycoon Codes, Roblox Goal Kick Simulator Codes, All Roblox Royale High Mermaid Halo answers, and more on Pro Game Guides. These Roblox code pages will certainly help you out.
All Emergency Landing Codes List
All Emergency Landing Codes List (Working)
20M—Redeem for 100 Eaglets (New)
1,000—Redeem for 100 Eaglets
900—Redeem for Emergency Axe Perk
100kfav—Redeem for 100 Eaglets
800!—Redeem for 80 Eaglets
binocs—Redeem for 20 Eaglets
700!—Redeem for 70 Eaglets
6 0 0—Redeem for 60 Eaglets
10 000 000—Redeem for the Pushback Driver Tractor Perk
THX—Redeem for 50 Eaglets
new_plane—Redeem for 72 Eaglets
20,000—Redeem for Eaglets

25O—Redeem for a Mini-Map or Eaglets
NewPlane—Redeem for Eaglets
5MIL—Redeem for the Cabin Crew role or Eaglets
All Emergency Landing Codes List (Expired)
100Followers—1x Flare Gun(45x Eaglets if you do not have the Cabin Crew Role or already own the Flare Gun)
50F!—50x Eaglets
Roblox Emergency Landing Codes FAQ
Here's everything you need to know about Roblox Emergency Landing codes.
How to redeem codes in Emergency Landing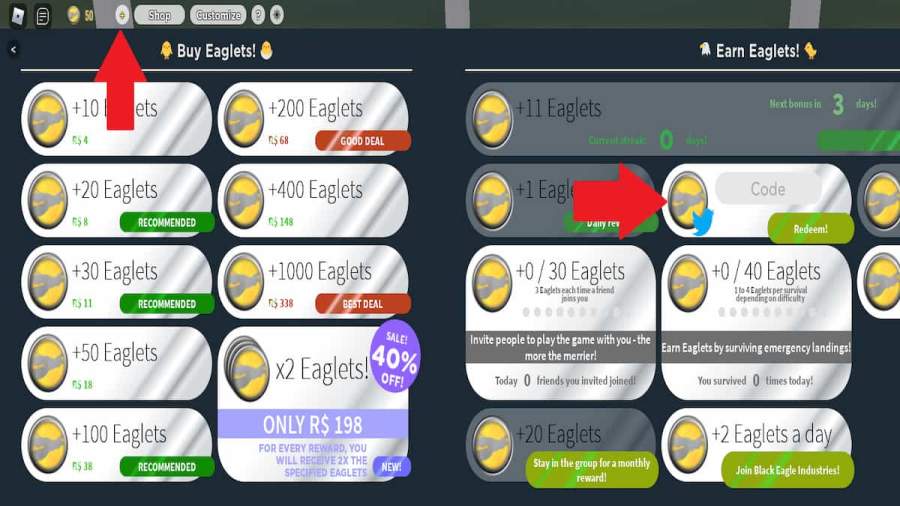 Codes in Emergency Landing are useful for getting resources and rewards quickly. Here is how to redeem codes in Emergency Landing.
Click on the + button in the top left of the screen.
Click on the Codes field with the Twitter icon.
Enter the code and select Redeem.
How to get more Emergency Landing Codes
The best way to get more codes is to join the Emergency Landing Twitter and Discord. These are the best ways to get more codes for Emergency Landing. You can also check back at this page for more codes as they get released!
Why aren't my Emergency Landing Codes working?
The developer controls codes for Emergency Landing and determines how long they are active. Some codes may expire quicker than others, and some may not work with others. If a code does not work for you, double-check if there is a spelling error, the code isn't active yet, or it has already expired. To help solve that issue, bookmark this page and come back often to see if Emergency Landing has added new codes or if some are expired.
What is Emergency Landing?
In Emergency Landing, you will find yourself in various crashes. This could be due to engine failures, depressurization, fires, and more. Whether you land on water, the ground, or runways, you must survive any of the 46+ events and become the best.
For more information on Roblox, check out Roblox Dragon Fighting Simulator Codes – Free Coins! and Roblox Vehicle Tycoon Codes on Pro Gaem Guides.