Chinese New Year is finally upon us, which means the 2023 Lunar New Year update in Adopt Me is here as well! This yearly, fan-favorite update takes place during a two-week celebration period and brings new accessories, items, furniture, and, of course, pets to Adoption Island. Unlike previous Lunar New Year updates in Adopt Me, however, the event-exclusive pets cannot be purchased with normal Bucks, and must instead be purchased with Lanterns, a new currency added alongside a Lunar New Year-themed minigame. Continue reading the brief guide below to learn more about how to obtain Lanterns.
How to earn Lanterns in Adopt Me
Lanterns can be earned in two ways: by purchasing them with Robux, and by playing the Lunar New Year Lantern minigame. To purchase Lanterns, head to the Lunar New Year stand on Adoption Island and look for the large spinning coin pictured below.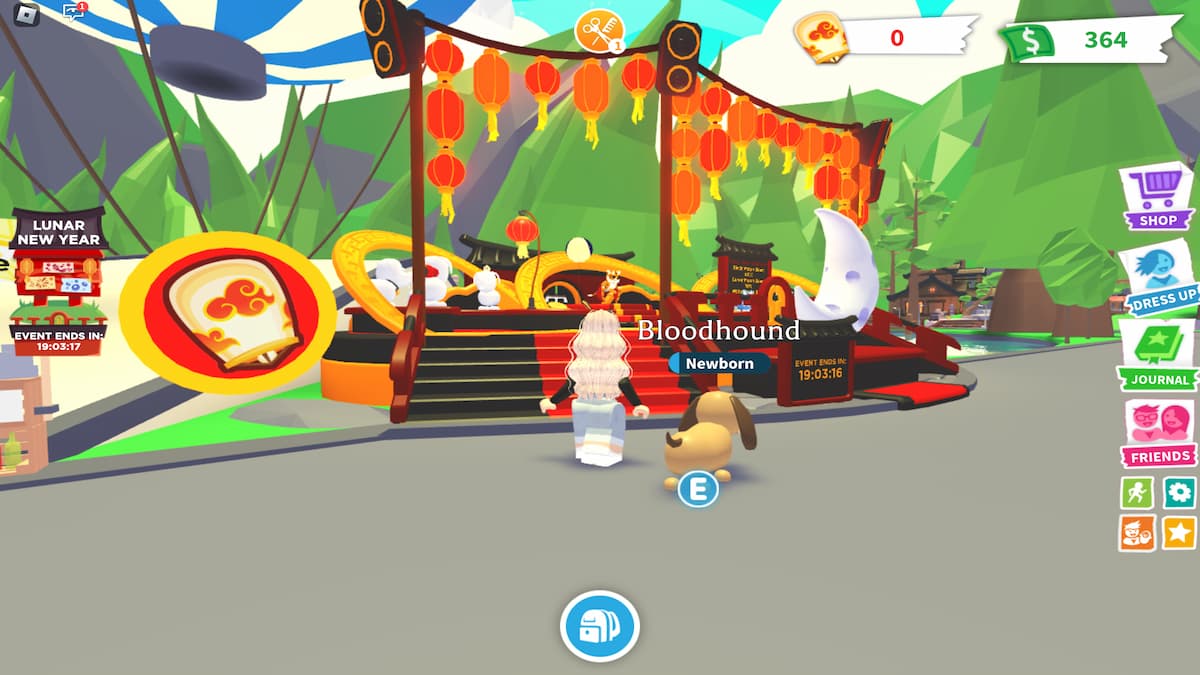 Interacting with this coin by pressing E will open the Lantern Store. The Lantern to Robux equivalents can be found below.
75 Lanterns = 30 Robux
150 Lanterns = 60 Robux
300 Lanterns = 120 Robux
1,000 Lanterns = 320 Robux
3,000 Lanterns = 800 Robux
10,000 Lanterns = 2,400 Robux
If you'd prefer to earn Lanterns without spending Robux, walk to the left of the Lunar New Year stand and look for the sign and glowing circle pictured below.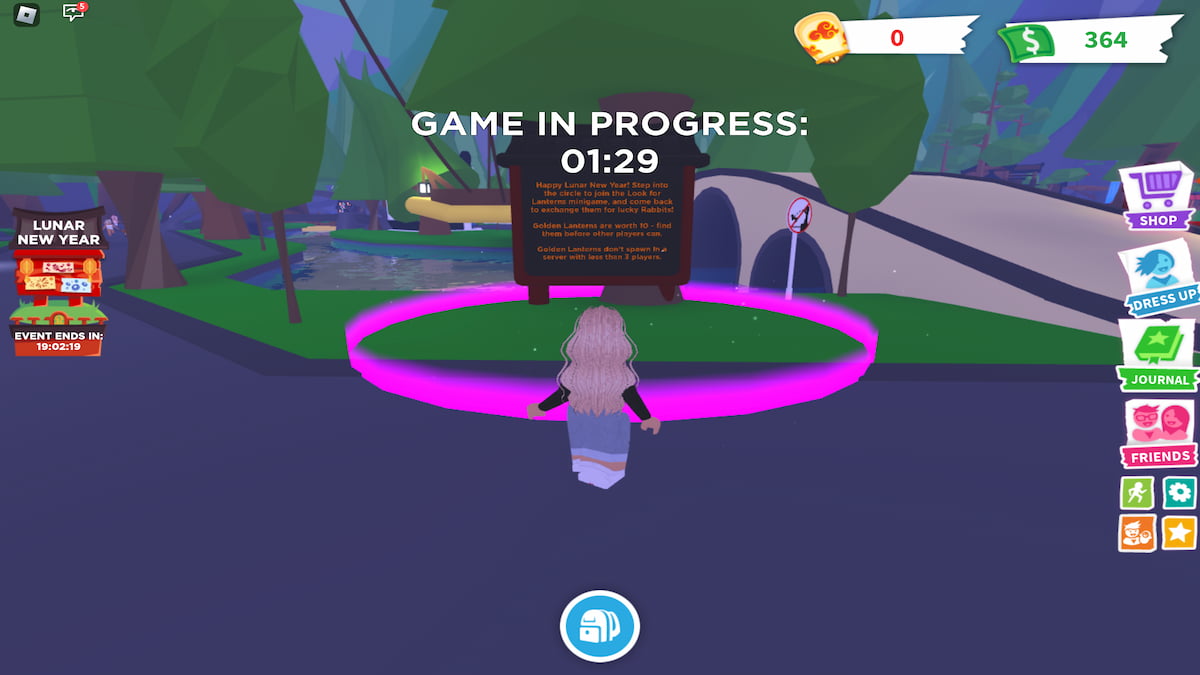 Related: Adopt Me Pets List – All pets, eggs, and how to get
Walking into this circle will put you in the minigame queue, which may take around eight minutes or so to start.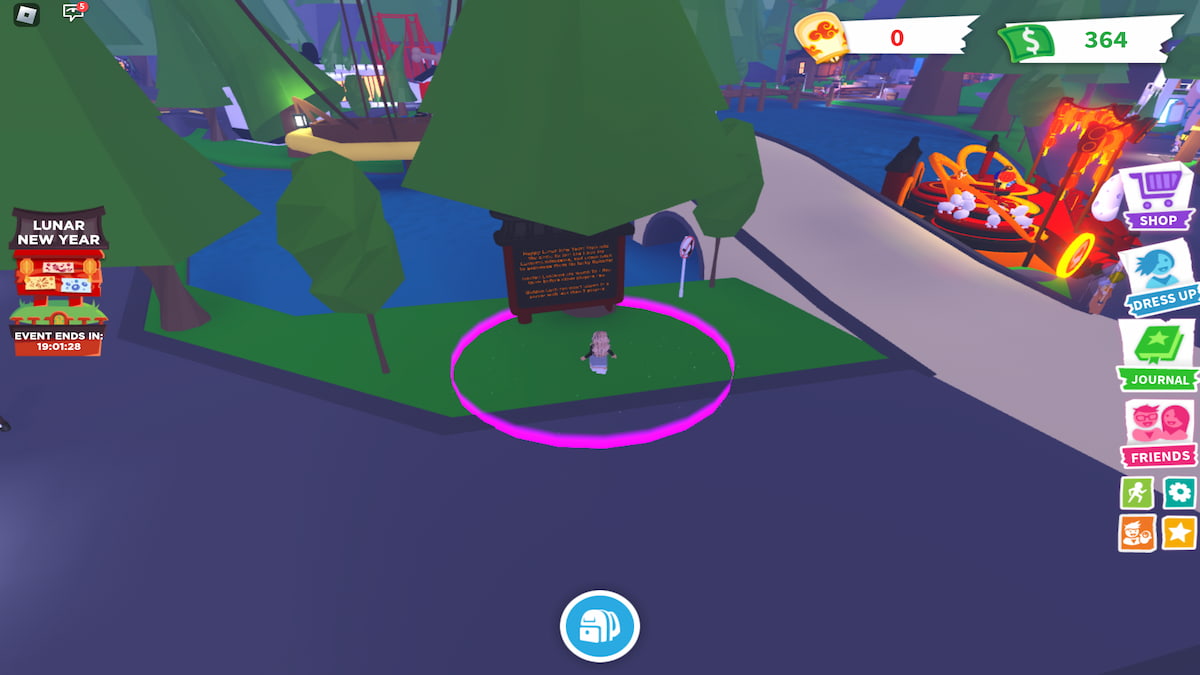 When the minigame begins, you, and everyone else who joined the queue, will be spread out around Adoption Island and have two minutes to explore the map looking for Lanterns. Each small Lantern you pick up will count as one point, whereas the larger Golden Lanterns will count as 10.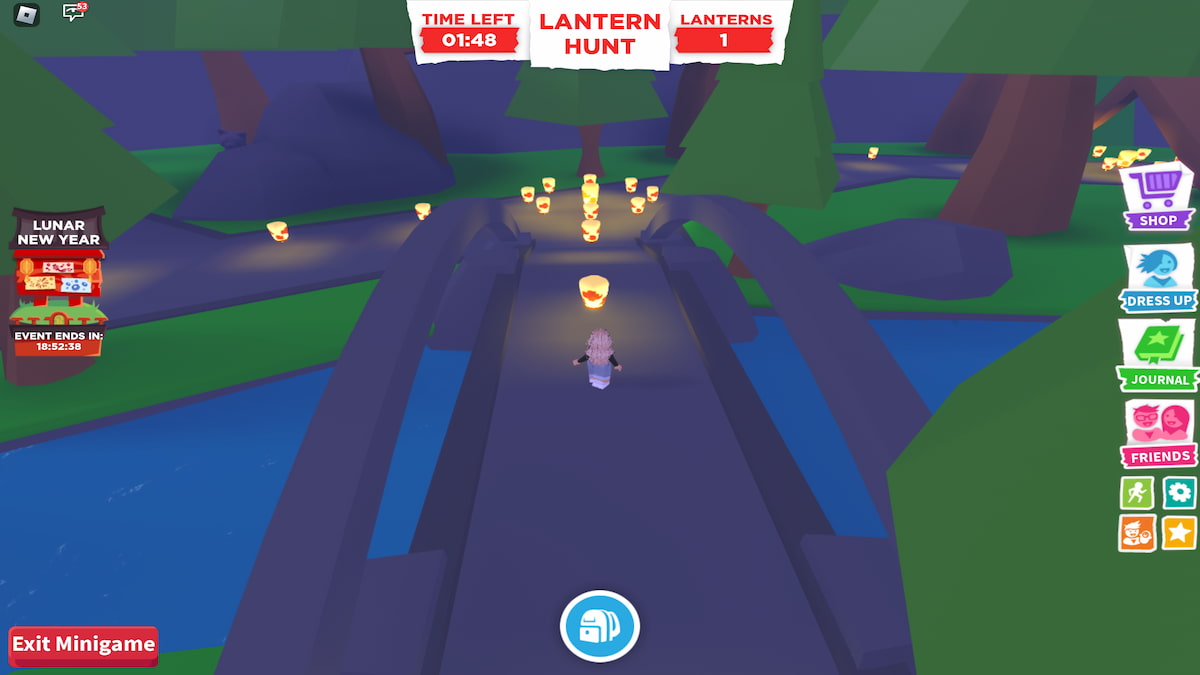 At the end of the two minutes, a pop-up will appear that showcases how many total Lanterns you collected.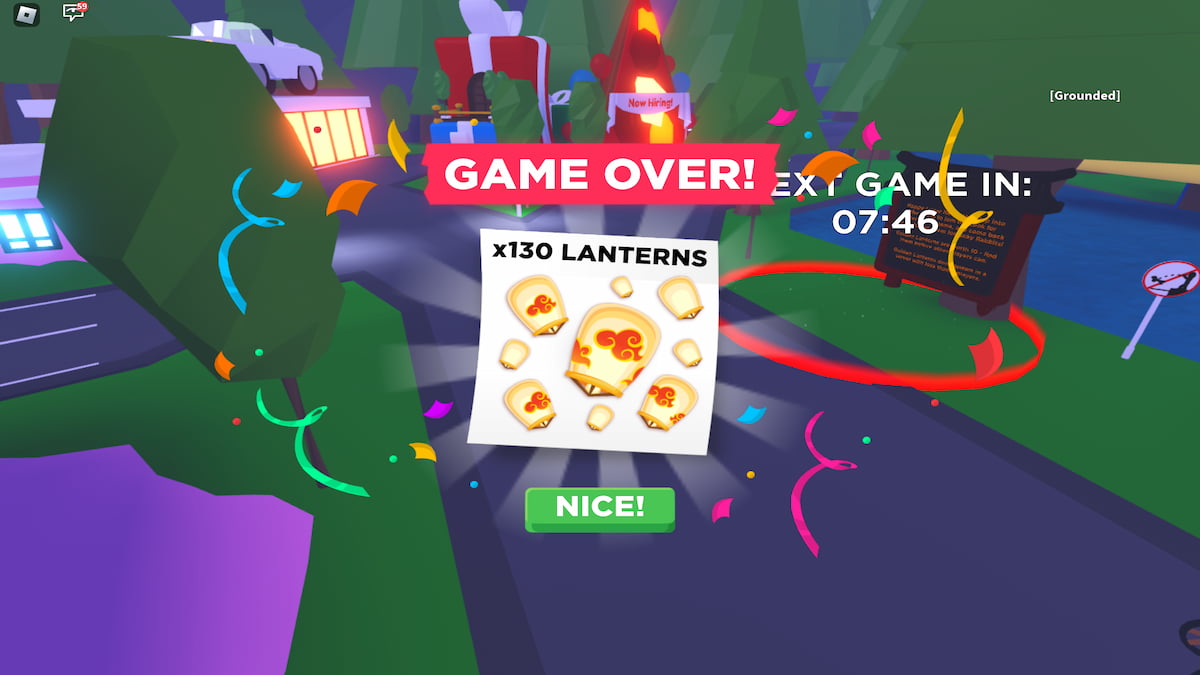 To spend any Lanterns you've earned, head back to the Lunar New Year stand and select the pet of your choosing. The prices of the exclusive pets can be found below.
Amami Rabbit = 250 Lanterns
Moon Rabbit = 375 Lanterns
Water Rabbit = 475 Lanterns
Bear Moon Box = 300 Lanterns

60% chance to get Black Moon Bear
40% chance to get Water Moon Bear
10% chance to get Lunar Moon Bear
End
That's all there is to it! If you have a hefty stack of Lanterns that you're looking to spend, be sure to do so before the end of the event on Thursday, January 26, 2023! When the events ends, the Lanterns, and all of the Lunar New Year pets, will disappear forever!
Looking for more Adopt Me content? Check out our recent guides on How to get the Glacier Moth in Adopt Me – Roblox or How to get the Shipwreck Bay badge in Adopt Me – Roblox here on Pro Game Guides!