Joining the ever-growing lineup of Wacky Wizards live events, the completely chaotic Volcano Event is here! Every two hours, players have a chance to opt into the Volcano Event and take on the famed Bean Titan and the new, semi-disturbing enemy Beanski. After successfully completing this event, players will earn the Coconut ingredient! To learn more, continue reading below.
How to survive the Volcano Event and earn the Coconut
Once you've spawned into Wacky Wizards, head toward the volcano and look for the countdown sign pictured below. When this sign reaches zero, a window will appear on your screen that asks if you'd like to participate in the Volcano Event. If you'd like to try your hand at earning the Coconut ingredient, press yes!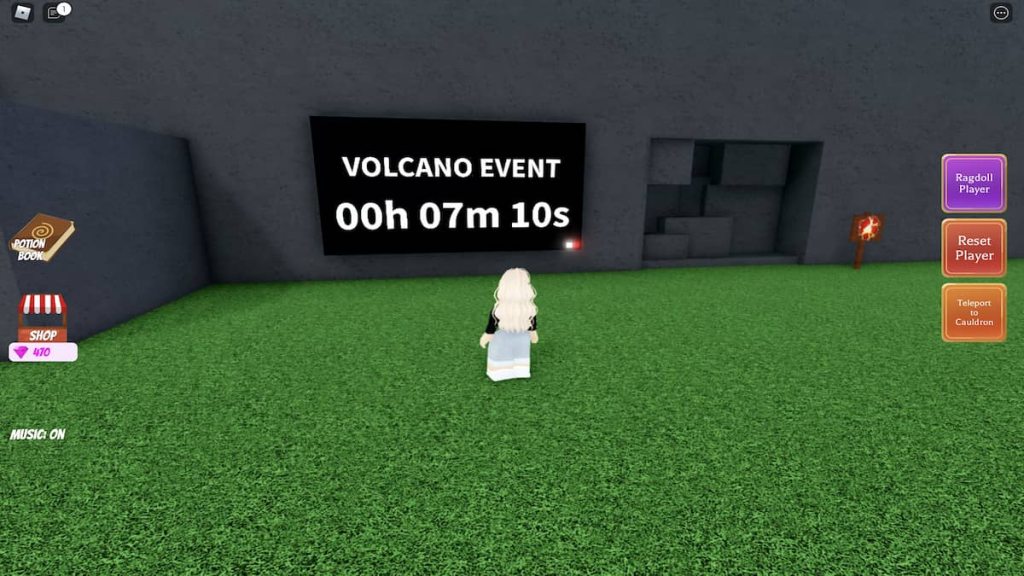 Upon joining the event, the volcano will begin to erupt and shoot beans across the map. Be careful, these beans will follow your every move! Avoid the circles that appear on the ground—these indicate where the beans will land.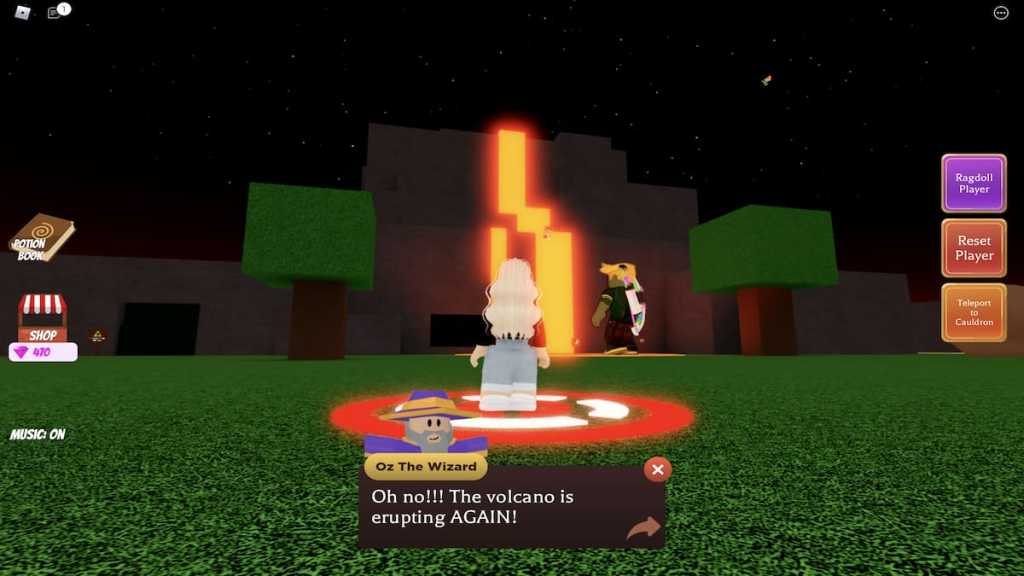 After the volcano fully erupts, the Bean Titan will arise from the bean lava and send out tons of Bean Drones to take down players. Shoot these Bean Drones down quickly with the cannons that appear near the NPC Pete!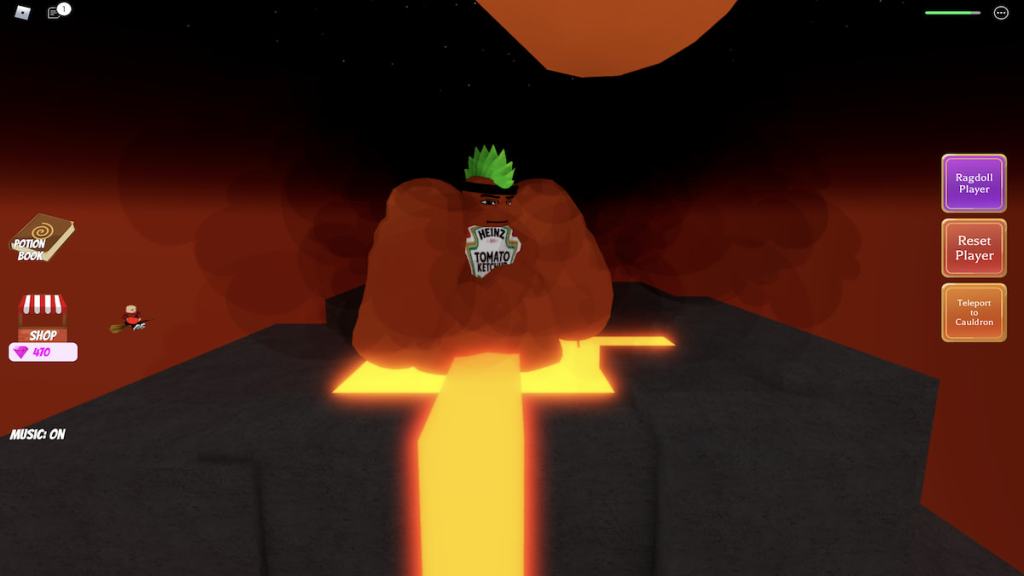 Related: All potions and recipes in Wacky Wizards | Roblox Wacky Wizards Full Potions List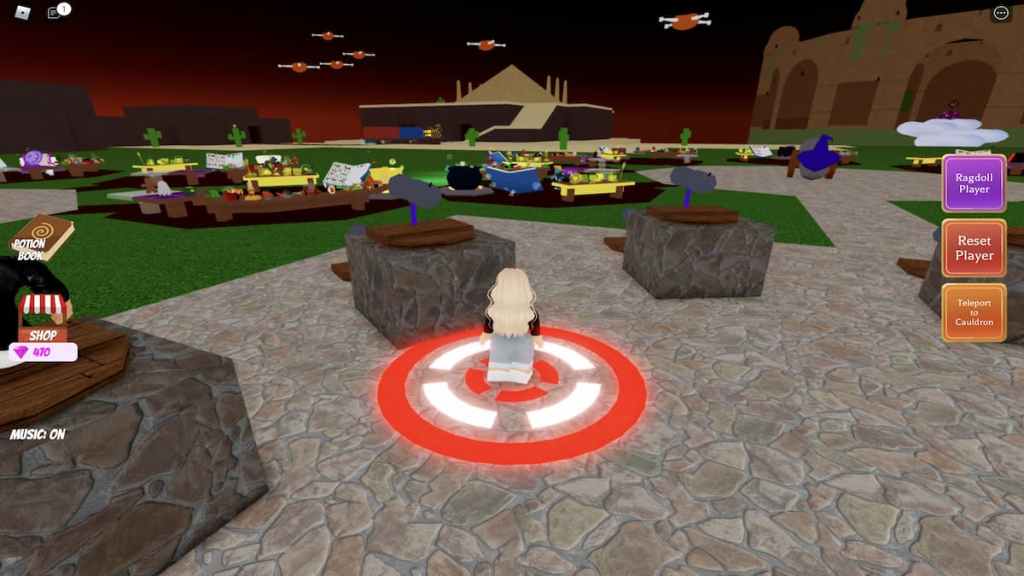 After shooting down all of the Bean Drones, the volcano will erupt once more, this time bringing out Beanski/Evil KSI. We warned you that he was semi-disturbing!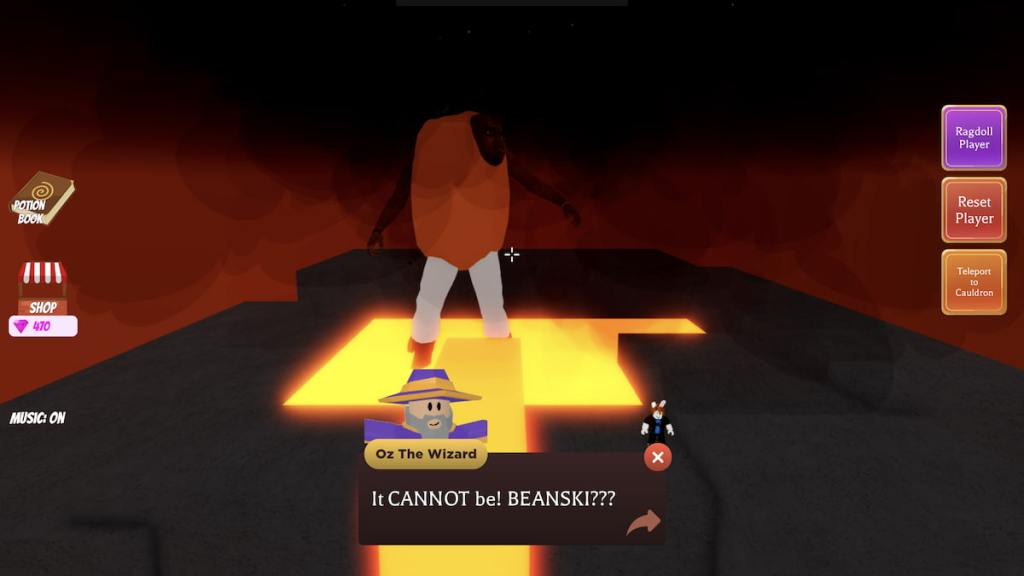 Evil KSI's (Beanski's) health bar can be seen at the top of your screen. To defeat him, you'll need to create numerous potions and load them into any of the cannons around the map. These cannons will shoot the potions at Evil KSI and lower his health! We used an explosive potion, but any damage-dealing potion will work.
Make sure to watch out for rolling coconuts and Bean Waves while you concoct your potions and bring them to the cannon, they can make maneuvering around the map exceptionally frustrating. We'd recommend using some kind of flying potion, such as FlyBux, to help make traveling from place to place much easier!
Once Evil KSI's health has been brought to zero, the volcano will calm itself, all of the enemies will disappear, and you'll receive the Coconut ingredient!
To add this ingredient to your collection, simply teleport back to your cauldron and toss it inside. Once inside, press the Spawn button in your potion book to begin brewing. After just a few seconds, the Bean-drone potion should appear.
Upon drinking this potion, you will turn into a Bean Drone yourself!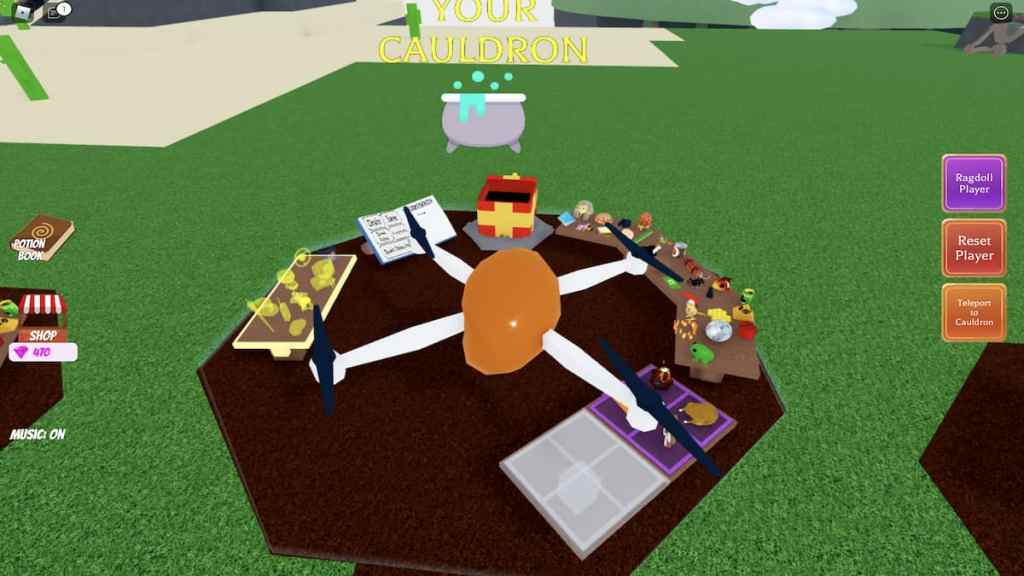 Coconut potions list
The list below features all of the currently known Coconut potions!
| | | | |
| --- | --- | --- | --- |
| | Name | Recipe | Description |
| 482 | Bean-drone | Coconut | Become a bean drone! |
| 483 | Coconut-tree | Coconut + Chameleon | Become a deadly coconut tree! |
| 484 | Coconut-roll | Coconut + You | Become a coconut! |
| 485 | Coconut-arms | Coconut + Pool Noodle | Get coconut arms! |
| 486 | Coconut-gloves | Coconut + Boxing Gloves | Get coconut boxing globes! |
| 487 | Coconut-grenade | Coconut + Dynamite | Get a coconut grenade! |
| 488 | Dancing-pineapple | Coconut + Disco Ball | Become a dancing pineapple |
| 489 | Pineapple-trampoline | Coconut + Frog | Spawn a pineapple trampoline |
| 490 | Sponge | Coconut + Fish | Become a sponge! |
| 491 | Coconut-legs | Coconut + Giraffe Hoof | Get coconut legs! |
Looking for more Wacky Wizards content? Check out our recent guides on How to get the Illuminati Pyramid ingredient in Roblox Wacky Wizards or How to get the Star Shard ingredient in Roblox Wacky Wizards!