Pixel Piece is a Roblox game inspired by One Piece anime pirate adventures. Many things are happening in this game, so every piece of information you can get is excellent. One way to keep in touch with the game and players is to follow Pixel Piece Trello, Twitter, and Discord accounts. Here you can find all these links in one place!
What is Pixel Piece Trello link?
Pixel Piece will be much easier to master if you know more about this game. To find more information, click on this Pixel Piece Trello link. This way, you'll learn more about fighting styles, vehicles, weapons, maps, and more! For more detailed descriptions, hints, and tips, search Pro Game Guides Roblox page.
How to use Pixel Piece Trello Board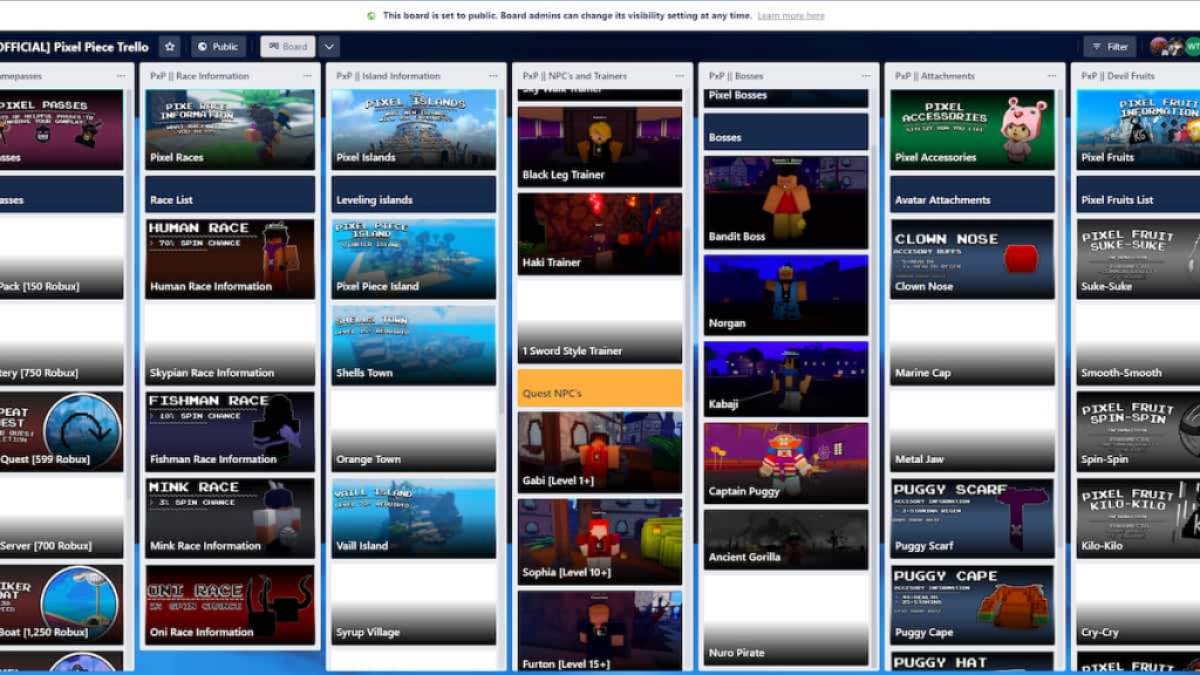 Using a Pixel Piece Trello board is easy, as each game segment has its column with topics. You don't have to create an account to use it, just click on the link and start exploring the topics. You'll get used to it quickly, mainly if you have already used Trello from other Roblox games such as Shuudan Trello Board.
Related: Pixel Piece Codes
What is the Pixel Piece Discord link?
Use this Pixel Piece Discord link to get the latest information on game updates, codes, and special events. Here you'll find other players if you wish to play with them, and even speak with developers from WorldUp Studios!
What is the Pixel Piece Twitter link?
Most developers post their codes on Twitter. To never miss a code, follow WorldUp Studios Twitter account @WorldUpTeam1. Besides our code page, this is the best place in your quest to find more codes and free rewards!
If you're searching for codes for other games, we have many in our Roblox Game Codes post! You can also get a bunch of free stuff via our Roblox Promo Codes page.