If you hate walls and would like to punch them without injuring yourself in the process, Punch Wall Simulator is the Experience suited for your needs! Build up your Strength and punch your way to the Wins trophies, becoming the best wall puncher on the server! You can even train on different punching bags, building up your Strength for the challenge! Because who likes walls anyway, right?
The codes for Punch Wall Simulator will give players Strength, Wins, Golden Potions, Strength Boosts, and free pets. These assets will be helpful, especially for the new players just starting into the game, to help them out in the beginning and give them more incentive to play. For more Experiences like this, check out Human Cannon Codes.
All Punch Wall Simulator Codes List
Active Punch Wall Simulator Codes (Working)
These are all the working codes for Punch Wall Simulator (Roblox).
snow—Redeem for an Arctic Fox Pet (New)

secret—Redeem for a 3x 30m Golden Potions
roblox—Redeem for a free pet
noob—Redeem for a free pet
axel—Redeem for a free 15% Strength Boost
Inactive Punch Wall Simulator Codes (Expired)
Related: Idle Breakout Codes
How to redeem codes in Punch Wall Simulator
Follow the instructions below to redeem codes in Punch Wall Simulator.
Launch Punch Wall Simulator on Roblox.
Click on the Code button to open the Enter Code text box.
Enter working codes into the Enter Code text box.
Click on the Verify code button to claim your free reward.
To get an additional +15% Strength Boost, follow the Experience developer using this link.
How can you get more Roblox Punch Wall Simulator codes?
The best way to ensure you always have the newest Punch Wall Simulator codes is to follow the Experience developer, Axel, on their Twitter page @axelmakes and Axel's Discord Server. Additionally, make sure to press Ctrl+D to bookmark this page, as we always scour the internet for new codes and keep all our code articles up to date.
Why are my Punch Wall Simulator codes not working?
Your Punch Wall Simulator codes might not work for a couple of reasons. The codes could be mistyped or have missing punctuation. Sometimes, codes for experiences can be case-sensitive as well. The best way to redeem codes is to copy them from the website list and paste them directly into the game. The codes could also be expired. Developers usually give out codes during holidays or other specific events like reaching a certain milestone. Such codes usually have a limited lifetime and do not last forever. Make sure you redeem your codes immediately and never miss out on freebies again!
Other ways to get free rewards in Punch Wall Simulator - Roblox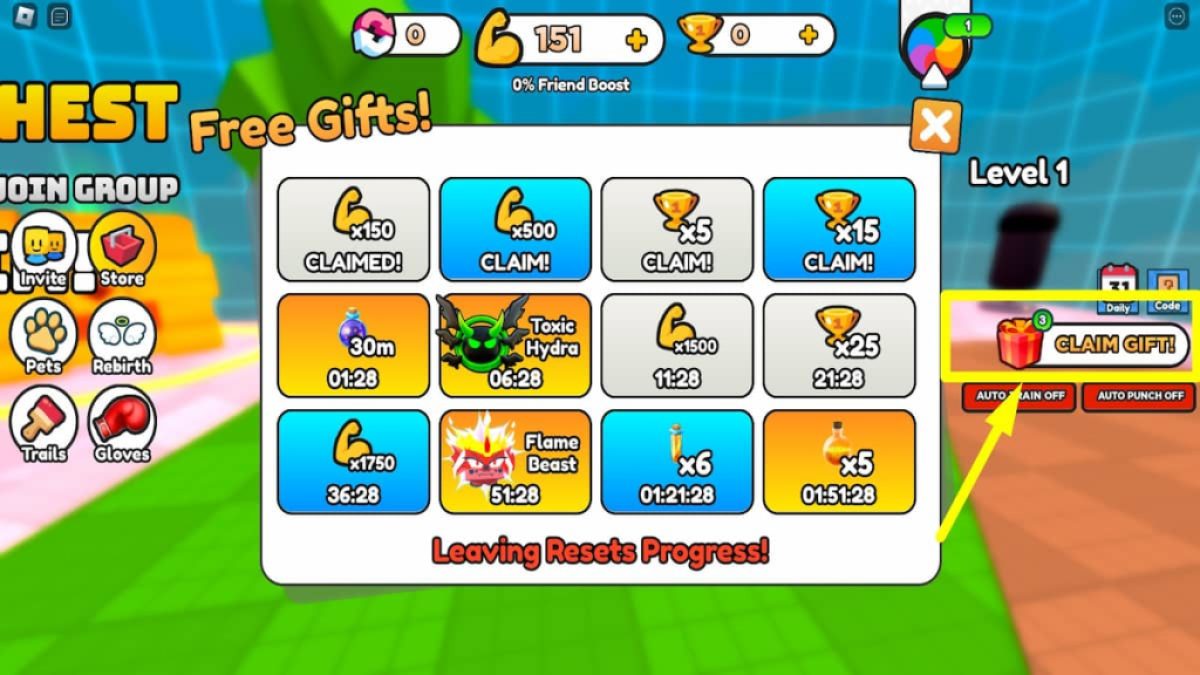 Claiming more free rewards in the Punch Wall Simulator is simple. Just follow the steps below:
Launch Punch Wall Simulator on Roblox.

Once you're on the server, click the Claim Gift! button on the right-hand side.
Click all gifts that say Claim! to gain bonuses and other gifts.
You will be able to get many useful rewards, such as Strength, Wins, 30m double Strength potions, and pets. The rewards refresh when a certain amount of time passes, so make sure to check back regularly and don't miss out on any giveaways.
What is Roblox Punch Wall Simulator?
Punch Wall Simulator is a simple but fun Roblox Experience where players can do a course consisting of punching through multiple walls to get a reward at the end. Punching through walls more effectively requires the Strength stat, which players can gain by training or punching walls. There are also multiple gloves that players can purchase with Strength to make punching more effective. Gaining Wins at the end of each course allows purchasing more boosters and pets.
If you're looking for codes for other games, we have a ton of them in our Roblox Game Codes post! You can also get a bunch of free stuff via our Roblox Promo Codes page. And in the meantime, take a look at the latest news to stay up-to-date on all things entertainment.