In Roblox Goal Simulator, you need to become the perfect striker by landing those perfect goals again and again so you can purchase the best gear and upgrade your skills. As you improve your stats, you'll make it easier to accumulate Coins and land those difficult shots. Or, you can make the game easier with our codes lists below to get significant Boosts!
You can cash in the Goal Simulator codes below to skip through the tedious early parts of the game of building your stats. Or, if you have been playing for a while, you can use them to greatly increase your multiplier rate and make those stacks of cash build with every successful kick. Either way, these helpful game codes can easily bring you to MVP level.
If you like sports and simulator games, don't forget to check out our codes lists for other similar Roblox games. We have the latest codes for sports simulator games like Goal Kick Simulator and Ball Throwing Simulator. If you are looking to expand your list of game genres, check out our codes for Football Universe and Football Stars 2!
All Goal Simulator Codes List
Updated May 25, 2022

Added new code
Goal Simulator Codes (Working)
Here's a look at all the working Goal Simulator codes.
1000LIKES—Redeem for a Coins Boost (New)
500LIKES—Redeem for a Coins Boost
250likes—Redeem for a Coins Boost
Goal Simulator Codes (Expired)
These Goal Simulator codes no longer work.
Goal Simulator Frequently Asked Questions
How to Redeem Goal Simulator Codes
Redeeming codes for free rewards in Goal Simulator is easy.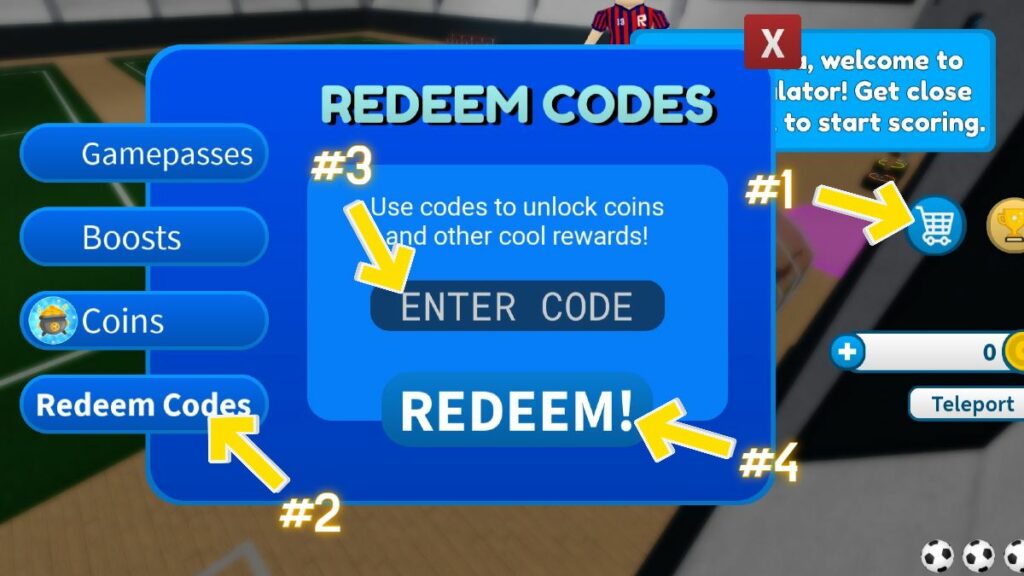 In the game, press the Shopping Cart icon on the right side of the screen.
Navigate to the Redeem Codes tab in the Shop window.
In the text box, enter the code exactly as it appears in the list above.
Press the Redeem button to claim your reward!
What are Coins in Goal Simulator and how do I use them?
Coins are the main form of currency for Goal Simulator. You use them purchase upgrades to your skills, special abilities, and equipment, which boosts your performance and the rate at which you earn money. To purchase anything with your Coins, approach the Trainer or the Skills Shop. Interact with the characters there to open the shop window where you can purchase your desired changes!
Why aren't my Goal Simulator codes working?
The most common cause of invalid codes is that the user entered them incorrectly. Codes are often case-sensitive and it's easy to add extra characters or spaces at the end. To avoid typos, copy and paste the codes directly from our page into the game.
The game notifies the player of whatever is causing the code to fail after it has been submitted. If it says 'Code Error', it likely means it is an invalid code. If it says that it's already been used, it means that your Roblox account had already used it at some point.
What is Goal Simulator?
Goal Simulator is a soccer-themed (or football-themed, if you're outside the US) Roblox simulator game where you need to score goals into a net being blocked by a goalie. Using whatever skills and stats you have available, you must make progressively difficult shots to earn Coins and improve your character. Can you be the ultimate football player?
If you're looking for codes for other games, we have a ton of them in our Roblox Game Codes post! You can also get a bunch of free stuff via our Roblox Promo Codes page.